Sorry, Batman; No Unauthorized Access from this Roof!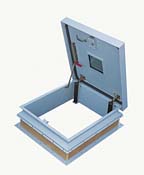 The Bilco Company, New Haven, Conn., offers the Security Series roof hatch for increased building security in high-security applications such as banks, pharmacies and correctional facilities. Constructed of heavy-gauge materials and featuring heavy-duty manganese hinges to resist prying and forced entry, the roof hatches employ a keyed cylinder or detention lock (as specified) to prevent the hatch from being opened or tampered with.


I want to hear from you. Tell me how we can improve.