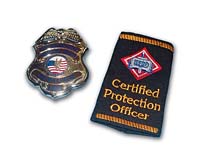 With security anticipated as one of the fastest growing professions over the next decade, many more people now pursue a career in security.
As the number of personnel increases, it's as important that these individuals have proper training so that they can both stand out in this more competitive job market as well as provide a higher level of quality service on the job.
Proper training, without a doubt, improves a security officer's credentials and credibility as a professional.
Of course, training aims at employees performing at a level in alignment with the goals and objectives of the organization and its security operation. All employees, including security officers, must work towards a common mission.
Specifically, properly trained personnel are crucial for several reasons.
One driver: liability issues center on the insuring that security personnel deflect and minimize the constant flow of lawsuits specific to negligent security. According, to a study conducted by Liability Consultant Inc. the liability for security failures often rises into the million-dollar bracket. The study states that apartment buildings, for example, paid on average $1.5 million in damages from awards after guilty verdicts, and $1.7 million in reported settlements. Premises security liability cases cost hotels an average of $1 million in awards and $632,000 in settlements. Wrongful death cases, as would be expected, garnered the highest awards: an average of $2.8 million in both verdicts and settlements.


Reduce Liability
It's obvious that better trained security personnel would have prevented some incidents or minimized the liability profile in some of the lawsuits or settlements. In essence, being proactive and having specialized training may potentially save a company significant dollars. In addition, better-trained personnel may potentially reduce the costs associated with high turnover, low morale and poor performance. Having specialized training or industry-wide respected credentials may also prove beneficial for the employer as well as the security officer.
There are many benefits inherent in industry-wide, respected security credentials. A primary reason is to increase or refresh a security officer's knowledge of industry trends, technology and concepts. It is true that the U.S. Department of Labor states that "opportunities for most jobs as security officers and surveillance officers should be very favorable through the year 2010." The agency also states that "stiff competition is likely for higher paying positions at facilities requiring a high level of security."
One can logically conclude that if a security officer desires a higher paying position or a higher level security position or when a security director wants to raise the bar for proprietary or contract services, then having additional training or credentials is an asset. There are various professional security credentials. So there is a need to explore various programs before determining which credential or training is worth investing time, money and energy.
The Naples, Fla.-based International Foundation for Protection Officers (IFPO) has developed several security credential programs respected industry-wide and also convenient.
The most recognized and coveted IFPO designations are the Certified Protection Officer (CPO), Certified Security Supervisor (CSS) and the Certified Protection Officer Instructor (CPOI) credentials.


Numerous Topics Covered
Security professionals with broad knowledge of the security industry can acquire the CPO. A person must demonstrate, through examination, mastery of a variety of topics that include: physical security, crime scenes, emergency procedures, safety procedures, physical fitness, use of force, workplace violence, environmental crime control, investigations, traffic & crowd control, legal aspects and report writing. Other topics include: hazardous materials, public relations, effective communications, weapons of mass destruction, apprehension & detention procedures, fire prevention, strikes/labor relations, crisis intervention, bomb threats, professionalism and ethics, police/security liaison, operational risk management, foundations for surveillance and more.
CPO candidates have a study guide that helps prepare them for the examination. The guide, Protection Officer Training Manual and published by Butterworth-Heinemann, consists of 43 chapters authored by some of the industry's leading professionals. A candidate must complete a midterm and a proctored examination that covers the topics studied within the text. Upon successful completion of the course and examinations, the security officer candidate becomes eligible for the CPO designation.
IFPO's Security Supervisor Program can lead to the CSS designation. It can also be completed through distance learning and is equally extensive.
The foundation now requires that professionally certified individuals gain certain credits to meet re-certification requirements. While completion of any certification program can demonstrate that certain learning has occurred, it is invaluable for the security officer and the operation that employs the person that continuous learning occurs.
Most prestigious professional designations require demonstration that knowledge is continuously acquired. Most often, re-certification encourages individuals to remain abreast of the new concepts and trends within the industry.
Training will always be important in the security industry. Having properly trained security officers likely increases both the profits and productivity of any organization or department. Encouraing security officers to keep up with threats and technologies also is beneficial.


SIDEBAR 1: What's the Purpose?
It's good for a security officer or operation to determine the purpose of training and certification. Common purposes of receiving professional security credentials include acquiring tangible evidence of having knowledge of the profession. This gives credibility to the credential holder. Also, having professional security credentials can differentiate between two applicants with otherwise equal experience. While any credential may have its advantages, it may prove more useful to acquire a credential or recognize one that has a respected history within the industry.
In addition, some credentials may not be convenient to acquire. Some require that a person travel to a different location to take the course and final examination. Others require that an officer complete an examination at a location that may be in another state.


SIDEBAR 2
Here are four Web sites that boast information on security officers, training and certification programs.
http://www.asisonline.org/newsroom/pressReleases/101002sm.xml
http://www.bls.gov/oco/ocos159.htm
http://www.ifpo.org/programs/cpo.htm