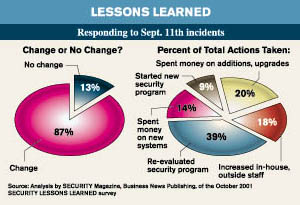 While high profile incidents often impact security operations, the tragic September 11th terrorist attacks will prove enormously influential, according to a mid-October survey of security directors and managers at a diversity of U.S. and worldwide organizations. And the fallout will last a longer time than other incidents in the past, including the 1993 bombing of the World Trade Center, which itself lead to billions of dollars of spending for security equipment and services.
Most Operations Took Action
The exclusive SECURITY Magazine survey, conducted through the Web, found that almost nine in ten (87 percent) of security departments have taken action to re-evaluate their operation, upgrade or buy new systems, increase staff or start a new program.
And almost as many security executives (85 percent) say the tragic incidents will continue to influence their security operations as well as their business through 2002.
To match such an enormous reaction by private security, and the need for information on which to make better decisions, SECURITY Magazine has committed significant editorial space to a series, LESSONS LEARNED - Securing America, composed of articles on technologies and applications, expert commentary, research and white papers - all related to re-evaluating security after September 11th. The series will run through September 2002.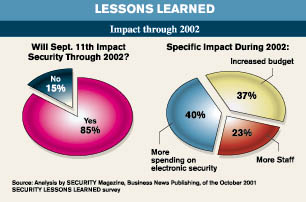 Re-evaluating Security
Many operations have taken a diversity of actions. The most common: a full-fledged re-evaluation of security programs. About 39 percent of those security executives who say that have taken some type of action report they have are in the process of re-evaluating their security program. Such a re-evaluation could lead to actions now and through 2002. One of five say they have spent money of security upgrades and additions to current technology, while a little less (18 percent of those taking some type of action) say they have increased their in-house or outside security staffs.
A respectable 14 percent have purchased a new security system and about nine percent say they have started a new, major security program.
When it comes to the impact of September 11th on security operations throughout 2002, of the 87 percent of respondents who say they will continue to see an impact, 40 percent believe it will translate into more spending on electronic security.
A little more than one in three (37 percent) report they will see an increase in their budgets beyond the typical while 23 percent say they will see even more staff hired or contracted.
The SECURITY Magazine LESSONS LEARNED survey also asked security executives to identify the one greatest risk the organization faces that's related to the September 11th tragedy and its aftermath.
Results show that security execs continue to be concerned about people and facilities. The top two risks? Facility security, say 33 percent of respondents. And 30 percent pick employee travel. Ironically, only seven percent feel that a terrorist attack of some kind could specifically impact their organization or business. Still 16 percent of SECURITY respondents see the one greatest risk as bioterrorism, thanks to the growing number of incidents and confusion surrounding anthrax threats.
Hidden in the bushes: about 13 percent say the biggest threat is cybercrime.
The survey then turned to solutions by type of security technology.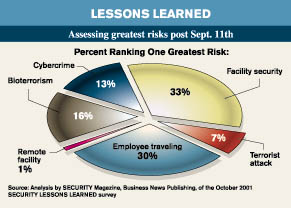 Video, Cards Most Effective
When asked to identify the one type of security technology that will make the greatest difference by private security fighting terrorism, video surveillance turned out to garner the largest support with 24 percent. About 19 percent find electronic card access control systems to make the greatest difference, while emergency communications gear pulled in 15 percent of respondents in support.
Two solutions - biometrics and physical barriers - got about 12 percent each in support while about 4 percent saw bomb and metal detection making a anti-terror difference. In follow-up interviews, SECURITY found the interest in bomb and metal detection may change as corporate mailrooms readjust their operations following the bioterror scare.
There has been a diversity of commentary related to the communications between law enforcement and private-sector security executives during the attacks and in their aftermath. So SECURITY asked if this communications was effective. A surprisingly high 29 percent of respondents report that they feel the communication between law enforcement and private security was not effective.