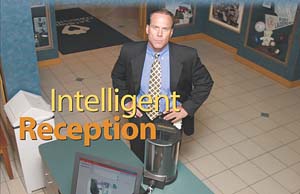 With almost a quarter of a million visitors each month, Memorial Healthcare System facilities needed to balance a quick, welcoming reception with effective, easy-to-implement security.
Like other organizations seeking ways to upgrade visitor management, the South Florida healthcare provider aimed to implement an automated system to capture appropriate visitor information at numerous reception points through a fast procedure that could also populate a visitor database for reuse and analysis.
The new system, Fast-Pass from Sisco of West Palm Beach, Fla., is now an essential part of the security effort at hospitals and satellite facilities across the Memorial Healthcare System. As visitors come in to a Memorial facility, they provide a form of photo identification to a security officer. The officer swipes the identification through a computer terminal that captures the visitor's name and address. The officer takes a picture of both the identification card and the visitor. The computer then prints out a badge with the visitor's picture, date and destination.
The entire process, including printing of the visitor badge, takes about 20 seconds for first-time visitors. Thanks to the visitor management database, the process only takes about ten seconds for repeat visitors.
Fast-Pass, extensively used by cruise ship businesses as well as corporate and institutional end-users, also features an alert system that notifies security personnel immediately anytime a visitor or vender who has been marked for non-entry swipes his or her card.
"The addition of this visitor management system to our already aggressive security plan illustrates our commitment to providing the safest environment possible for all who come to our facilities," said Peter Ochinko, director of security for Memorial Healthcare System.
John Yochum of Sisco believes that "monitoring and tracking of visitors within a facility is critical. End-users want a quick and easy way to badge, monitor and compile reports on guests, visitors and contractors."
Memorial Healthcare System is a public, non-profit healthcare provider serving south Broward County. The healthcare system's mission is to provide quality, cost-effective, customer-focused healthcare services to its patients regardless of their ability to pay, with the goal of improving the health status of the community it serves. Among its facilities are Memorial Regional Hospital, Joe DiMaggio Children's Hospital, Memorial Hospital West, Memorial Hospital Pembroke and Memorial Manor nursing home. The company also has plans to soon add a fifth major hospital to its family.
Ochinko spent two decades with the U.S. Secret Service. "I retired from Miami field office in late 2002 and accepted the position here that same time," he said. Holding a bachelor's degree in sociology, Ochinko has had a life-long interest in law enforcement, but has mixed it with a sensitivity to people needs and a realistic understanding of the role of security technology.



What's expected and wanted
"Memorial is a completely new challenge, of course. It's a matter of learning about healthcare and specifically what my management expects and wants," noted Ochinko. "I felt that given the things I learned over the years at the Secret Service and the skill sets I honed there, I could develop a secure environment." Ochinko's bottom line: create and continuously provide a safe and secure environment for patients, visitors and workers.
"That includes better ways to manage visitors" he stated, adding that doing so includes the ability to quickly welcome visitors but at a high level of security. The security operation at the various facilities in the Memorial family began posting contracted security officers at public entrances early last year; the officer would be responsible for checking photo identification cards. Before the new system, officers would log in visitor names and issue a temporary stick-on identification badge.
"We began researching how we could provide even better visitor identification," Ochinko said. "Our ultimate aim was to easily compile the information, save it, reuse it when needed and analyze it."
The security director worked with purchasing and information technology executives at the organization to look at vendors and products over the course of nine months.
"I wanted a system that would produce picture identification as a temporary stick-on, but one that would allow the department to store information that we collected from visitors. And we needed to find a system compatible with IT."
Naturally, with such as large number of monthly visitors, Memorial's security director was also concerned that people were not delayed too long during the welcoming process. "With security comes inconvenience," Ochinko observed. "So we wanted a system that produces temp IDs as quickly as possible, in a matter of seconds."
Memorial's security director honed in on Sisco. "There was a solid relationship when the vendor met with my information technology folks," he said. "The equipment is also rugged and will stand up to our heavy use."
Now, Fast-Pass gear is at every public entrance. Some satellite facilities also have units, depending on their mission.
Under the new system, a posted security officer asks the visitor if it is his or her first trip, and if so, requests a form of personal identification like a driver's license. The officer photographs the type of identification presented as well as photographs the visitor. "Some personal IDs presented to our officers can be swiped into the system, which captures the information we need. For some other situations, our officers manually enter the information," Ochinko said. Unique among security systems, Fast-Pass uses a circular device to holds the camera that can pan up automatically.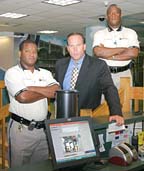 Temporary pass sticks on
A local printer produces a temporary stick-on pass displaying the visitor's photo, bold lettered name, and the date and destination of the visitor. The passes are orange for healthcare system vendors and white for visitors.
The system is more efficient for repeat customers. "When our officer discovers a repeat visitor, he or she simply types in visitor's last name or swipes the person's ID." The system brings up the record from its database and the temp pass is quickly issued. The master database is stored in a main server at one of hospitals that manages the visitor system.
Ochinko also likes the flagging capability of Fast-Pass. "There are many reasons to flag a visitor or vendor. First, it is important to verify that the visitor's patient is still in the facility. Second, there are times when he needs to prevent an individual from entering a facility. We can program the system and, if that person presents himself, prompts on the system screen display a denied entry or advice the visitor to telephone an appropriate person," he said.
The new visitor management system also gave Ochinko an opportunity to educate security officers and the hospital workforce more generally on how the security plan works. "We speak to department leaders and managers and help educate them to the threats we all face, the procedures and technologies in place to provide a safe environment as well as everyone's role."
Overall, the security operation at Memorial Healthcare System takes a three perimeter approach, providing security at outer, middle and inner perimeters. "We have a good mix of technology and human security," Ochinko explains. "We are not too invested in one or the other," he said. There are other electronic access controls, intrusion detection and digital security video. "It's a work in progress. It's never really finished – and shouldn't be. We visit and revisit our security plan constantly."