Asset tracking and identification, among the hottest applications wanted by corporate and commercial security directors, are also among the most technologically complex. Often the design must include two databases - one representing people and another representing objects such as laptop computers, a method of scanning or identifying the people and objects and ways to deny access or alarm.
In many ways, projects driven by North American libraries are pioneering asset tracking and identification approaches.


SelfCheck Security
The firm 3M Library Systems of St. Paul, Minn., is working with numerous libraries to bring what it calls a materials flow management system to those facilities. The system - what 3M calls SelfCheck - also provides security for a library's biggest asset, its books.
There is an installation of 24 3M SelfCheck systems in the Tulsa City-County Library System.
"The installations demonstrate the library's confidence in 3M technology," says Don Leslie of 3M Library Systems. "We are confident the SelfCheck systems will benefit staff and help the library provide a higher level of customer service to the Tulsa community."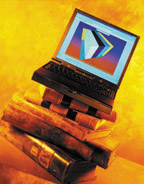 Millions of Books
The Tulsa City-County Library System is the primary information and resource center for the Tulsa, Okla. metropolitan area. The Central Library, four regional libraries, and 18 branch libraries in Tulsa County serve more than 308,000 library cardholders who check out more than 3.7 million books and materials every year. Recently, the library followed an aggressive plan to install three SelfCheck systems a day in 16 of its branches.
"We targeted our busiest facilities for the SelfCheck system application," says Linda Saferite, executive director of the Tulsa City-County Library, who believes the new technology offers enhanced patron service. "We chose the 3M SelfCheck system to save time, especially customers' time. We are hopeful that about one-third of all checkouts at these libraries will be done on the SelfCheck systems."


Bar Code Scanning
The 3M SelfCheck system guides the first-time user through the checkout process quickly and efficiently, without the intervention of library personnel. Checkout begins when a patron places a library card under the system's scanner. The system then reads the card's bar code, accesses the library's circulation database and confirms borrowing privileges. If the patron is an approved borrower, on-screen messages explain how to position materials for processing. The system then verifies the items, charges them out, performs the security function and prints out a date-due slip - all in a matter of seconds.
Encouraging Use
3M SelfCheck systems are operational in multitudes of libraries around the world. The systems play an integral role in optimizing the handling, processing and security of library materials. Through a streamlined flow of materials, library staff can spend less time on time-consuming, routine tasks and focus more of their time on the varied needs of patrons.
At the spring during National Library Week, 3M encourages more libraries to consider SelfCheck by sponsoring a Check-it-out Yourself Day. This year, thousands of library patrons visited their local libraries to check out materials on their own with the help of the 3M SelfCheck system. A total of 350 participating libraries qualified to win cash prizes from 3M Library Systems because they had more than 100 patrons use the 3M SelfCheck System that day.
The Orem Public Library, Orem, Utah and The Austin Public Library, Austin, Minn. each was awarded with grand prizes. Other libraries honored: East Palo Alto Library, East Palo Alt, Calif.; Clayton Community Library, Clayton, Calif.; Sunnyvale Public Library, Sunnyvale, Calif.; Lee County Library System, Cape Coral, Fla; Council Bluffs Public Library, Council Bluffs, Iowa; Niles Public Library, Niles, Ill.; Hutchinson Public Library, Hutchinson, Kan.; Anoka County Public Library, Blaine, Minn.; Cleveland Heights Public Library, Cleveland Heights, Ohio; Westerville Public Library, Westerville, Ohio; Tulsa City County Library, Tulsa, Okla.; Ganser Library, Millersville University, Millersville, Pa.; L.E.R. Schimelpfenig Library, Plano, Texas; Newport News Public Library System, Newport News, Va.


Educating Patrons
In addition, the Yuma County District Library, Yuma, Ariz. was recognized as the most creative in their promotion of Check-it-out Yourself Day. The Yuma County Library capitalized on the event poster, which pictured a young boy in a referee's uniform. The library hung baseball-like pennants with library specific teams, such as "Team Circulation" and "Team Reference" and displayed decorated baseballs throughout the library to pre-promote the event. The day of the event, the mascot of the Yuma minor league baseball team, the Bullfrogs made an appearance. The Library also partnered with area businesses, which hung event posters and gave gift certificates to the library for a day of event drawings.
Security and Convenience
Self check out concepts, which blend together convenience, security and asset identification, also are underway at a number of retail chains using electronic article surveillance systems from companies including Sensormatic Electronics Corp. and Checkpoint Systems, the two leader of EAS technology to the retail sector.
However, according to some, the library applications will be better received in the short-run.
"Technology is helping people manage their time more efficiently - at work, at home and at the library," said Susan Evans from the Yuma County District Library. "Promotions such as Check-it-out Yourself Day give us another reason to promote such technology at our facility, and show people how they can enhance their visit by making it more productive. The fact that they help us earn additional resources gives them added incentive to take a few minutes to learn about a process that can save them potentially hours of time in the future."


SIDEBAR:
Asset identification and tracking systems are a hot application for many organizations. While there are developments tying together people and laptops, for example, in office buildings and corporate organizations, among the leading edge apps are those for libraries and retail chains.
In these applications, bar code technology and electronic article surveillance, using magnetic and radio frequency technologies, are most often the drivers.