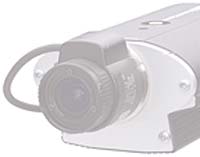 There are certain technology breakthroughs in the security industry that are considered era benchmarks. To iterate that digital is one of these benchmarks would be an understatement. Functionality at the camera itself offers some exciting benefits. For instance, day/night compensation; pan, tilt, zoom (PTZ); privacy masking and the latest up-and-comer, IP addressable cameras, are key advancements in the digital age.
"Digital technology has been the foundation for advanced camera features since the introduction of digital signal processing (DSP)," says Frank Abram, vice president, Panasonic Security Systems, Secaucus, N.J. "Since the 1980s, Panasonic has introduced cameras with DSP circuitry. DSP technology enables the electronic features found in today's most advanced cameras."


Lights, Camera, Action
Cameras using digital technology have much greater light sensitivity. Digital technology allows for extended shutter times for more light to be captured by the charge coupled device (CCD), producing pictures of scenes that are too dark for the human eye to see. Another example of digital innovation inside of the camera is extended or wide dynamic range.
"Many cameras do not compensate well for extreme bright and dark areas in the same scene," says John Ellenberger, senior product manager, Pelco, Clovis, Calif. "Cameras with extended or wide dynamic range analyze the bright and dark sections of the scene, and combine them in a way that provides a picture showing detail in the bright and dark areas."
"For digital cameras with integrated lenses, as used in positioning systems, the video can be analyzed and the picture's focus can be achieved automatically,"says Ellenberger.
Digital technology has provided for many giant advances in PTZ. In the past, variable speed devices were driven by control systems that changed DC voltage levels. Now, most systems transmit digital signals that control stepper motors to provide precise and smooth motion. In addition, digital technology can create very advanced programming of each positioning system. For example, most positioning systems can have presets – a memorized pan, tilt, zoom and focus location.
When a preset is requested, the positioning system will go to that programmed position. With digital technology, the accuracy of those presets is greatly improved. In addition, exact camera settings such as white balance, sharpness and wide dynamic range can be customized for each preset. This added power provides the best picture for each and every preset scene.
Also, don't forget about zone masking and sector blanking. In respect for the public's privacy, manufacturers are creating the ability to inhibit the transmission of video from specific segments of a scene. This capability applies mostly to camera systems that have remotely controlled movement of the camera or PTZ. For example, many athletic stadiums are located next to residential neighborhoods. To prevent an unscrupulous system operator from using security cameras to peer into an apartment window, a manager can program the camera system so it will not show video when the camera is pointed towards the apartment building. Sector and zone masking usually mean that the video is inhibited from transmission, or "blanked" for all tilt angles within a programmed range of pan angles.
Zone masking is the ability to digitize a picture into multiple zones and then designate how each will react under different conditions. The zones can be from a minimum of two to a maximum equal to the number of pixels the system can handle. Typically there are from 16 to 256 zones. Zone masking is often used to set up detection zones for motion activation, and to set exclusion zones for backlight compensation.
A more advanced system, usually called window blanking or window masking, allows a region, such as an apartment window, to be blanked. If the camera is tilted above or below the window, the area around the window can be seen, but the area over the window is blanked. With this more advanced technology, as the operator zooms the camera, the blank area increases in size. This feature allows the system programmer to block out or select portions of a camera's viewing area. It can be used as a privacy feature, to set up motion detection zones or to block out strong sources of light that reoccur with fixed cameras.
And what about storage at the camera?
According to Axis Communications, there is no real trend of adding storage at the camera level because of the addition of more camera intelligence, says Fredrik Nilsson director of business development at Axis, in Chelmsford, Mass. For example, extra data storage isn't necessary just because a camera has video motion detection and alarm/event handling, which limits the need to send video that is of no interest, says Nilsson. "The cost of bandwidth for network video has come down to a level that makes is very cost effective," he says.
The next logical outgrowth of digital is networking since the new wave of IP-addressable cameras actually provides digital output. This is the distinction between true digital cameras and analog cameras with DSP processing.
There is a very strong correlation between the migration to a digital platform and networking systems. Video surveillance is in a transitional phase. As a result, the industry needs to embrace a new perspective when specifying systems upgrades, rebuilds and new installations as a result of these technologies. "I believe we will continue to see a migration towards digital systems operating in a networked environment, but the change will be evolutionary over the next few years," Abram says.


On the Network
"The network camera segment is the fastest growing product segment in the video surveillance market," Nilsson says. "The cost of a network camera is high when compared to the cost of an analog camera because it includes most of the functionality that is normally located in the digital video recorder (DVR). Looking at the total system cost – camera, video network, recording and monitors – a system based on network cameras normally comes out with a lower cost."
The main reasons network cameras are so attractive is that they include all the functionally of a DVR system – high and consistent image quality; fast, easy image retrieval – and they offer better scalability, more cost-efficient network infrastructure, intelligence at camera level, increased reliability and integration with other systems and lower total system cost. In the network camera scenario, a lot of that functionality is moved to the camera level. The video signal is digitized and compressed in the actual camera. That also means that intelligent video features such as motion detection, event/alarm handling, frame rate settings, and different resolutions are all set in the camera.
The big benefit for the end user is the fact that the cabling costs are drastically reduced because network cameras connect directly to the computer network, and the system becomes a lot more scalable and intelligent.
But there are some experts who claim "buyer beware."
"Network cameras are here and there is a lot of interest in them, but the latest figures show that they represent only 3 percent of the market'" says Gary Perlin, vice president of product management at ProVideo, CSI/SPECO in Amityville N.Y. "They are the perfect solution in a pre-wired facility with a fast computer network with extra bandwidth. Just hang the camera up, set the Internet Protocol (IP) address, and you have instant access to the camera from anywhere in the network or even over the Internet. This scenario is counterbalanced by the high cost – usually three or four times their analog counterpart – relatively low resolution, slow update speed determined by the speed and bandwidth of the network and lack of quality features."
"There are trade-offs with network cameras and today's technology'" according to Scott Jolma, director of product management, GE-Interlogix, Corvallis, Ore. "With their built in Ethernet connection, video in a digital, compressed format can be accessed from anywhere. But, beware. The lower cost versions do not have the resolution most people require for security. There is also a bandwidth concern. For instance, you cannot put 100 cameras across an Ethernet at once. Bandwidth is expensive."
According to Pelco's Ellenberger, "Network cameras are available, but they are nowhere near as popular or in as high demand as digital cameras with analog output. The reason for this is that cameras for IP networks have a much higher cost, and in many cases provide inferior pictures as compared to analog cameras."
The ability to put video onto IP networks has many intriguing possibilities. This includes the capability to use one set of wires for video and control in a fully networked environment, thus greatly reducing the cabling portion of the system cost. In addition the capability to just add a camera to an existing IP network has many apparent advantages.
"However, video requires a great amount of bandwidth. In addition, IP networks are not 100 percent reliable in the transmission of data," Ellenberger says.
Therein lies a major battle. Network cameras use the all-coveted bandwidth. Nothing would please the IT folks more than to use less of it. Perhaps the industry might look to a standard. Should the industry move to a uniform compression scheme?
The video from digital cameras with uncompressed analog transmission is most often times considered the standard to which compressed video systems strive to achieve. In addition, because of the need for compression of the video, a time lag (system latency) is introduced into the transmission of the video. For stationary cameras, this time delay is not critical. However, for those positioning systems, this latency can make the manual control of a PTZ very frustrating for the system user. Each system needs to be evaluated based on the entire system cost and expected performance.
For applications where the camera is plugged directly into an IP network, to reduce the required bandwidth, each camera requires a separate processor to do the compression, thus increasing the system cost. In addition, for IP networks transmitting large amounts of video, the system routers and switches have to have larger bandwidth than typical IP networks.
Although there are those who contend that manufacturers will maintain proprietary algorithms, Ellenberger says there are many types of compression schemes available, each with its own strengths and weaknesses. One type may provide a higher quality picture than another, but because of the compression process, it induces more latency in the transmission of the picture resulting in a degradation of the motion control of the system. But compression processes with less latency produces inferior video quality. As a result, everyone in the industry – end users, dealers, distributors, system designers and manufacturers – desire a standard video compression scheme, but one has not yet emerged as a clear choice. The two most popular today are MPEG2 and MPEG4. Work is continuing to develop a compression scheme that can become the clear industry standard.
Nilsson concurs, "The trend is to use standard, high-quality compression like MJPEG and MPEG2/4. MPEG is normally preferred for applications where motion is a higher priority than image quality, and bandwidth can be guaranteed at all times. MJPEG is the compression of choice when image quality is the highest priority."
The main reason for using standard compression is that it provides possibilities for an open system architecture where the network cameras are being supplied from one vendor, a digital video management system from another, network infrastructure from a third and storage from a fourth," ProVideo's Perlin says. "Standard compression also means that standard devices such as Web browsers, PDAs and cellular phones can be used for the remote monitoring of live and recorded video – providing cost-efficient video access to security personnel, police and rescue workers."
Digital is a very broad term, Perlin says. "Today we have cameras that digitally process and enhance their information, send pictures over networks, receive control information over these same networks and they are capable of interfacing with wireless networks." Predicting these capabilities will become more commonplace and refined over the next few years, Perlin says. They will "eventually challenge analog signal transmission as the method of choice."