There are three unique forces at work in the end user sector of private security today beyond the continuing awareness of security threats.
First, in the aftermath of the September 11th tragedies and bioterror incidents, most organizations and their security directors report reevaluating protection efforts while spending more now on electronic security and the hiring of additional security officers.
Second, and even before the terrorist attacks, the cost of insurance-an essential element of risk management-rose and continues to rise, most recently faster than inflation. Historically, the more expensive insurance is, the more companies shift to security or will accept uninsured losses.
Then there's the recession economy that pressures decreases in security budgets and less spending on overhead and new equipment.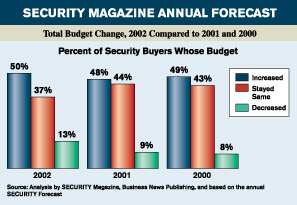 Total Spending Grows
With these forces already in play, the annual SECURITY Magazine Forecast study of current and future security concerns and solutions contains both sweet and sour conclusions.
This year, spending on products, systems and services by the average SECURITY buyer is $580,851, a healthy 7.3 percent increase over 2001 spending.
One-half of all buyers report that their security budget has increased as compared with 2001.
But more than one in ten (13 percent) report budget cuts this year.
No matter what the amount of budget dollars, more than one third (34 percent of the budget) went to pay for in-house personnel last year, but that's down from 40 percent of total budget in 2000. Over the course of the previous three years, the percent of total budget tagged for personnel has drifted downward as security executives get squeezed to cut down labor while being encouraged to trade in people for technology.
There was an important budget change in dollars spent on maintenance and repair of equipment, when comparing 2001 to 2000. From 14 percent of total budget in 2000, security executives report they spent 20 percent of total budget for maintenance last year.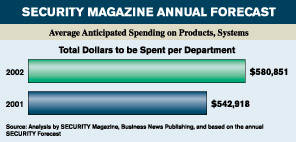 Taking Security's Pulse
Annually, SECURITY Magazine surveys executives at all types of organizations and who have security responsibility. A Forecast study questionnaire was mailed to 2,000 randomly selected executives in October 2001, with a 25 percent useable return rate.
More than previous years and thanks in part of the impact of the September 11th incidents, results of the study reflected a yin-yang pattern that repeated when respondents were asked about their security and safety concerns.
For nearly ten years, when SECURITY Forecast study respondents were asked to rank their top security concerns, they listed employee theft and property crime as one or the other top concern or second biggest concern. Not this year. The top concern? Terrorism, which was not among the top ten concerns in any of the previous years. And, also not surprisingly, respondents listed computer security as the third biggest security concern, up from fifth place last year.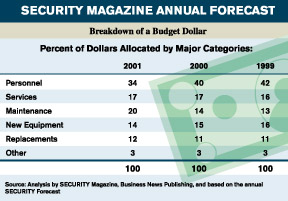 Threats Up and Down
Security executives see less concern over threats ranging from property crime and access control to violent crime this year. An exception is vandalism, which was ranked "number seven" this year compared with a nine ranking last year.
Each year, SECURITY also surveys executives concerning their safety concerns.
And again, it was yin and yang.
From its mid-range rating last year, concern over state and federal occupational safety regulations zoomed up to number one this year, while workplace violence has significantly tumbled from near the top concern last year to mid-range this year. With terror and bioterror in everyone's thoughts, disasters are ranked as the third biggest safety concern this year as compared to a fifth place ranking last year.
There continues to be consistency, however, when it comes to the types of products and systems purchased by security executives or products they plan to purchase this year.
Always among the top purchases: video surveillance, electronic access control systems and cards, two-way radios, burglar alarms and ID badging systems.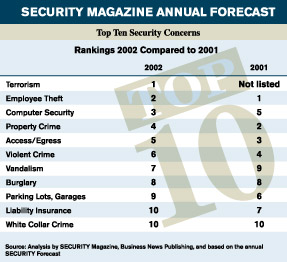 Security Video the Hottest
Of particular note, six in ten security buyers (60 percent) say that they will purchase some type of new product or upgrade within the video surveillance family this year. In follow-up interviews, security executives see a number of factors driving the increased popularity of video surveillance. Prices continue to drift downward on components such as traditional CCD cameras while manufacturers have added more features. Some buyers are trading out black and white systems for color. And the evolution of digital video has caught on, especially when it comes to digital video storage and retrieval systems. About one-quarter of buyers say they have purchased or will soon purchased some type of digital video storage and retrieval system.
On the services side, the most popular are burglar and fire alarm monitoring and alarm installation. Whether 24/7 or only at night or on weekends, 63 percent of Forecast study respondents say they use an outside service to monitor alarms.
Numerous happenings influence the security department, its budget and programs, of course. However, nearly seven in ten (68 percent) report that facilities added or expanded this year is the development causing the most security concern. About one-third (34 percent) say that it will be an acquisition, merger or reorganization of their employer firm. About one-fifth (22 percent) say they will face security challenges thanks to a move to a new location this year.
Last month, SECURITY Magazine exclusively reported on the impact of September 11th incidents on current and future security department plans and activities. That survey was conducted by email with results from a smaller sampling of security buyers.
SECURITY also asked
September 11th related questions within this annual Forecast study.
In this mail out, mail in study, two-thirds of respondents say the terrorist attacks spurred them to re-evaluate their security program. Nearly one in five (18 percent) say they spent money on a security system or an upgrade in response to the terror incidents. And another 13 percent report they added in-house staff or hired more security officers through an outside contract service.
Both surveys also discovered that the New York City and Washington attacks are viewed by security executives as both horrific and long lasting when considering impact. For example, 73 percent of the annual SECURITY Forecast study respondents say September 11th will continue to influence their business and security operations throughout this year. The greatest impact in 2002? More than one-third (34 percent) report they will spend more on electronic security throughout this year because of the fallout from the terror attacks while another 17 percent say their 2002 budget has been increased in the terror attacks' aftermath.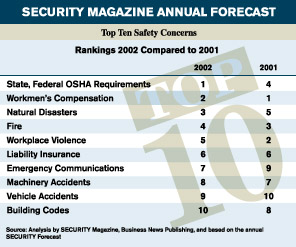 Dealer Perspective
A similar yin-yang portrait emerges from a survey of security dealers and systems integrators conducted by SECURITY's sister publication, SDM Magazine.
In this dealer study, economic conditions is the number one factor that will most significantly affect. And, while burglar fire alarms are the meat and potatoes of security dealers, for the first time, a greater number of dealers report that video surveillance equipment is now the hottest for resale.-Bill Zalud, editor


SIDEBAR: Lessons Learned - Impact of Terror
When asked if the impact of September 11th and its aftermath will influence the security operation, 73 percent of respondents to the SECURITY Magazine annual Forecast study said yes. And about one-third of those say they would spend more on electronic security. History is repeating itself. In 1994, research firm STAT Resources of Chestnut Hill, Mass., found strong security spending related directly to the 1993 bombing of the World Trade Center. And matching the most recent SECURITY results, the STAT report indicates most spending was in video surveillance and electronic access controls.
About the Survey
Annually, SECURITY Magazine surveys executives at all types of organizations and who have security responsibility. A Forecast study questionnaire was mailed to 2,000 randomly selected executives in October 2001, with a 25 percent useable return rate.