WITRELESS GUARDS UTILITY FROM TERROR THREAT
With terror alerts in the United States centering on energy and water resources, public and private agencies see a mixture of personnel and electronic security a potent protection mix. For example, U.S. water utilities will get millions in federal funds to conduct vulnerability assessments under an emergency spending bill. Of the $20 billion emergency supplemental spending provisions, $175.6 million is earmarked for the EPA, including $90.3 million for counterterrorism initiatives such as water system vulnerability assessments. The American Water Works Association estimates there are 55,000 community water systems in the United States. So it's natural that security system integrators are putting together programs that meet the unique needs of local water works. Pro-Tec Design, Inc. of Plymouth, Minnesota, responded to a call shortly after 9-11 during one of the national states of high alert, when investigators found a door ajar at the Champlin facility and speculation about possible terrorist sabotage took off. Because there was no way of telling where or whether an intruder might have gained access to the water supply, the city conducted testing and system flushing to the tune of $23,000. The city then acted quickly to allot funds for a security system to monitor access to offices, water towers and wellheads. Two companies bid on the job: the winner was Pro-Tec Design of Plymouth, Minnesota, which proposed a wireless ITI Advent Commercial security system from the Interlogix Security & Life Safety Group. They also proposed four ITI Concord subsystems that monitor access to remote water towers. "Wireless makes installations easier," says Champlin Utilities Superintendent Bramwell, who worked closely with Pro-Tec Design throughout the design and installation process. "In some situations it saves thousands on trenching alone, such as when you have large areas under blacktop-which I do. Wires can also bring on rodent problems, and in this climate, freezing and breaking of wires if they're not buried deep enough. "There's also a proven wireless track record with the government, which gave me a comfort level. That combined with the fact that the system is supervised, so if there's no communication between sensors and the control panel, I'll know about it."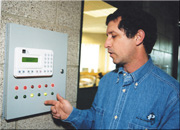 Helping Municipalities
Working with municipalities means working with public money for public interests and getting numerous people involved. Gail Essen, Pro-Tec Design's sales engineer on the project, reports, "We always start with pursuit of a clear understanding of what is necessary versus what is desired. Water departments are high-tech operations and they're used to high-tech solutions, and with so many players…we needed to educate the city on our professional perspective in order to be successful. But we didn't start with our perspective. To accomplish our goals, we first sought a clear understanding of the city's objectives." They arrived at a cost-effective approach. In the process they were able to prepare information that convinced Eric Carlson, Director of Public Works, of Pro-Tec Design's expertise and the viability of their solution. In Champlin, the Department of Parks and Public Works entered the process because down the road their buildings would require compatible security. No problem: the ITI Advent can go from small to mid-range system easily. Zone count, partition counts and user counts expand with demand without additional software costs. The north water tower employs an ITI Concord Hybrid wireless/hardwire panel with two partitions; one for control of the tower and one for the building housing wells 4 and 5. "Wireless won us the contract," Essen reports. "Their remote well heads are monitored-as are access points high on the water towers-without the hours and dollars it would have taken to run wire." Sentrol commercial surface mount sensors monitor the protective metal coverings on wells and maintenance shafts located several hundred yards from the main building. To traverse the distance to the control panel, Pro-Tec Design wired the Sentrol contacts inside the well covering to ITI wireless transmitters mounted on the exterior of the covering. Wireless transmissions provide pinpoint status and alarm reports. Advent communicates with Bramwell's staff's alphanumeric pagers. During an intrusion, the alarm goes to the central monitoring station and to water treatment staff, whose pagers would read, for example, "Alarm, well head 3." Pro-Tec Design's production technician Stephen Everheart worked closely with Mike Bramwell, who had input every step of the way. During a preliminary walkthrough Everheart discovered that the plant environment posed threats of its own to security components. Oxidizing agents, for example, are highly corrosive. To protect cable and contacts, Everheart covered components with protective plastic. Planning for a water treatment installation must always take corrosion into consideration. To protect from intruders, contacts, motions, and beams cover all the key areas and cameras scan the perimeter. "I'm comfortable now with the system in place," Bramwell concludes.
SIDEBAR: Inside the Solution
Panels
1 ITI Advent Commercial Security with 4 partitions
2 ITI Concord Hybrid security with 2 partitions
2 ITI Concord Express hardwire panels with built-in wireless
Receiver/Transmitter
1 Linear XR-16 16-channel midrange wireless receiver
2 Linear XT-4 4-channel midrange wireless transmitters
Sensors 26 ITI wireless Learn Mode door/window transmitters
2 ITI SuperBus output modules
13 Sentrol 2200 series commercial security contacts with armored cable
1 set of Detection Systems beams, DS422
6 Detection System motion detectors, DS835
Wallmount touchpads
2 ITI 2-line LCD touchpads
CCTV
1 Calibur Digital Video Multiplexer and Recorder (DVMR) from Kalatel
4 Vicon B/W cameras, model VC-2150a-24
1 International Fiber Systems Receiver, model VR-1100
1 International Fiber Systems Transmitter, model VT-1101M
ALARMNET ADDS HIGH SECURITY INTERNET MONITORING
For applications ranging from commercial to residential, AlarmNet-I provides affordable, high security central station communications over the Internet. The technology is compatible with a wide range of ADEMCO VISTA panels; offers highly supervised, fully encrypted communications; eases the task of configuration since it works through firewalls and needs no fixed IP addresses or separate links; and boasts the flexibility of transmitting signals to multiple locations without ever compromising security. The service is first being introduced at the International Security Conference this month in Las Vegas. Data security and authentication must, of course, be requirements of any Internet-based service that sends alarm information over the Internet or through Intranets. So ADEMCO raised the bar and put special emphasis on making these objectives a key part of the AlarmNet-I service. Built-in are both encryption and authentication at much higher levels than typical. For example, ADEMCO has built its encryption solution on a publicly available scheme called Blowfish that is fast, compact and simple while providing the benefits of a very robust variable length key. AlarmNet-I also meets the challenge of firewalls in corporate and residential applications through, uniquely, simplified installation. An installer need only know how to physically connect a common Cat-5 wire between the AlarmNet-I communications equipment and the LAN hub or router that provides a path to the Internet. The communications equipment is smart and will find its way to the AlarmNet-I service.
Easy Intranet Connections
Specific to Intranets, often used by corporate and commercial end users, the high security Internet monitoring service provides as much data security as possible without forcing any changes to a customer's data security practices or policies. The required ADEMCO modules are: the 7845I Internet Communicator or Symphony display at the protected premise and the 7810I Central Station Internet Receiver at the central station. The 7845 wires like other ADEMCO Long Range Radio products. There is a 4-wire connection to the ADEMCO console bus and a separate connection for an RJ45X plug typically used for connecting to Ethernet local area networks. The LAN or router has an always-on connection to the Internet. Once powered and connected, the 7845I automatically seeks the ADEMCO AlarmNet servers in a private, automated and secure connection. Once established, both sides (ADEMCO server and the 7845I) are authenticated and any of the newest code required for the 7845I are automatically downloaded to it.
Central Station Side
On the central station side, installing the 7810IRI is straightforward.It is an Internet receiver touch screen display that lets the central station easily view and set any of the communications options. Nearly 15 years ago, ADEMCO had a vision to provide a wireless alternative to plain old telephone service or POTS. The technology base of that vision is what the company calls AlarmNet. The initial network is referred to today as AlarmNet-A. It started out as a local area service. ADEMCO expanded its AlarmNet coverage when it created a link to the Mobitex wireless network. That version is called AlarmNet-M. Then along came rollout of a nationwide cellular infrastructure and ADEMCO responded with AlarmNet-C. The particular challenge there was the fact that, unlike the data-only nature of A and M, cellular also carries voice over an existing telephone company backbone.
PROX AT HEART OF UNIVERSITY ACCESS RETROFIT
Applying access controls in closed communities such as colleges and universities is a solid strategy. Especially in retrofit designs and when fitting the technology into sprawling campuses of many buildings and personnel needs, a clear end user goal and a talented installing company can combine for a retrofit success. Take Iowa State University, for example. It's a campus of 27,800 students and more than 6,200 faculty and staff. The campus is currently going through an access control metamorphosis. This 2,000-acre campus, which includes over 160 buildings, had originally been using a traditional mechanical key-and-lock system. But it wanted to increase the level of protection of its students and staff members. It also wanted to eliminate the hassle of re-issuing lost keys, reduce risks posed by lost keys and speed the process of restricting unauthorized users once a key/card was lost. Studies have consistently found that, when key management tasks are added up, the cost of maintaining such door keying systems is extraordinarily high. Iowa State took the retrofit plan as an opportunity to review its overall access control strategies. "The areas of concern are twofold: We wanted to be able check real-time status of the condition at the door and we needed (more efficient) key control," says Captain Rob Bowers, Iowa State University Department of Public Safety access control manager. Kicked off in 1999, the project is still ongoing, with sensitive areas of the sprawling campus getting top priority and others being updated as the security budget permits. To retrofit the access control system, the university looked for the ideal hardware and software components to fit its needs.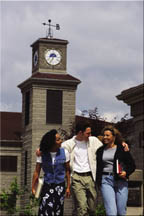 Access Control Search
The university conducted an extensive search for an access card that could incorporate a magnetic stripe and could be coupled with a video badging system. Their search led them to Hirsch Electronics and its Momentum system, which integrates with HID proximity cards and readers. Concerning the access platform, Momentum for Windows NT is management software for access control and security operations. It uses a client/server architecture and is optimized to local area and wide area network environments. Written around Microsoft's SQL Server database, Momentum is a true enterprise-class security system with extensive partitioning and the ability to scale a virtually unlimited number of client workstations on the network. The system ties into an Internet backbone—every reader and input could be partitioned individually on different workstations, based on access privileges. On the prox side, the Hirsch system integrates easily with HID's cards and readers and they work closely together to provide excellent customer service and technical support, according to the consultant/installer, The Baker Group, which was founded back in 1963 by B.J. Baker. The firm is Iowa's only full-service mechanical contractor and control system integrator. Among the challenges faced and solved by the system integrator, the university wanted the ability to program up to 100,000 cards at any one time — an extraordinary enrollment task. To meet that need, HID offers its Corporate 1000 Format, a 35-bit card format owned and controlled by the end user. The proprietary Corp. 1000 card format can only be used at the university to maintain its viability. l This format heightens facility security by providing end users with their proprietary protocol. l Gives end users the freedom to select the access control hardware/software platform or system integrator of their choice. l HID tracks the card numbers to ensure that no duplication occurs. The technology was an attraction to the university's card access manager. "HID presents a unique bit format that can only be bought and used at Iowa State under my authority," says Bowers. In total, 14,000 HID ISOProx cards were initially used. Currently there are 370 MaxiProx, ThinLine, ProxPoint readers in 40 campus buildings. By the end of project, the school will have 800–1000 readers in 85 buildings and throughout the campus. Other access control technology is used, too. For example, the university uses Hirsch Scramble Prox, which embeds a HID reader in it. The device works with a proximity card and pass-code. The future? The campus is considering the addition of multi-technology cards with smart card technology at some point in the future.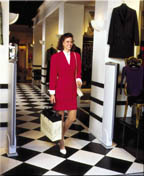 STORES GO TO SOURCE
The word "shrinkage" strikes fear in the heart of retailers. Shoplifting and theft can make the difference between profitability and operating in the red. And it is not just shoppers from outside that retailers have to worry about. They also have to be concerned with forces from within. According to the recently released National Retail Security Survey, America's retailers lost more than $14.9 billion from employee theft alone last year. Anti-theft tags used with a combination of security personnel and security video have been the weapons of choice for many merchants. Today, retailers ask product manufacturers to install EAS tags at the point of manufacture or what's called source tagging. "It really is a logical step for both retailers and manufacturers," said Rex Gillette, vice president of ADT's National Accounts Retail Division. ADT has a comprehensive source-tagging program. One recent convert to source tagging, Hudson's Bay Company, is Canada's largest non-food department store retailer and oldest corporation. Hudson's Bay Company has installed the Sensormatic Electronic's Ultra·Max EAS technology in all of its the Bay/La Baie locations, a fashion and home merchandise department store chain as well as in Zellers, Canada's leading discount chain. The Ultra·Max EAS technology uses acousto-magnetic technology to detect active tagged items removed from the store. Tags are automatically deactivated at the point of sale as they are scanned and purchased. The retailer began working with vendors on encouraging more source tagging. "We see manufacturers of hard goods and our smaller soft goods vendors jumping on the source tagging band wagon more quickly," said Carol Hacker, corporate service tagging manager. We are very pleased with the results of our EAS system. We see it as a valuable smart investment," Hacker said.