Imperial Plaza in Richmond, Va., is a mature but beautifully maintained property. Its 760,000 square feet including four residential towers is a comfortable and affordable housing option for senior Americans. The towers are connected by spacious, enclosed walkways with an auditorium and a virtual village green including a library, bank, pharmacy/post office, grocery store, doctor's and dentist's offices, beauty shop, restaurant and diner.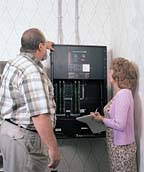 Update for More Safety
Originally the 35-year old buildings were protected with a simple, non-intelligent system of manual pull stations, three in each corridor.
Now the facility boasts eleven fire panels, three of them state-of-the-art multiplexed MXL fire protection systems from Siemens Fire Safety, Florham Park, N.J. Management expects to continue upgrading with MXLs. Since ARC (American Retirement Corporation) acquired the property about five years ago, three of the towers have
been completely modernized. Eventually the entire complex will be protected by a networked MXL system.
All common halls are protected by MXL with the capability of later connection with intelligent detectors in the apartments. The plan is to begin with corridor coverage with potential for expansion. All corridors on every floor of the three towers, and all corridors of the single-story core facility, employ the MXL system, and the fourth tower will shortly be converted to MXL. At present it has the old-style manual pulls with heat detectors in the kitchens.


Integrated Approach
The building has 24-hour security, including a guardhouse manned continuously. All MXL systems report back to a panel in the guardhouse and an identical one in the main facilities office. The panels report which building or area is in alarm. Upon digital communicator notification, the guards call the inside safety squad, which goes to the area in alarm to read the entry panel and determine floor and location and begin to fight the fire.
All main systems network together. A future phase of modernization will include a command center with complete readout of building, floor and other parameters. The controls will be open-ended to eventually oversee intelligent, networked life safety alarms in every unit. The plan is to first complete the corridor coverage, then proceed with the expansion potential.


Technology Grows with Facility
Imperial Plaza management plans a future, fifth tower, and has advised its architects and contractors that it wishes to continue with fire equipment supplied through Newell Communications, Inc., a Richmond-area distributor.
Of course, the fire alarm system design was also checked out with the City of Richmond Fire Marshal, who is the authority with jurisdiction and involved in decision-making.
The user-friendly nature of the MXL system fits in with Imperial Plaza life safety philosophy and staffing. In particular, a number of department heads rotate weekend manager duty, and it's important to keep the same easily understood panels for the benefit of people who don't deal with them daily.
Such user friendliness is an important issue with facilities management, too. At a facility like Imperial Plaza - large, spread out and with many residents requiring assistance - rapid response is essential. When a fire system is down, every hall must be continuously policed for safety reasons. Fortunately this has never happened with MXL.
After years working with the previous system, maintenance management contacted most local fire systems vendors and knew which would respond to an emergency in the middle of the night, and which just talked a good game. Newell was the company of choice for Imperial Plaza.


First Responders
In Imperial Plaza's fire plan, the maintenance group is always first responder and all department heads also respond.
It's not usual for maintenance to be the lead fire safety entity, but that is how it evolved at Imperial Plaza. The maintenance staff has master keys and radios for communication, and everybody is familiar with the fire panels, how the alarms work, how to turn off the gas and how to fight the fire. As soon as it's recognized that it is a fire, all the notification arrangements are backed up with a direct phone call to the fire department just in case.
Each assisted living floor is divided in half with smoke partitions and fire doors, so the residents can be moved from one end to the other if total building evacuation is not required. Fire drills are run every month, so everybody is prepared. In addition, any kind of false alarm - people burning toast, for instance - is treated just as seriously as a true alarm.
The new models of alarms and horn-strobes are extremely loud, better able to alert the residents. The smoke detectors are Siemens intelligent, application-specific FirePrint detectors, which employ advanced software algorithms and a neural network to sense both smoke and heat. To reduce the chance of false alarms, FirePrint detectors can adjust for optimum response in various environments, such as kitchen, bedroom, bathroom or hallway. Kitchen facilities are equipped with sprinklers.


Fire Code Info Online
Check out the National Fire Protection Association (NFPA) Web site at www.nfpa.org for more information on healthcare occupancy and appropriate life safety codes. NFPA has a number of codes and standards that work in harmony. The codes cover systems as well as construction. Three of the NFPA documents are: NFPA 1, Fire Prevention Code; NFPA 101, Life Safety Code; and NFPA 5000, Building Construction and Safety Code.