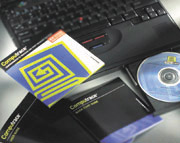 When two laptop computers disappeared from Prince William Hospital in 1998, important information left with them. But because the Hospital had enlisted the help of an "agent" - a PC-tracking agent from Absolute Software-the stolen computers were retrieved within a few months. Now an integral component of an overall security strategy, Absolute's Computrace has become a corporate standard at Prince William.
Since its beginning in 1964, Prince William Hospital has been a vital part of the Manassas, Va. community. Prince William Hospital is a 170-bed non-profit hospital with more than 200 medical staff members, including primary care and specialty physicians.
Prince William Hospital continues to meet the demands of an ever-growing community by offering the latest in medical care, wellness education and community involvement.
The hospital is dedicated to providing a true culture of caring for its patients, focusing on their needs and desires. Equally important, is the hospital's commitment to protecting the confidential medical data associated with their patients.
That's why since 1997, they have relied on Computrace, a PC tracking and loss control solution from Absolute Software. Computrace provides an integrated PC-tracking and recovery service that protects its customers from the complications, liabilities and potential dangers involved in locating and recovering lost and stolen computers.


Prince William Hospital and PC Security Needs
When Glenn Thomason, a network analyst, first started working at Prince William Hospital four years ago, there were relatively few laptops in use. But by the end of 1997, when the number of laptops had nearly doubled, he knew it was time to start thinking about how to best protect and manage the computing assets.
"Our laptops were on the books for financial reasons, but they weren't being tracked for security purposes," Thomason said. "With a lot of entry points into the hospital, there are always people coming and going. That, combined with the increased number of notebook users, led me to have a serious discussion with our security director."
Without knowing it at the time, there was an equally compelling reason to start a discussion on PC -tracking and loss control: The HIPAA Health Insurance and Portability and Accountability mandate that hospitals enforce total patient confidentiality.
Any company that engages in the electronic transmission and maintenance of health-related data needs to consider how to protect its data through a strict security plan. HIPAA calls for severe civil and criminal penalties for non-compliance.
Concerned about protecting the company's computing assets as well as the confidential patient information stored on those assets, Thomason and the hospital's security director decided to evaluate Computrace from Absolute Software. Thomason had first been introduced to Computrace at a trade show the previous year.
For the first demo, Computrace was installed onto a laptop that belonged to an employee who would be traveling for a week. The "tracking agent," the heart of Computrace, was scheduled to call into Absolute's monitoring center every day for a week and transmit PC location and other auto-discovered data points. Thomason said, "Without fail, it made every call it was scheduled for and tracked the precise location of the PC for seven days. It did exactly what it was supposed to do."
While reliability was certainly a factor in the hospital's decision to finally purchase Computrace, another factor was the tracking agent's invisibility. "We chose Computrace mainly because it is so stealthy-it is hidden on the hard drive and cannot be detected by the average or even savvy user," Thomason said.
When the first two stolen computers started calling into the monitoring center back in 1998, Absolute's team of experienced recovery officers worked with law enforcement officials to locate and help retrieve the computers and apprehend the suspect. Thomason said, "Working with Absolute, we've always received great service. They have been consistently attentive and courteous over the years. That's one of the reasons I've highly recommended this service to so many other companies."


An Integral Component of an Overall PC Security Strategy
At present, approximately 75 laptop computers are equipped with Computrace. The majority are being used by department directors, who often bring their work home with them and case managers (RNs or social workers who manage patient cases), who take their laptops into the nurse units when they see their patients.
While the hospital is most concerned about the exposure of confidential and proprietary information when they lose a PC, Thomason maintains they are taking all the necessary precautions to protect their patients' confidential medical data: "There isn't any patient information on the hard drive - patient information has to be on a network device, protected and backed up ."
Prince William also provisions locks for further protection. Thomason says that the laptops used for bedside registration in the ER, which have a wireless connection to the network, are chained to carts.
He adds: "We plan to tighten hospital security even further; we've disabled CD-ROMS and floppy drives, and soon we're going to Windows 2000, so a user won't even be able to access local files without first authenticating to the network."
Right now, though, Thomason says Computrace gives him some peace of mind.
"We intend to maintain our security here, but the last thing we want to do is make this hospital seem like Fort Knox. That's why we like Computrace so much, because it's a digital security cable that is always on and always working."