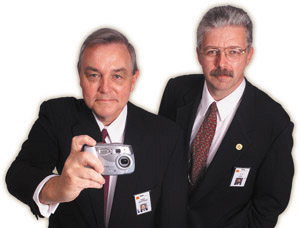 Branded with the best and world-renowned for its film and imaging products, there's no mistaking the Eastman Kodak Company name. But in addition, the company is charting a course as a world-class provider of state-of-the-art security for both its facilities and personnel here and abroad.
Currently underway and expected to continue through the end of this year, the Rochester, N.Y., firm is upgrading its Kodak Security System (KSS) to a new plan called KSS2K. Once completed, the project will provide a veritable unlimited capacity for security devices under a single, turnkey service contract.
To say that the design, update and maintenance of security operations in the U.S. plus some 10 countries - with personnel who require various degrees of access to locations and information - is a massive endeavor is an understatement. Some 1,500 Matrix MX2 proximity card readers will be installed, marking the company's first widespread move to this technology, with the revamp mandating rebadging worldwide.
Founded in 1884 as the Eastman Dry Plate Co. by George Eastman, the Eastman Kodak Co. name was instated in 1892. Listed among the 25 largest companies in the U.S., the firm is a premier multinational corporation. And, in addition to marketing its own branded products, Kodak is a major supplier of CCD and CMOS sensing devices (the heart of a digital camera) to other manufacturers. In fact, some 25 percent of all the high resolution CCDs in use today are from Kodak.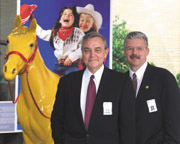 Globally Positioned for Success
A centralized system with decentralized control will allow the company to efficiently move people and information to numerous locations around the world and still control access to that information and those sites, says R. Patrick Watson, director, Kodak Worldwide Corporate Security (WWCS).
"This means that local site managers have the responsibility to keep information up to date and can use the system to control access. Used as a comprehensive tool, on-site managers can use it to fulfill their local security and management responsibilities. Also, as a centralized system, it is managed at the corporate level, with WWCS establishing policy and procedures to ensure its integrity," Watson says.
"We're a 'transnational' knowledge-based company," he continues. "To meet the demands of the global marketplace that is characterized by greater competition, higher customer expectations and shorter product life cycles, Kodak must be able to efficiently move people and information to numerous locations around the world and still control access to that information and those sites. We believe this system accomplishes our goals."



Transformation to KSS2K
Because the company has continued to grow as a vital global provider, it needed a security system that could support multiple, additional sites, and efficiently and effectively manage access to Kodak facilities around the world by employees, contractors, vendors, tenants, joint venture personnel and visitors. Its former equipment could no longer be supported technically, could not be expanded to support new sites and did not have many of the features Kodak needed. KSS2K addresses security issues today while making plans for the future.
"Security should not be an impediment to growth and profitability. Our role is to continuously assess the threat to corporate assets and use the tools available to effectively and efficiently reduce the risk," says Watson. Watson holds credentials of 29 years of service with the Federal Bureau of Investigation prior to joining Kodak.
Also directing the security revamp is Thomas Rohr, manager of technical systems, WWCS and a 26-year Kodak veteran. Rohr is charged with the management of electronic access control, technical countermeasures and encryption. He says it's crucial for Kodak to be on the cutting edge of security, and the upgrade will allow the company to more closely posture physical and logical access control.
"Physical and logical access control have traveled on parallel paths for many years," Rohr says. "Kodak has taken steps to address many of these issues with a single mindset and focus. This system is designed to finally bring it all together - managing access to Kodak facilities by an ever-increasing and diverse population of employees and others," he says.
WWCS is the sponsor of the project as well as the management organization for the system. Controls, such as granting physical access, monitoring alarms, badge manufacture or assigning access permissions continue as an on-site or regional responsibility. Process and procedural guidelines are established by corporate security as well.
Rohr adds that the company currently is in the process of upgrading 34 domestic locations and 26 international sites using a series of regional servers, workstations and building controllers.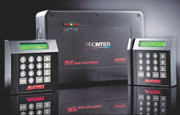 Security Profile
Selected as the equipment for the upgrade is the Matrix Frontier Integrated Security System, which consists of Windows NT 2000 servers and workstations, Matrix MX2 proximity badge readers, reader control modules and building controllers. Also slated for ongoing installation worldwide are photo imaging systems that permit key facilities to print employee and non-employee identification badges. Sites without photoimaging and badge manufacturing stations will conduct digital imaging of their personnel and transmit those images to their regional badge-manufacturing site. Manufacturer HID Corp., Irvine, Calif., will OEM the proximity chips, and in addition, HID's Duo-Prox cards will be deployed. Combined, the access control and photo imaging systems will work together to create an integrated and user-friendly system.
The Matrix Frontier Integrated System is a powerful tool in aligning physical and information systems, says John Gorretta, vice president of sales and marketing, Matrix Systems Inc., Dayton, Ohio.
"Kodak has had a long term, special relationship with Matrix Systems," he says. "Choosing the Matrix access control security and badging system was one of the steps in achieving Kodak's goals of a fully unified system. The application allows excellent connectivity to field security devices and provides a solution to many of the company's current security issues," he says. Gorretta adds that Kodak will handle the installation at the sites through subcontractors, while Matrix Systems will supply both product and project management.
Matrix Systems president Jim Moses says, "We are both honored and privileged that Kodak has entrusted us with a project of this magnitude. The agreement is the result of a relationship built on service and commitment of nearly two decades."
The process of replacing all current, non-Matrix equipment and moving all systems to the Frontier platform will be completed by year's end. Strategically located servers will provide security system communications to more than 60 Kodak sites globally.


State of the Installation
The first six months of the year have been dedicated to software development for Kodak-specific applications and final site surveys. In addition, a vast amount of data conversion has been required. The conversion ultimately will transfer some 220,000 personnel records and images (current and archived) as well as all associated security access levels. The conversion being performed by the Matrix team eliminates a large amount of hand-entered information, which would have required greater resources on Kodak's part. The first part of the year has also been devoted to reprinting all active badges onto the new HID Duo-Prox cards. Some U.S. sites have already been upgraded based on special business needs, with the remaining sites set for upgrading during the second half of 2001.