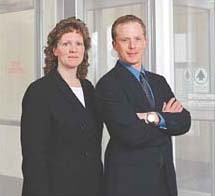 A top security strategy - electronic access control - gains strength through a diversity of security technologies, often integrated. That's the case for a Michigan plant. Its success mirrors the plans of many security operations. In the 2003 SECURITY industry forecast study, security executives were polled on how 2002 rated and what are the expectations for 2003. When asked what was the top security-based concern their company had, 42 percent of the nearly 500 respondents answered that access/egress was on their mind. Nearly one-third of the respondents claim that access is high on the security spending priority list.
One example: Robert Bosch Fuel Systems, Kentwood, Mich., a manufacturer of diesel fuel injectors. Concerned with liability and risk factors, management saw a need to improve building security, so they appointed Robert Dial, facilities engineer and lead project manager for security, to create a new building-wide access control system. The project, started in December 2001 was to be completed by April 2002.
Before undertaking the project, the facility lacked any form of access control. In addition to one million square feet, there were approximately 20 different entrances, with 1,800 employees going in and out. "The access control system allowed us to reduce the number of employee entrances to six and effectively direct all non-employee traffic through a single, officer-staffed entrance. In addition, the system provides the ability to quickly determine who is in the building at any given time - a potentially big benefit in the event of an emergency," says Dial.


Taking Action
From there, Dial made a calculated decision. The immediate goal was to find a savvy systems integrator who could give him access answers. The primary challenge was the time frame. The fact that there was a very narrow time window with which to work, coupled with choosing the right access control system, created challenges. "The multiple entrances coupled with a 24 hour operation created an environment that was far from secure," Dial says.
Enter SecurAlarm Systems, Inc., Grand Rapids, Mich., and Gloria Lubben, CPP, executive vice president of SecurAlarm, the systems integrator and consultant on the project. It was her industry knowledge and experience that helped forge the bond with Dial. "We put together AutoCAD drawings of their facility, and we went through the whole design process with them. I would call our relationship with Bosch Automotive as a design/build arrangement. We helped them work through the design and the budget process to arrive at a better solution. Once we nailed down what they were looking for, we hit the ground running," says Lubben.
"I have to give a tremendous amount of credit to SecurAlarm. Gloria was able to translate some of our ideas and notions into practical solutions. She understood exactly what we were trying to do as well as the challenges specific to our location," Dial says.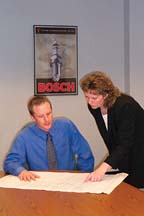 Inside Access
The installation called for 47 HID, Irvine, Calif., card readers, which provide access control for the main plant and the off-site engineering department. Multi-technology cards from HID include the company logo, employee picture, employee name and barcode for time and attendance. The multi-tech cards allow for multiple pieces of information on the same badge - a bar code for time and attendance through Kronos, Chelmsford, Mass., and proximity technology for the access readers. "They were already doing time and attendance through Kronos but they were looking for the access control system to give them a backup to the time and attendance. If there were any time and attendance disputes, they could go to their card access database and verify if somebody checked in or not," says Lubben.
Keeping things within the Bosch family, Dial looked no further than Bosch Security Fairport, N.Y., and its Readykey- PRO access system. Built on a 32-bit platform, the ReadykeyPRO system unites an access control software package with alarm monitoring, and an identification (ID) management system with integrated badge designer functionality. The system's true open architecture design supports industry standards for databases, networks and video. Graphical maps provide a detailed display of alarm activity using customized application diagrams.
The Readykey PRO system is integrated with Pelco of Clovis, Calif., cameras and two Intellex intelligent 16-channel digital video recorders from American Dynamics of San Diego.
"The security management platform is directly integrated with the security video system...when an alarm occurs, the cameras assigned to that area automatically pan-tilt-zoom (PTZ) to that location to bring the image directly to the attention of security officers. It's integrated to the point that security officers don't have to perform an overt action in order to get the system to respond. The system responds automatically and calls their attention to it," says Lubben.
The primary benefit is that all non-employee traffic coming in or going out of the plant is directed through one door and through a security station where officers on site log those visitors in and out.


Location, Location, Location
The system server is located in the information technology (IT) department, which featured a 64-reader capacity with an SQL database. "We had a cross-functional group of about six to eight individuals who worked very closely throughout the course of the project. The HR and IT team members played a particularly pivotal role on our implementation team. We dedicated a server to our access control database, which holds all of our employee badge data. We were able to utilize our existing network to direct all security data transfers," says Dial. All software-to-controller communication takes place over the existing customer's network.
There are also two client workstations, one in the security department and the other in the HR department. When HR enters a new employee into the HR database that automatically fills certain fields in the security management database. Security personnel photograph new employees, and HR assigns a "time clock number" and produces the ID badge. "We had some initial hesitation within our implementation team. Our HR department was particularly concerned because of the potential for difficulties a new system would create. To their credit, they were able to identify the areas of concern and put together a plan which allowed us to meet our original implementation date of April 15," says Dial.
In addition to controlling access/egress through the revolving doors, card readers were installed on the shipping and receiving gates, dock doors, maintenance and utility entrances, the IT department, HR department, and executive offices. Alarms on card access doors distinguish between "door forced open" and "door propped open" conditions. All exterior fire exit doors are also monitored through the system for unauthorized activity.


Round and Round
Early plans called for putting fencing around the entire plant, between employee parking lots and the building. From there, employees would read in and out through the turnstiles within the fencing. That plan, however, created numerous practical difficulties and was set aside in favor of a more aesthetically pleasing approach. "Whenever you put anything electronic outside, you are bound to have problems with the environment. Turnstiles are inherently prone to freezing, ice build-up, etc. I compared the look and advantage of a traditional turnstile to an interior vestibule that could house revolving doors," says Lubben. The important design step was to build interior vestibules within each employee entrance to house the revolving doors. Dial and Lubben developed the initial concept, which was detailed by local architectural and engineering firm Century A&E.
In conjunction with the access control system, the Kentwood facility installed seven C90150-2/3 revolving doors from Horton Automatics of Corpus Christi, Tex.
According to Don Haerer, revolving door product manager for Horton Automatics, the revolving doors restrict entrance into the building. Before an individual can enter a building controlled by a card reader verification system, for example, he or she must present a valid access card to the reader. Once that occurs, the door takes control of that user's presentation and controls attempted violations. Security revolving doors offer several advantages over conventional entrances and turnstiles. One significant advantage is that revolving doors can be used in two directions simultaneously instead of allowing passage in a single direction at a time. The throat openings are much larger than turnstiles to accommodate two-way traffic.
"This 'automated security' system processes a large number of users in a short period of time with a high degree of security, reliability and safety. Tailgating is eliminated while piggybacking is severely limited with this marriage of technologies. Security revolving doors do not always eliminate guards or guard posts, but rather make the existing guard force more visible and valuable by allowing guards to monitor the building or parking area instead of being high-priced hall monitors," adds Haerer.


Overcoming Obstacles
Originally, the human resources (HR) department did not think that they had the manpower to badge all 1,800 employees. The plan was to look for a single badge with embedded access control, proximity technology with a picture ID and a barcode for the time clock. Since the badging software itself was part of the Bosch product, SecurAlarm agreed to take badge production inhouse. "Robert Bosch's security personnel took the pictures digitally and burned them to a CD. We picked up the CD every day, took it back to our office and processed it," says Lubben.
One Last Push
In addition to the access control products, the facility installed a video surveillance system to provide backup and supervision for the doors. There was some initial concern about the use of security video. So Dial and his team dedicated a great deal of time and effort to communicate with employees. "They proactively communicated to employees what was coming and why it was being implemented. In fact, Bosch has a television system throughout the plant, which they use to communicate security information over its internal channels. I think the preemptive strike from a communication perspective helped," says Lubben.