Similar to the last five years, the average retail shrink rate in 2021 was 1.4%. When taken as a percentage of total retail sales in 2021, that shrink represents $94.5 billion in losses — up from $90.8 billion in 2020, according to the National Retail Federation's (NFR) 2022 National Retail Security Survey (NRSS). 
The NRSS surveyed retail loss prevention and security executives about risks, threats and vulnerabilities to their company and the retail industry. While retail shrink encompasses many types of loss, it is primarily driven by external theft, including theft linked to organized retail crime (ORC). This year's NRSS report, conducted in partnership with the Loss Prevention Research Council (LPRC), takes a closer look at the impact of ORC on the retail industry. 
The survey found that retailers saw a 26.5% increase in ORC incidents in 2021. Beyond losing goods, retailers also face several security-related challenges across the industry. 
Eight in 10 retailers surveyed report that violence and aggression associated with ORC incidents increased in the past year. Challenges with labor shortages, employee retention and hiring, and masking and other COVID-19 precautions have contributed to the risks of violence and hostility. Active assailants and gun violence have added concerns about workplace violence and employee and customer safety. 
The survey explores the responsibilities of loss prevention programs, the size of loss prevention (LP) and asset protection (AP) teams, budgetary priorities and changes, and the use of security technology in the industry. Let's take a look at these programs and priorities.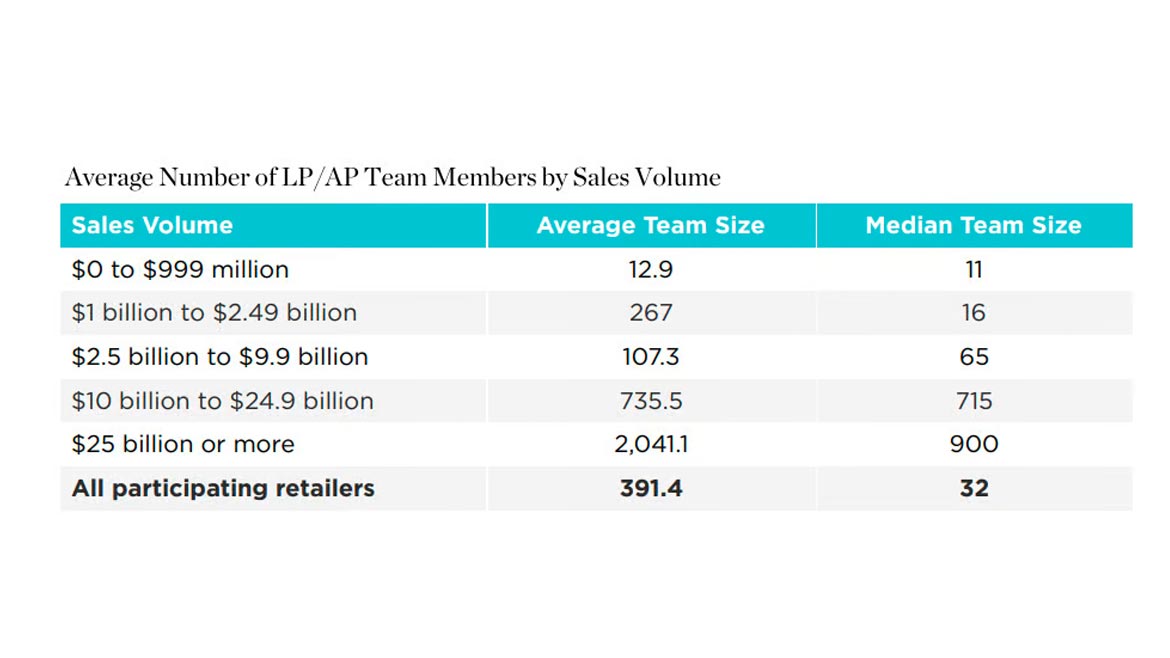 Image courtesy of NRF 
Loss Prevention Team Size 
According to respondents, the average LP/AP department size as of January 31, 2022 was 391.4 team members; however, the median was 32. This includes everyone from store-level LP/AP team members to senior loss prevention management. As one might expect, the size of LP teams also varied by sales volume. Figure 1 provides the average number of LP/AP team members by sales volume. 
While most LP/AP teams remain the same size, 37% of retailers indicated that their departments are growing. Only 12% of survey respondents reported that their LP/AP teams were shrinking in 2022.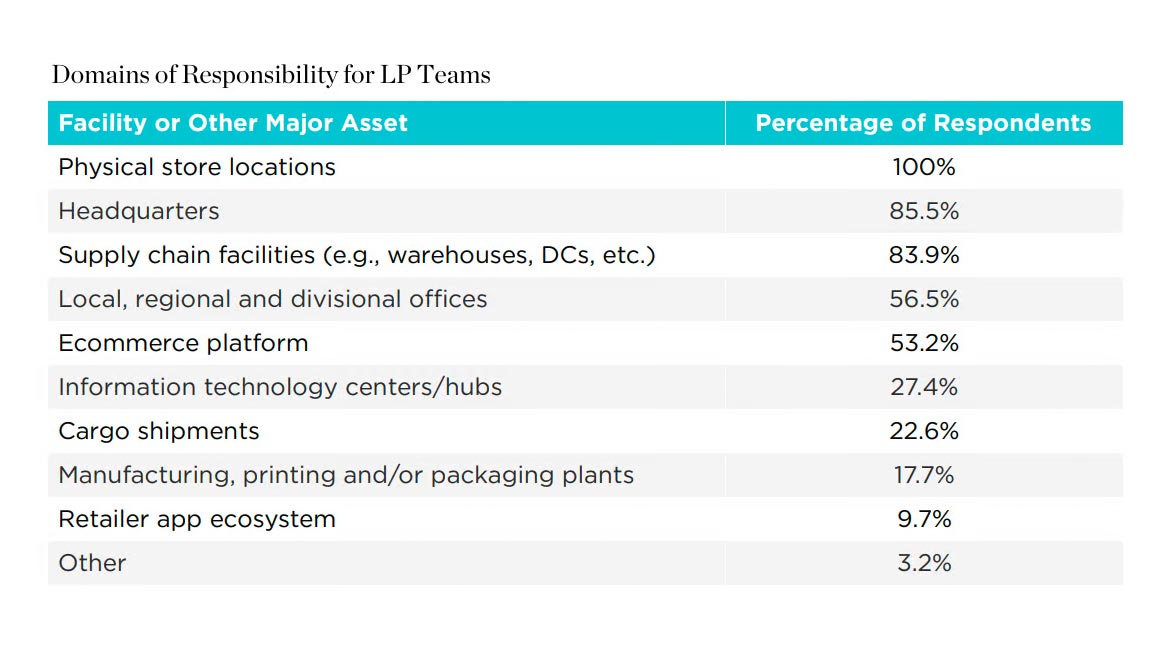 Image courtesy of NRF 
Loss Prevention Team Responsibilities and Skills 
LP teams are responsible for securing various facilities and assets. In the 2022 NRSS, 100% of respondents reported that their LP/AP teams were responsible for physical store locations; 85% were responsible for securing the organization's headquarters; and 84% were responsible for securing supply chain facilities. 
Most respondents said greater analytics and investigative skills were needed for LP/AP departments to become more successful. The responses reflected the increasingly important role of business intelligence in the loss prevention industry and the investigative skills needed to tackle ORC. 
Loss Prevention Budgets and Budget Priorities 
Approximately 45% of respondents reported that their 2022 LP/AP budgets were increasing compared with the previous year — 29% reported budgets increased by 1% to 10%; 13% reported that increases of 10% to 25%; and 3% reported increases of more than 25%. 
Most respondents are spending more on technology or capital/equipment. Approximately a third of respondents indicated they increased budgets for guards or "other" categories, including global security, safety and staffing.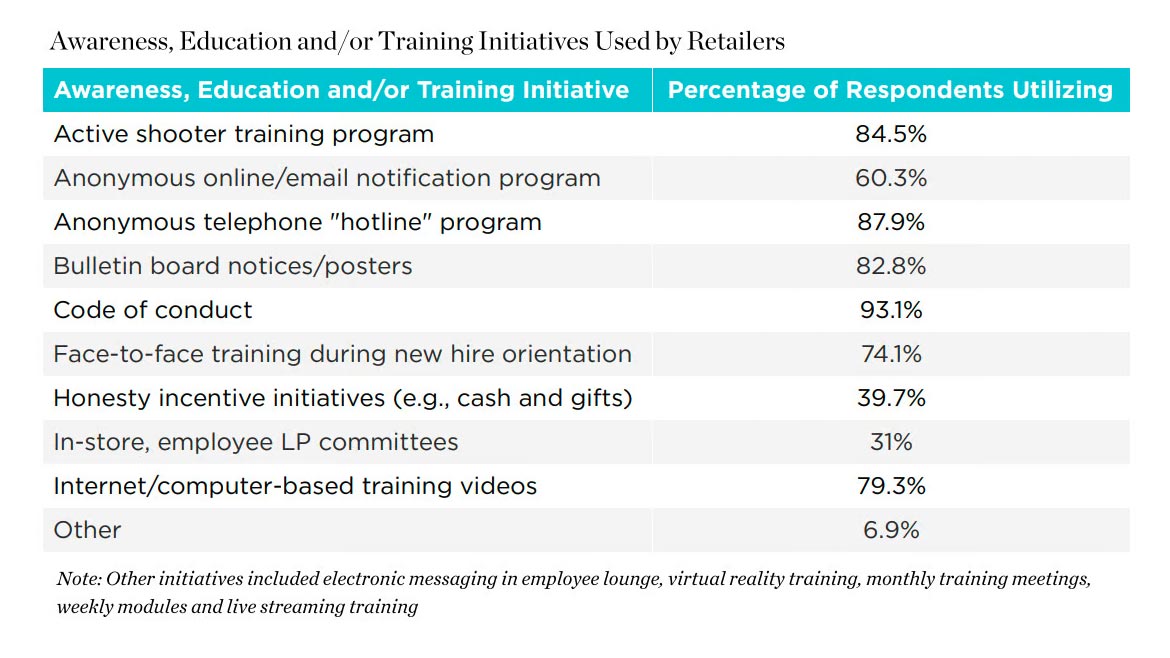 Image courtesy of NRF 
Education and Training Programs 
Addressing risk is an enterprise-wide effort. Retailers use numerous programs and initiatives to raise awareness of issues or train and educate team members about proper LP/AP practices. 
Most respondents use codes of conduct, anonymous telephone hotline programs, active shooter programs and bulletin board notices/posters as part of their security awareness programs.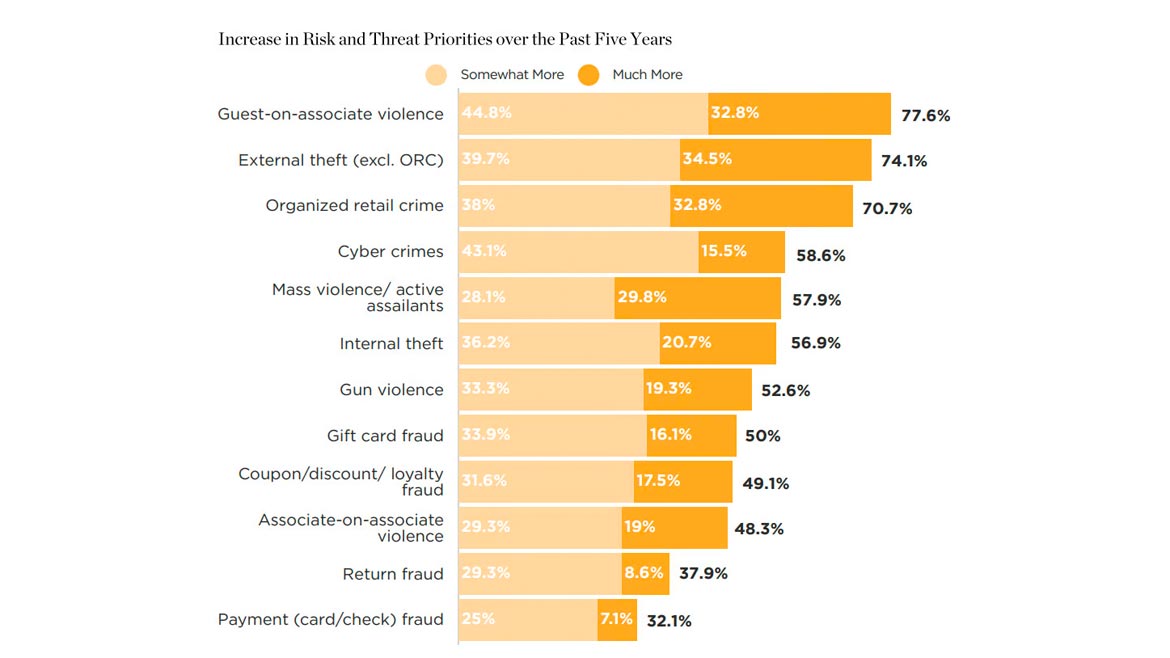 Image courtesy of NRF 
Changing Risk and Threat Priorities 
Most respondents have changed priorities over the past five years to tackle the increase in security threats. To respond to the increase in ORC, violence, internal theft and more, retailers are looking to implement new security solutions to go above and beyond traditional video surveillance and analytics.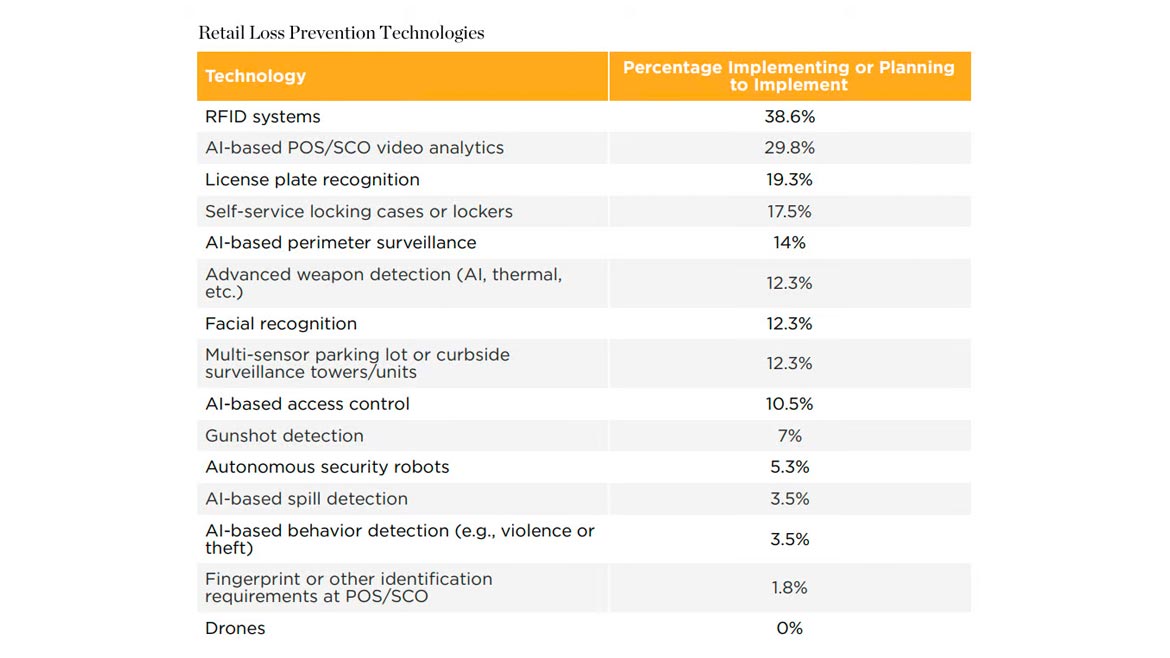 Image courtesy of NRF 
Loss Prevention Technologies 
As retail security risks evolve, retailers are turning to new strategies and security technologies to mitigate those risks, including video analytics, artificial intelligence, license plate recognition, perimeter surveillance and more. 
According to the report, the implementation of security technology represents a shift toward more intelligence-based loss prevention practices. Many of the security technologies being utilized provide more detailed data and intelligence required to investigate ORC or identify where pain points are occurring and how to address them. 
---
For more findings, visit www.securitymagazine.com.