Cognizant is a Fortune 200 multinational professional services company headquartered in New Jersey, with delivery centers and 300,000 associates in 37 countries. As part of its many responsibilities to protect Cognizant interests, the Global Business Resilience team has monitored, managed and guided Cognizant's crisis response through the oversight of the enterprise Crisis Management program.
Cognizant's Global Business Resilience team — part of the larger Corporate Security organization under the leadership of the Strategy and Technology team — implemented several initiatives to ensure that the company could continue to deliver services to its clients during the ongoing COVID-19 pandemic. The team is led by Robert Molina, Assistant Vice President of the Global Business Resilience team that manages the crisis management, disaster recovery, business continuity, incident response and physical security programs. Molina has more than 37-years of public and private sector experience leading global programs and advising corporate leaders.   
"At the start of 2020, my leadership team and I never expected we would be stepping up to execute on an 18-month odyssey that would affect the lives and livelihoods of so many associates," Molina says. "The team addressed every challenge with a healthy attitude that focused on mitigating risks towards our associates and enabling Cognizant to maintain services. We had a warrior mentality and laser focus on establishing a risk-based approach to address the challenges of an unprecedented global pandemic."
"Global Business Resilience executed a crisis response plan and operationalized business continuity plans to ensure that services were delivered during our local and country lockdown during the pandemic. The Global Business Resilience crisis management team led engagement with the business for business operation leaders," says Kevin Huska, a senior leader in Cognizant's Corporate Security organization who oversees the executive security services and special events security programs. Huska has more than 20 years of experience creating and leading global business-enabling security programs, risk mitigation and incident response teams.
To make sense of how SARS-CoV-2 could pose a risk to the business or people, the Global Business Resilience team began to leverage open-source intelligence in late December 2019. The team obtained timely and actionable data to report to senior leadership on the virus through their Joint Security Intelligence Center (JSIC) located in Chennai, India.
As a result of the growing concern of COVID-19 spread and the actionable data obtained by JSIC, Global Business Resilience activated its regional Asia-Pacific Crisis Management Team (CMT). The team led the decision-making relating to the safety of associates, such as restricting travel, closing offices and ensuring compliance with evolving local government requirements. Many of these initial actions would later be modeled by other CMTs as the pandemic grew globally.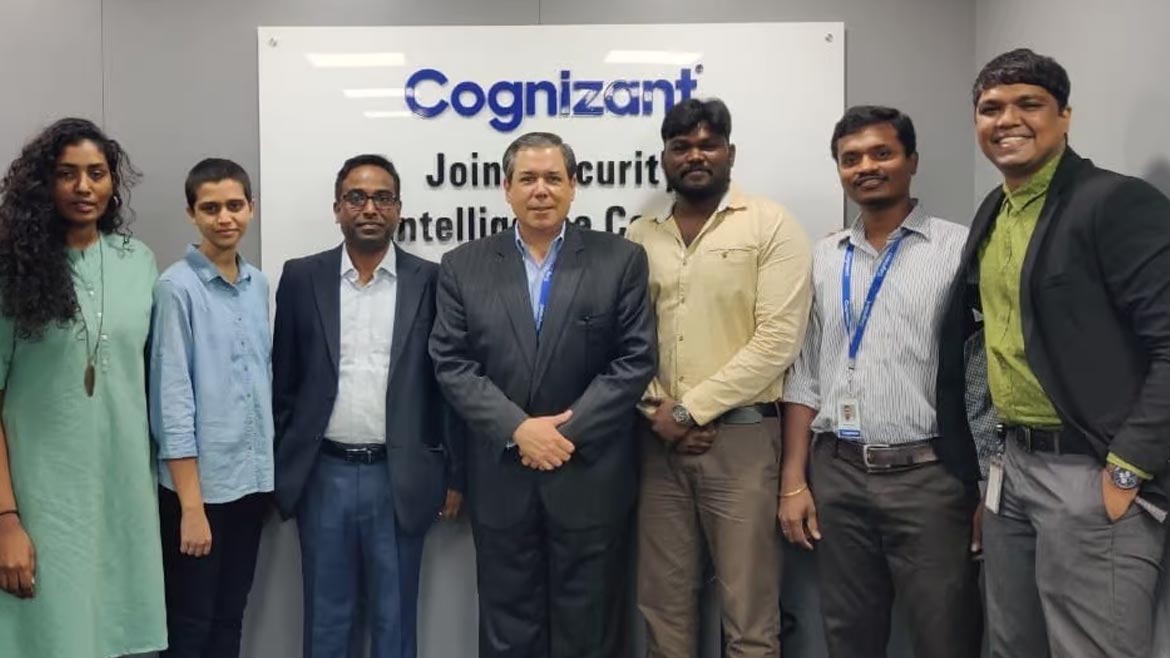 Robert Molina — Assistant Vice President at Cognizant, Head, Global Business Resilience — and the leaders of the regional crisis management and JSIC team. Image courtesy of Cognizant
In February 2020, Global Business Resilience convened all regional CMTs and directed them through scenario planning while developing scalable exposure risk protocols and responses to manage associate infection outbreaks and facility response procedures. Huska says, "The primary responsibility at the time was to protect our associates and to guarantee there was a safe and secure environment for those associates to work and enable critical operations to continue."
A significant initiative led by the Global Business Resilience team was to ensure business continuity in India, which is the global operational delivery hub for Cognizant, serving 177 Fortune 500 clients. Approximately 200,000 Cognizant associates are located in India, so as the country awaited its initial lockdown due to COVID-19 spread, cybersecurity teams and information risk managers deployed secure work-from-home solutions to all India-based employees.
As a result of India's workplace lockdown beginning in March 2020, critical employees who deliver client services could not travel to offices. When the lockdown was originally implemented, the Global Business Resilience team leads liaised with local law enforcement officials and government authorities to obtain essential movement passes for vehicles and Cognizant resources. The effort allowed associates in India to legally commute from their residences and return home.
The security team in India could not have succeeded in delivering IT assets without strong support and collaboration with multiple stakeholders, including corporate workplace service, global IT, business unit leaders, HR and outsourced security service providers, Huska explains. "The small and agile team of 26 India-based Global Business Resilience professionals leveraged the dedicated contract workforce and responded to enable business operations to continue," Huska says. "The security team played a pivotal role in implementing a work-from-home model by not only setting up 21 temporary IT stores, but also by assisting in creating new processes to manage the task of tracking the movement of thousands of Cognizant computers, monitors and peripherals."
The Global Business Resilience team established a risk-based, global return to office (RTO) program utilizing ServiceNow workflow to automate multi-step processes between any combination of people and systems to help achieve better business outcomes. The team also implemented an integrated scoring methodology platform to help quantify risk metrics at all 892 locations where Cognizant associates worked.
Huska says, "This data-centered approach was critical, used by executive leadership to make decisions about the safety of all locations that could impact the health and well-being of Cognizant workers. Decision-makers required quantifiable evidence about exposure, and Global Business Resilience provided them a tangible formula [with] which to make critical RTO decisions."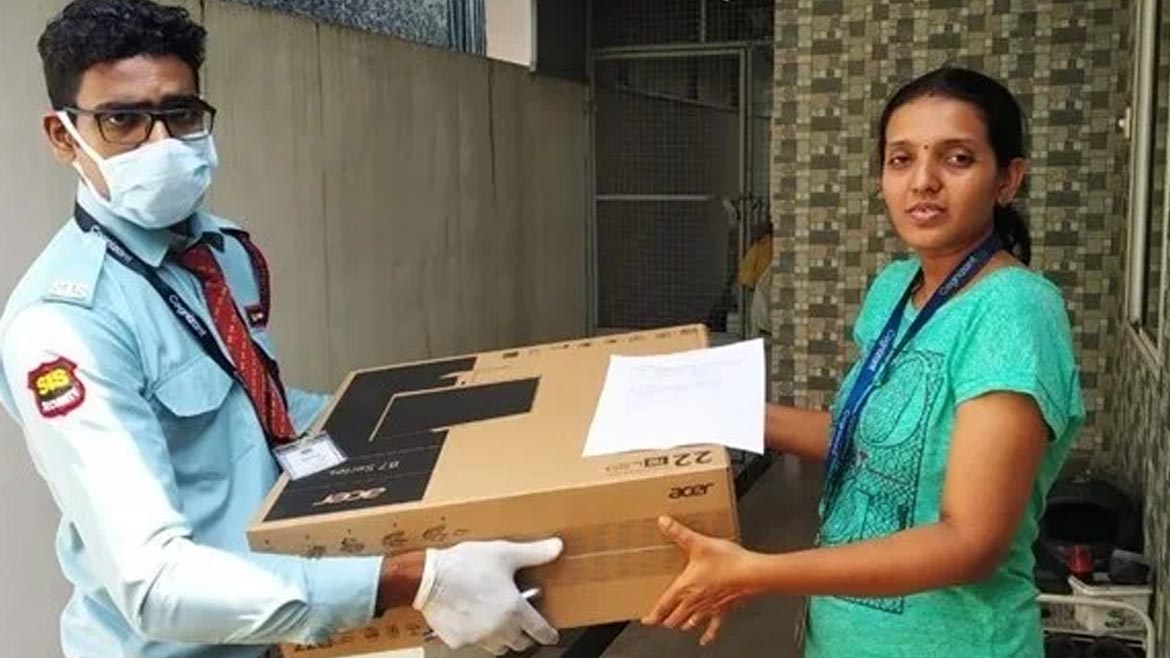 The Global Business Resilience team equipped all employees in India with secure remote work solutions. Image courtesy of Cognizant
By February 2021, the company's pandemic response continued. Since Global Security's crisis management program provides governance over COVID-19 cases, in order to include case intake, close contact mapping and reporting, the team processed over 4,100 cases involving associate exposure to COVID-19 and managed more than 900 recovery time objective exception requests. In partnership with the Corporate Workplace Services team, Global Business Resilience continues to operate 320 COVID-19 screening stations manned across facilities to carry out health screening of associates, visitors and contract staff day in and day out. In collaboration with the facilities teams, the global security team also enhanced the safety of all Cognizant associates in India by deploying around 850 awareness posters at all facilities on health screening and hygiene protocols for workers and guests.
"We were able to equip our Global Business Resilience team with work-from-home capabilities and deploy personal protection equipment to those that had requirements to support our critical facilities with masks, touchless temperature scanners, more frequent check-ins and meetings," he adds. "With adaptive planning and review rounds, we were able to revise and pivot priorities to empower the local teams to act more quickly. It was and continues to be a learning experience. We stayed close to open source intelligence and analysis as well as implemented security controls to keep our employees safe and preserve the ability to work from home."
Huska says the JSIC provided critical and game-changing data reporting capabilities to enable business-specific goals while identifying emerging risks to the organization. The JSIC analysts monitored media and public health stakeholders, reporting on the pandemic's impact and response and providing comparative dashboards for leadership.
In total, the 24-hour security center generated over 1,000 tailored analytical reports, including 50 reports mapping the COVID-19 spread in Cognizant work locations and metro regions. The JSIC also broadcasted more than 360,000 messages through a mass notification tool as a component of Cognizant's duty of care to its workers, demonstrating the need to adapt and ensure core responsibilities were not forgotten.
Due to the success of JSIC reporting, the Global Business Resilience team received feedback from the highest levels of the company with regards to the accuracy and the fact-based nature of JSIC information, which helped drive several business decisions. "Not only did the JSIC team provide and conduct much of the metric analysis, but they demonstrated the value that security brings to the organization and how it helps strengthen crucial parts of the business," Huska explains.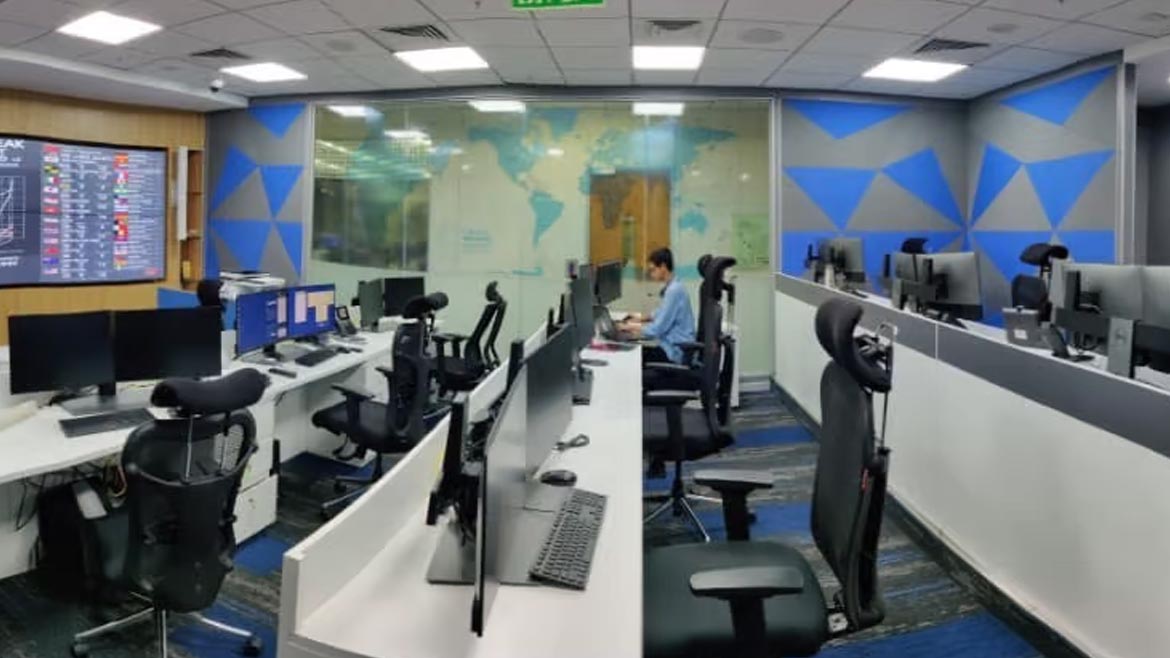 The JSIC facility during pandemic lockdown restrictions in Chennai, India. Successfully adapting to a work-from-home model, the 24/7 converged cyber-physical security operation center monitors threats and manages incidents worldwide for Cognizant. Image courtesy of Cognizant
At this time, Cognizant Global Business Resilience continues to monitor the ever-evolving nature of the COVID-19 pandemic. The JSIC continues to provide daily reports of ongoing lockdown changes to local conditions related to the COVID-19 spread. "This information is used as a scoring matrix to help Global Business Resilience make decisions on travel to high-risk destinations, return to the office, and on how to support the local community as we need to ensure offices are ready to be open."
A focus for the security team is also on building a new organization at the banner of Global Business Resilience and with security, providing leadership over business continuity, disaster recovery and crisis management. Huska explains, "This converged approach, which mirrors what we were doing with the JSIC, provides a line of sight to improve accountability for all manmade and natural disaster incident response under one management model."
Commenting on the combined efforts of the Global Business Resilience team, Molina says, "I could not be prouder of the team for their dedication, hard work and sacrifices to manage this crisis. They used their training, knowledge and sheer willpower to establish a scalable framework able to manage the pandemic and future catastrophic events. We could not have been successful without the support and collaboration between key groups like HR, Legal, Communications, IT, business leaders and other Corporate Security functions. I would personally like to thank all members of the Global Business Resilience team for their professionalism in getting the job done."