On a subway train in the middle of July, two men walk onto a crowded train car in black trenchcoats buttoned up to their necks. Would a surveillance camera notice anything suspicious? Other passengers do.
Security directors in Boston and Toronto are combining technology and human instinct to achieve better surveillance and reporting to increase efficiency in transit systems and college campuses. And what technology is more readily available on a commuter train or campus quadrangle than smartphones?
A new program from the Massachusetts Bay Transportation Authority (MBTA), which manages the train, bus, subway and boat routes around the Boston area, is making reporting crime or suspicious events on public transit faster and easier than ever. The new See, Say application, available on iPhone and Android, is a part of the nationwide See Something, Say Something campaign to prevent terrorism. The app allows users (the 2,500 of them that had downloaded the app upon this article's publication) to discreetly take photos of suspicious persons or situations on the train, sending the image along with a text description of the event and location directly to the MBTA Transit Police dispatcher within 30 seconds.
"The effectiveness of police is guided by the information we receive from our customers," says MBTA Transit Police Chief Paul MacMillan. "We believe that safety and security on the MBTA is a shared responsibility, and we ask our customers to actively participate to the extent possible.
"This app increases our reporting methods – it gives them another form of communication, and it empowers our passengers to maintain a standard of security while they travel. The more ways that our customers have to communicate with us the better," he adds.          
And there are a great many passengers to empower, as more than 1.3 million people use the Boston area's transit system every day.
The See, Say smartphone app, produced by ELERTS – a company founded by a fireman who had seen one too many situations where more information could have saved lives – gives passengers two options: Call a dispatcher directly or send a photo or text notification. The app is built for discretion, as a noisy camera flash could alert a suspect that you're reporting him or her to the authorities. When See, Say opens, it reports anonymously by default, and the flash is automatically disabled. Also, many passengers are not aware that 911 is not the number to call for a transit emergency, and during a stressful situation, it can be even more difficult to remember the telephone number for the transit hotline.
"A lot of times, witnesses are afraid to clearly call someone during a situation; they don't want to draw attention to themselves," MacMillan says. "But so many people are actively involved on their iPhones on the train, they can easily and discreetly send us updates on what's happening."
In Toronto, Louis Toromoreno, Manager of Campus Security at OCAD University, is used to being around people who push the envelope. As a specialized university teaching art and design, OCAD U is full of risk-taking young artists, but as a university located in downtown Toronto, certain risks should be more mitigated than taken.
"We wanted to be proactive, not reactive," says Toromoreno. "There's a real sense of community here, and we wanted to make sure our security team could be able to easily communicate with students and that students feel they can connect with us in a medium they're comfortable in.
"It's also really accessible," he adds of the Guardly Safe Campus mobile app. "You don't have to find an emergency phone and wait beside it for help to arrive. When you send the alert, we're in constant communication and we get updates on where you are and how we can help you."
These apps are a means of easy two-way communication on the go. In Boston, the MBTA has used the program to push out mass notifications on missing person reports, or even wanted posters. A passenger might receive one of these alerts and glance around the train car. If they have information, a quick picture or text description is sent in to a dispatcher at the MBTA for response. The dispatcher can also send messages back to the source for more information or vice versa.
For example, only a few weeks after the application's release, a 10-year-old girl went missing in Boston. After alerts were sent out through the app, there was an immediate response for more information. She was found within 37 minutes.
"The more information we get back from passengers, the more effectively we can use our resources to prevent problems," MacMillan says.
It's impossible to prove a negative, however, so it can be difficult to show how many crimes have actually been prevented due to the heightened awareness and added reporting that these mass notification apps provide.
"It can act like a virtual guard as well as a notification system," he says. "If a student is walking in a parking garage and notices that someone's following her, she can send us a text and we'll call back immediately or keep a close eye on those security cameras.
"It's a tool that really changes how we make ourselves available to students," he adds. "Even when they're off campus, outside of our geofence, they can still use the app to contact their own safety group."
These groups, which are set by the students as their in-case-of-emergency contacts, can be sent emergency notifications about the student or staff member.
"If a student off campus is riding her bike and gets hit by a car, she can let her parents, roommates or whoever know immediately, and all at one time," Toromoreno says.
The new technology does not come without drawbacks, however, and the main one is how new it really is. Both of these companies were founded in 2010. The MBTA launched its application in late May. By the time of publication, Toromoreno will have launched the Guardly app campus-wide after more than a year of extensive pilot testing on- and off-campus.
Technology also moves incredibly quickly, which was one of the reasons that security at OCAD U decided to use a prolonged pilot to determine whether or not the application was a good investment.
"If it was outdated within six months or a year, what would it be like four, five years down the line?" Toromoreno asked. "But it works, and it works on multiple smartphone platforms, and our students are really enthusiastic about it, so I think it will be a long-term addition to our security communications here."
But this cannot also be the only form of mass notification in an organization, as not everyone has a smartphone. Therefore, Toromoreno is adding the program to the in-building emergency telephones and outdoor blue light phones for a more robust, rounded system.
Some passengers on the MBTA trains also don't always use the app for its intended purpose – reporting transit issues like delays instead of suspicious behavior – but dispatchers forward those on into the proper channel with a click of a button. And while not all reports warrant immediate SWAT-team response, some of the lesser reports benefit the organization as well.
"We've received more than 200 messages in two months," says MacMillan. Some of those are small, like groups of rambunctious teens or notices that lights are out at a train stop, he adds, but fixing those small things helps lend an air of security for passengers.
"We're an art school, so there's more self-expression here than at other institutions, honestly," Toromoreno says. "Students like to push boundaries, but unfortunately, in some cases, they tend to express themselves with graffiti in a lot of staircases or washrooms. We get reports about this a lot and have it cleaned up to keep the school as a professional space."
By having instant, detailed information from witnesses on the scene, these incidents can be cleared up quickly, returning the peace of mind to the area. This may encourage more people to ride the train or more parents to send their children to an art school with clean, well-lit facilities.
So while applications are not the end-all solution to mass notification, they are a new and exciting piece of an evolving landscape. It takes a leap of faith to try out such a new technology, but for some, it's a risk they're willing to take.
"We're innovators here," says Toromoreno. "We want to take care of our campus community wherever they are, and we'll use every tool we can to do it."  
This article was orginally published in the magazine as " Mass Notification? There's an App for That."
Multiplying a Security Force with Emergency Phones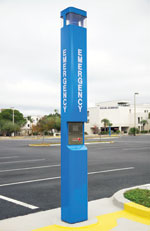 Hillsborough Community College installed emergency telephones as part of its mass notification program, and they also serve as a force multiplier at the 48,000-student school. 
Victor Clime, Chief of Public Safety for Hillsborough Community College, covers a lot of ground. The college has five campuses, two administrative buildings, two extended learning centers, two environmental protection areas, more than 2,500 staff and 48,000 students. It takes a lot of manpower to cover those places alone, much less the lonely areas on college campuses, such as parking lots.
To help allocate resources appropriately, the college invested in several emergency telephones from Talk-A-Phone.
What goals did the college want to achieve with the phones?
Clime: Ever since 9/11 the Department of Homeland Security has encouraged and sometimes mandated that extra security measures be taken on college campuses. For Hillsborough Community College to be in compliance we needed to have mass notification capability and various other communication tools for our campus community.
How did students and staff handle learning how to operate the phones?
We've had the towers for 2 years. As the student population has grown we've added more towers in other locations across campus. We even have them in our most remote locations, specifically in our back parking lot across campus. The towers used to only be emergency phone towers. They are now emergency phone towers with mass notification capabilities. Some of the towers have surveillance cameras mounted on top. All of this gives us better coverage.
Why did you choose these phones?
These towers work for everyone. If you have an emergency and you see a blue box then you know that you can get assistance. It gives our students, visitors and staff a better sense of safety knowing that they're here. For our public safety department the units are outstanding. When someone activates a unit, our department immediately knows their location and what's going on. The units allow us to have continuous communication with the individual and then according to the situation, execute the proper response. They have shortened our response time and improved our service provision to the college as a whole. 
Because of budgetary constraints, every safety department across the country thinks they're undermanned. I certainly feel the same way. These towers act as a force multiplier for me. They provide eyes and ears to my officers. It allows us to quickly respond to situations and patrol more effectively. It was definitely an investment that was worthwhile.
How did the students and staff react to the installation? Did you have any problems? 
Students are aware that the units are around. When the towers were originally installed I thought that we would get a lot of false calls from pranksters or people pressing the buttons to find out what would happen. To my surprise, that did not occur. The towers have been used for their intended purpose.
What kind of emergencies have you seen where students or staff have used the phones?
We've had medical emergencies on campus where the Talk-A-Phone units were used. The units allowed us to send out the proper assistance. We've also had instances where students have activated the phones to report suspicious activity on campus. In one case we had someone trying to break into several vehicles on the far side of campus. Students saw this, activated a unit and let us know what was happening. Our department responded immediately and we were able to catch the individual and stop the crime.