Beyond the acquisitions, restructurings and receptions swirling around the exhibit floor at ASIS 2011 this year, much of the booth talk centered on megapixel and high-definition (HD) cameras. And big seems to be getting bigger.
Take the 29 megapixel high-definition camera, which one exhibitor said can replace up to 95 conventional cameras. Not everyone's cup of pixel tea, the camera is best used for surveillance of very large areas, a desire for the most effective evidence, and, by the way, the need for mega-dollars at the point of purchase.
But, with megapixel and HD cameras today, that's the point. These feisty new entries, whatever their pixel count, are not necessarily intended to replace all those existing analog cameras, but instead coexist at locations where it makes the best security and business sense. And, where resolution, clarity and detail make the difference when analyzing images for business reasons or when convincing Judge Judy to achieve a conviction.
A VALUABLE TOOL
Without a doubt, megapixel cameras are a very good tool. But, advises Brendan Daly of integrator firm Eye P Video Systems, "Before choosing any camera, you need to look at what you are trying to accomplish with it" from a security and business perspective. How much view or detail do you need? As megapixel count grows, it's valid to ask if bigger is better. "Sensors continue to evolve and improve. But, in some cases, they have outpaced the lens," he says. In some cases, he says, parts of the image at the edge can lose resolution, not because of the sensor, but the lens.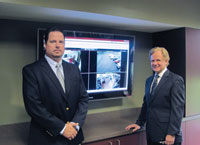 Caution is one piece of advice when it comes to megapixel cameras. "It's a matter of meeting expectations," says Jeremy McAfee, pictured at left with Robert Vezina, president of Life Safety.
There also is a kind of domino effect when bringing in megapixel cameras. "More bandwidth. More storage. More horsepower on the viewing system. There will be more stress on the total video system," Daly adds.
The three essential factors when matching a megapixel camera to a location, specific need, or as part of the total system, are frame rate, resolution and color clarity. In addition, higher megapixel cameras have a challenge dealing with low light.
While most security video installations are mostly analog, if they are still working, there is no business reason to rip all them out, says Daly. But now that IP cameras have matured, it is a lot less expensive to build larger systems with network-based components.
Still, it remains a test to meet expectations, including megapixel cameras, according to Jeremy McAfee, security division manager with Life Safety Engineered Systems, Inc. "With prime time television giving people an unrealistic look into the world of video surveillance, it's a struggle sometimes to meet or exceed some clients expectations. Shows like CSI, Hawaii Five-O and Las Vegas depict scenarios in which video is enhanced or manipulated with a click of a mouse."
Going digital video helps open up additional opportunities. With the help of video analytics and video motion detection, cameras can be smarter. Alarming or popping the cameras up full screen, e-mailing video clips, or even pushing live video to someone's workstation on predetermined events can go a long way in ensuring that you will get the most out of your system.
IP COMPLEXITIES
Jim Coleman, president of Operational Security Systems, and a member of Security-Net, a collection of security integration firms, agrees with Daly and McAfee. "We are all buying high-definition TVs. That shapes out expectations. There's a natural inclination for higher resolution. And an unstoppable trend to IP cameras." But he points out there are complexities in IP, including megapixel cameras, which are not analog, including weaknesses in low light and the implications on storage and processing.
Coleman sees a megapixel camera as having the ability replace a greater number of analogs. One example, he points out, is high-resolution surveillance technology.
And Pete Wilson concurs. Wilson is facility manager for Earnhardt Ganassi Racing with Felix Sabates, a NASCAR team based in Concord, N.C. Owned by Chip Ganassi and partners, EGR is a two-car team competing in the NASCAR Sprint Cup Series, the most competitive form of racing in North America.
EGR values the use of technology to increase security in its facility. It was leveraging an analog-based system to monitor operations, but the security cameras were not capturing video at a high enough quality video to conduct detailed investigations. Wilson determined the company needed higher video quality from its cameras to evaluate incidents and respond quickly to emergency situations. 
A decentralized surveillance system was chosen for its cost efficiencies, high-resolution video and simplified video management software. The concept incorporates a high-speed computer into every camera to reduce network bandwidth because video is processed on the camera itself and images do not have to be constantly transferred.
Twelve high-resolution camera replaced 16 analog cameras that were no longer deemed useful. "The solution we installed enables EGR to record extremely detailed video clips and offers a substantial improvement in image quality," Noy says. Not only has the solution reduced camera count, providing immediate and long-term cost savings, but the megapixel sensors provide crisp, clear images that enable the security team to quickly investigate suspicious or dangerous situations.
NETWORK BREAKTHROUGH
 Putting cameras on the network is the initial breakthrough that has opened the door to megapixel gear. Back in 1996, Axis Communications launched its first IP camera, marking a shift from analog to network video.
According to Steve Surfaro of Axis, there continues to be some tradeoffs, however: Very high pixel count can come with low frame rate. He points out that nowadays the imager and packaging and infrastructure, such as power over Ethernet, are all on board applications. And there are infrared, thermal and day and night camera designed to be used in outdoor installations or in indoor environments with poor lighting.
Though advances in megapixel cameras continue, say Ed Hamilton and Kostas Mellos, UTC Fire & Security, there are more and more pixels. At the sensor level, there is better range and better low light performance, he notes. He adds that such improvements are seen most often for up to five megapixels for security applications. He suggests that 1.3 to five megapixel cameras are the best in most types of lighting conditions. 

Megapixel cameras can provide information beyond security. The Vojvodina track and field club uses a 1.3 megapixel IP camera to decide the winners of close races.
One workhorse 1.3 megapixel camera won the race for the Vojvodina track and field club, a 145-year-old athletic club in Serbia, whose athletes often compete successfully at the international level. In sporting events including track and field, the term "photo finish" has historically been used to describe competition results that are too close to be decided by a judge's naked eye in real-time. Accurately determining results of a photo finish nowadays depends on the ability to discern the precise details of a video image. Decisions are made based on minute distances and the ability to clearly see the faces of participants.
So Vojvodina uses an Arecont Vision 1.3 megapixel IP camera to provide detailed images needed to decide the winners of close races, according to Dusko Milicic, international photo finish judge at the club. The high-definition camera records races and helps with the identification of athletes and their finish order.
The camera is placed on the inside track of the stadium and is used in conjunction with a recording laptop. The camera can also be used to decide results in biking, horse racing, or dog racing events and will be used in every future technical athletic event to record every shot or jump in case an appeal needs to be decided.
All Around Surveillance
Megapixel strength can combine with 360° capability to provide a unique camera for specialized applications. "Achieving true 360° 5 megapixel delivery requires not only a 5 megapixel camera with adequate light control but also 360° 5 megapixel optimized optics. Otherwise image quality is affected," says Pascale Nini of ImmerVision. The lens maximizes the transmission for day and night applications. With increased sensor coverage and amplified peripheral resolution, the panomorph 360° megapixel lens will enable 360° surveillance covering wider areas and from higher altitudes, while removing blind spots.
BrazilSoccer Stadiums Go Megapixel
Among security technology, there are 1.3 megapixel IP cameras when the Brazilian Ministry of Sports announced two months ago that Johnson Controls was chosen to design and install advanced, integrated security systems for 12 major soccer stadiums throughout the country.
The $29 million project will include the design, supply and implementation of mass access control designed to quickly pass large numbers of people, video surveillance, ticket systems and a communications network at stadiums used by Brazilian A and B Championship Leagues. Some of the sites, which seat from 20,000 up to 60,000 fans, will also host competition in the 2013 Soccer Confederation Cup. Two of the stadiums will be venues for main matches at the 2014 FIFA Soccer World Cup, also being held in Brazil.   
The installation will include nearly 1,700 surveillance cameras, video servers for recording and video analytics to help spot potential problems inside and outside the stadiums. Officials at each stadium will monitor the video from separate security stations.