Turnstiles
Aigis Mechtronics LLC has developed aluminum turnstiles, featuring an attractive look and smooth, quiet operation. The AT-FAL series is made from specially-designed aluminum extrusions that are aesthetically pleasing and have superior structural strength. The turnstile is designed with assembly alignment pins, tracks and other aligning features that make field assembly easier and faster than other similar turnstile products. Safety features such as heal protectors, LED status lights, home-position centering and hydraulic dampening are standard equipment on this turnstile.
Aigis Mechtronics LLC
For More Information Circle 270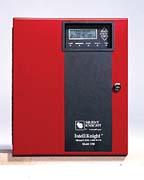 Fire Control Communicator
Silent Knight introduces its IntelliKnight 5700 Fire Control Communicator, which provides digital fire reporting over ordinary telephone lines. The 5700 supports up to 50 addressable devices that allow the user to pinpoint precisely which device has been activated and/or needs attention. It also uses a distributed power scheme to simplify installation and reduce wiring requirements.
Silent Knight
For More Information Circle 265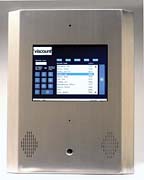 Access Control System
Brivo Systems, provider of the Brivo Access Control System (ACS), launches "Admin Anywhere," a feature that allows a single account to have an unlimited number of administrators, each able to manage the account from any Web browser. Admin Anywhere works in combination with Brivo ACS control panels to deliver productivity gains and management flexibility for multi-site access control installations. Brivo Systems
For More Information Circle 264


Rack Solution
Axis Communications introduces the AXIS rack solution, a 19-inch rack-mountable chassis that can hold up to 12 video server blades (48 channels) in a single equipment rack. The rack solution provides a higher density of analog video ports, saving rack space in server rooms and easily integrating analog cameras into IP-based surveillance systems. The rack is best used in large systems such as those typically found in airports, campus environments, hospitals or prisons.
Axis Communications
For More Information Circle 266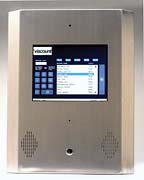 Telephone Entry Panels
Viscount introduces the Mesh family of building entry panels. Mesh panels come with a full-color keypad or touch-screen displays for entry to commercial or multi-residential buildings. Graphics can be customized per application. The units can be interfaced with a range of Viscount radio frequency or proximity access control products. Built-in video cameras can take JPEG images of visitors and store them to memory.
Viscount
For More Information Circle 272



Hybrid Networking Solutions
Panasonic Security Systems has worked with Inetcam to provide security professionals to make the migration from an analog to digital networked platform. The hybrid solution is based on dynamic bandwidth resolution to provide network communications using existing bandwidth with the highest degree of efficiency. Inetcam's approach to networked security systems allows a combination of analog and/or IP cameras, switchers and recording systems to be matched together on a network platform. Panasonic, Inetcam
For More Information Circle 271


Smart Card Reader
From Datastrip, the DSVII-SC smart card reader/biometric verification device is a completely redesigned unit that is roughly half the size and weight of Datastrip's first-generation product, with an ergonomically friendly form factor, which incorporates both contact and contactless chip-reading capabilities. The system also features a 500 dpi Fujitsu fingerprint sensor that can be used to match the cardholder's live fingerprint with the stored biometric template. The DSVII-SC has a new, much larger color digital touchscreen display capable of being read in direct sunlight as well as low-light conditions and enables operators to select commands at the stroke of a stylus, eliminating the need to scroll through menus.
Datastrip
For More Information Circle 267



Handheld Searchlight
Park Beam Systems Inc. releases its latest model Maxa Beam xenon handheld searchlight. Its features make it even more advantageous for infrared surveillance and perimeter security. It features rugged, weather-resistant construction, improved battery performance and a wider selection of user programmable features. With its six million peak beam candlepower and ability to illuminate objects at 1.5 miles, Maxa Beam is a powerful, focusable handheld searchlight. Park Beam Systems Inc.
For More Information Circle 277


Monitor & Time-lapse VCR
Matco Inc. releases its ZRQ-1404, 14-inch quad color monitor and 1,280 hours time-lapse VCR combo. The combo unit consists of the monitor, quad processor and 4-head, 960 hour time-lapse VCR. The ZRQ-1404 has 400 TV lines of resolution, 15 options for recording and playback. It allows real-time recording and playback for 24 hours with audio, time-lapse recording and playback for as long as 1,280 hours in incremental units on regular 120 minute tape.
Matco Inc.
For More Information Circle 268


ID Software
Zeosoft Technology Group Inc., announces its Mobile Badger v1.3, the latest release of its wireless photo ID badge enrollment and verification software. This new release now offers support for a wider array of digital cameras, Oracle database support and enhanced search capabilities for employee, students or visitor badge verification. Mobile Badger integrates with leading photo ID badge software solutions for a secure, reliable ID badge creation and issuance from remote locations. With Mobile Badger, organizations can reduce ID badging costs and increase card issuance efficiency, while making the organization more productive and cost effective.
Zeosoft
For More Information Circle 269



Network Management Cards
Optelecom releases its 9912 card, which is designed to add external alarm contact closures to its network management system software. Operating in conjunction with the 9941 Ethernet or 9911 serial versions of the network management cards and software, the 9912 operates contact closures that track the alarms reported by the management system. This is beneficial to systems where the failure of a camera or other fiber transmission component needs to be reported to an independent alarm system.
Optelecom
For More Information Circle 275


Video Surveillance Software
From Guardian Solutions, GuardianWATCH is an automated video surveillance software system that runs on off-the-shelf PCs and cameras. It supports wireless and/or wired networking and uses intelligent bandwidth monitoring to efficiently handle video within a TCP/IP network architecture. Guardian Solutions
For More Information Circle 274


Photo ID System
From Avery Dennison, the Avery Photo ID System is an easy-to-use visitor management system for organizations. Front lobby personnel can register visitors quickly and efficiently, produce attractive color photo ID badges, keep a digital record of all facility visitors and maintain a more professional entrance or lobby.
Avery Dennison
For More Information Circle 276



Mobile Digital Recorder
Dedicated Micros Inc. announces the TransVu, a reliable, ruggedized, multi-camera mobile digital recorder specifically designed for transportation applications. Features include auto power management, vehicle motion monitoring, vehicle information systems logging and two audio channels. Since the TransVu also operates as a video Web server, real-time monitoring is achieved via standard Web browsers.
Dedicated Micros
For More Information Circle 278



Hands-free Operation
From Jeron Electronic Systems Inc., the new Clearplex technology delivers the advantages of hands-free operation using full digital duplex communication. Clearplex incorporates digital signal processing technology, giving users the ability to converse clearly – hands free. DSP technology automatically adjusts loud-speaking levels and is ideal for environments with excessive background noise.
Jeron
For More Information Circle 273