Michael Lagow sent a team of armed security officers to hurricane-destroyed New Orleans to guard while workers rebuild the electrical infrastructure. John Ketcham was dispatched to Jackson, Miss., with crisis management software to work with that state's Department of Health.
Private security is playing an essential role helping manage the safety and then rebuilding of Gulf Coast cities wiped out by Katrina. That role emphasizes both the professionalism of private security as well as the extent of the challenge.
Dallas-based SYSTEMSgroup's Protective Services Division, including Silver Star Protective Service, has deployed the armed security officers for the special mission to New Orleans. In an agreement with one of Texas' largest utilities, the officers will protect electrical linemen dispatched to begin the process of rebuilding the city's electrical infrastructure. The security team will escort the linemen and staff to a secured location in the region.
The security mission is to provide protection of the utility's assets during travel, at the designated secured deployment site and during reconstruction/installation of critical electrical infrastructure service.



Fighting violence in area
Due to shooting incidents surrounding previous rescue missions, the utility provider called for armed security officers.
Michael Lagow, president & CEO of SYSTEMSgroup said, "This is a critical security task for one of Texas' largest providers of electrical power. We will secure their travel, their work compound, the utility vehicles and their personnel…our team jumped at this opportunity."
If hardware is needed in the hurricane-hurt area, so is software.
And that's where John Ketcham comes in – into Mississippi.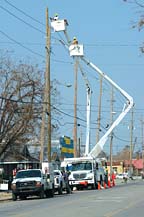 His firm, ESS of Temps, Ariz., dispatched him to help the Department of Health with information technology support of the agency's Essential Incident Master crisis management software system, following the agency's call for emergency response assistance in the aftermath of Katrina. "The Mississippi Department of Health has an emergency preparedness and response plan in place and trained personnel ready to execute it. This is a team effort that requires the experience, skills and dedication of staff from many Mississippi agencies," said State Health Officer Dr. Brian Amy. ESS has provided tactical and technological support in response to many storms and hurricanes including Gilbert, Hugo and Andrew.
Essential Incident Master meets requirements of the National Incident Management Systems and Incident Command System, while continuing to address daily and emergency response operations.



Before, during, after
For security executives affected by disasters, the "before" is as or more important than the "during" or the "after."
The American Society of Safety Engineers of Des Plaines, Ill., has a disaster safety checklist to assist businesses before, during and after a disaster. Following a disaster, security, life safety and other appropriate executives should do a hazard evaluation and assessment. Here are some of the society's recommendations.

SAFE ENTRY: Contact the proper government agencies to get approval to resume occupancy of the building. Do not enter a facility or building unless the proper clearances have been attained.
CLEAN-UP SAFETY: Implement clean up and business resumption processes in a safe and healthful manner. You will accomplish nothing if your employees are injured or killed during the post-disaster business resumption period. Provide training in proper selection and use of personal protective equipment.
PROTECTION EQUIPMENT: For fire and smoke alarms it is important to assure that these have been cleaned and tested before allowing occupancy of the building. If such systems are wired into other systems ensure that they work. Thorough inspection of fire-fighting systems such as sprinkler equipment is a must do item.

ELECTRICAL SAFETY: Have checks made of electrical systems, computer cables, security equipment and telecommunications equipment to ensure that they are still safe and there is no danger of exposure to electricity. Wiring inspections should be conducted from the outside in to ensure all wiring and connections are not in danger of shorting out due to water damage from rain or fire-fighting efforts.
LIGHTING: Make sure there are adequate illumination levels for employees. Emergency lighting should be checked to ensure it operates and functions in the correct manner.
EMERGENCY PLANNING: Ensure that there is a clear path of egress for the emergency evacuation of employees, that the fire extinguishers are still operable and that checks for damage and serviceability are made to see if any fire extinguisher facilities were used during the disaster. If damage is found, they should be replaced immediately.
EMERGENCY PROCEDURES: Create a new emergency plan and distribute it to employees as soon as they return to work. In case of emergency, designate a place for employees to gather once out of the building or a phone number they should call following the emergency so that all can be accounted for. Frequently update the emergency contact list of names and phone numbers.

For More Information: Check ASSE's Web site at www.asse.org/ newsroom under National Preparedness.