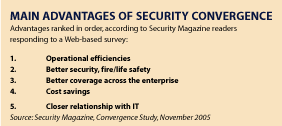 There were a couple hundred people at this last fall's November's Securing New Ground conference. But they were influential folks – top manufacturers, high-ranking systems integrators and the Wall Street investors that feed them the money.
At the event, the talk soon, suddenly, was about equipment, systems, technology and trends far away from the sensors, detectors, cards and cameras of a typical industry event.
The change? Convergence. Not everyone's current cup to tea, convergence identifies the blending of traditional security (missions, threats, technologies) with computers and information. There's also that trend of running security data over a shared Internet Protocol communications infrastructure.
Have I shoved enough buzzwords into a single paragraph?
No doubt. But the folks at Securing New Ground and at ISC and ASIS, for that matter, were quickly forgetting about security. The world is computers and communications. Throw away those cameras. Buy appliances that capture images and can hang from a network. Catch the identity management and event management wave.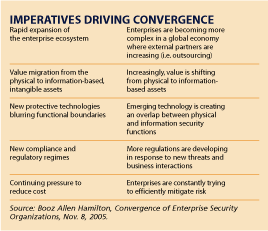 Fad or real trend?
A recent survey by Security Magazine discovered that nearly eight in ten (77 percent) security executives define convergence as the combination of physical and logical security. Respondents see convergence benefits in operational efficiencies (82 percent), better security (70 percent) and better service to the enterprise (64 percent). But wait a minute. These folks also see challenges. For example, almost half of respondents (48 percent) believe that convergence allows too much dependence on electronic systems as well as computer and communications technologies. About four in ten (39 percent) see convergence as giving too much security responsibility to the information technology devils.
Steve Hunt distinguishes advantages over challenges. President and founder of 4A International, a Chicago-based consultancy, he sees IT posed to make a run at the traditional security industry. More important to top security executives, Hunt believes that such areas as identity and event management will overwhelm alarms and traditional security video monitoring. "IT owns more of the security process than security does," Hunt tells the Zalud Report. "They track more security events and open and manage more security tickets."
So there.
He believes video will dominate the future of spending thanks to event management, IP-based cameras and network storage. And – hold on to your overhead – Hunt says that the future is outsourcing. Because of computer and communications technologies, monitoring, alarms and even investigations will soon move from in-house and security firms to those outsourcing firms that are primarily IT folks.
Is guru Hunt right? Could be. But nothing, no technology, no buzzwords, no Internet message can hide the primary security mission. Security is and will always be a loss prevention and crime-fighting function.


For More Information
Check Security Magazine's Web site for additional information on convergence, IP-based and network technologies. Send your comments to Bill Zalud at zaludb@bnpmedia.com.