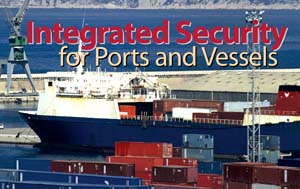 With a worldwide fleet of nearly 11 million marine containers and approximately $155 billion in vessels, containers, marine terminals and other direct operating assets now in service around the world, the maritime industry is clearly one of the most powerful drivers of international commerce and economic vitality in the world today. Yet only with the recent introduction of a new body of international regulations, including the International Code for the Security of Ships and of Port Facilities (ISPS), U.S. Maritime Transportation Security Act, and others, have port and vessel companies and agencies been compelled to implement security and safety measures on a comprehensive, international scale.
Such companies and agencies are now struggling to find an approach that can enhance the effectiveness of technologies such as electronic-access control, time-and-attendance, and security video, while also improving business efficiencies, and many have turned to facility-wide security integration for their answer.



Integrated approach
Integrated security could help maritime firms secure their assets and people while improving their operating efficiencies and reducing costs. At the heart of this strategy is the process of integrating the security and safety requirements for every element of, and activity that takes place at a facility. Such elements and activities may be categorized as people, openings and assets.
For instance, a ship's openings could include the engine control room, electrical control/equipment room, cargo storage area, bridge and steering gear room. A port's people include longshoremen, crew, administrators, maintenance workers and truck drivers. Assets for both a port and vessel may include the vessels themselves, equipment, vehicles, containers and cargo.
An integrated strategy connects people, openings and assets together through a connected IT infrastructure based on an expandable, open architecture. Data is generated through the power of electronics; access cards with electronic codes or biometric identifiers replace paper forms of ID, reducing the number of security personnel required for screening. Because the architecture is open, the system can easily accommodate the addition of new security applications (i.e., a remote-monitoring system) as modules to a shared database. The result is a highly reliable system that coordinates remote monitoring, access control, time and attendance, video surveillance and other technologies and processes designed to secure a facility's assets.
Integrated security puts its emphasis on improving efficiencies, sharing the goal of improving security and safety, but going one step further to help run a better, more productive business. By facilitating the collection and exchange of data between security- and non-security-related technology systems, an integrated system can acts as a tool can help improve the efficiencies of various business processes. For instance, human resources managers can use data from a time-and-attendance system to track levels of tardiness. A security video application may produce data that can be used in connection with an inventory-tracking program.
Because every system is connected through a shared technology infrastructure, integration can be used to detect, investigate and resolve security violations far more quickly and with fewer security personnel and other resources than unconnected technologies.
Rather than requiring authorized individuals to endure the process of giving sensitive or even personal information, such as a Social Security card, to security personnel, such solutions rely on electronic access cards coded with an electronic code or biometric identifier.
But perhaps the most significant difference between conventional approaches and integrated security is that it becomes more effective as a security and business tool as it evolves. With each new opportunity to collect and leverage data, such systems can better manage the people, openings and assets involved in a facility's operations.



Maritime environment
Integration's advantages are especially pronounced in maritime applications. Such solutions can track crew at ports of call, making use of ISPS-required records on each ship listing the last five ports that each member of its crew last visited. The productivity of truckers can be improved by providing them a means for systematically alerting a vessel's crew of their arrival.
Under emergency or threat scenarios, integrated solutions can also quickly adopt different levels of access control. For instance, in an emergency that requires people to exit a vessel quickly, all major exits can open rapidly and automatically. For another threat, a the system may close certain exits or allow only individuals with a specific authorization to pass through them, as well as change video settings to provide optimized recordings.
Although many port managers contend that their facilities are responsible for no more than one third of the total cost they pay annually to settle damage claims for damaged containers, they traditionally have not had a mechanism for proving their innocence. By facilitating the generation of easy-to-navigate reports and video clips that demonstrate at what time and location a particular container was harmed, Integrated Security helps to minimize costs associated from unfair claims.
Through integrated strategies, port and vessel operators will be able to meet the challenges of complying with the ISPS and other recently enacted regulations. Meanwhile, such systems can act as a foundation for accommodating a growing body of legislation and the industry's increasing reliance on technology.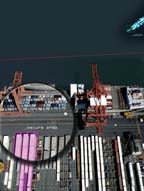 Sidebar: More Intelligence; Less Funding
Seaports and other transportation centers are at the forefront for a hot security tech niche – intelligent video surveillance for physical security applications. Software integrated into security video can significantly improve the effectiveness of a security operation and enable it to be more proactive by providing automated, real-time detection, identification, tracking and analysis of potential threats and events.
Federal grants now support many such developments. One example: ObjectVideo of Reston, Va., just won two contracts totaling up to $3.2 million over the next three years from the Homeland Security Advanced Research Project Agency to develop next-generation capabilities for intelligent video surveillance systems.
Instead of monitoring an "area of interest" on a continual basis, next-generation intelligent video recognizes specific mobile assets, understands what rules apply to them and automatically adjusts to protect them, no matter where they appear. It does all of this without a systems operator intervening.
Not all ports are swimming in money, however.
Only a fraction (one-sixth) of 361 U.S. seaports will be eligible to apply for $141 million in the Port Security Grant program from the Department of Homeland Security Department according to new risk-based eligibility rules released in mid-May.
Grant requirements identify only 66 seaports as high-risk, down from 100 ports in previous years. It is estimated the ports will need to spend $5.4 billion over the next decade to comply with the Maritime Transportation Security Act of 2002.


For More Information
Go to www.securitymagazine.com and its LINX search, powered by Google, to grab more information on port security. Security thanks Jim Ligotti, vice president for maritime solutions, at IR Security and Safety, Forestville, Conn., for providing content for this cover article.