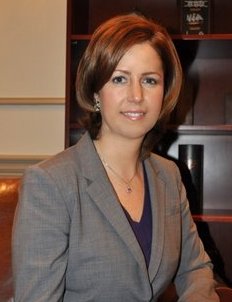 Christina Duffey sees the big picture. She also believes that "the bar" has been raised in the security profession as employers, contractors and governments and others are increasingly taking additional steps to ensure that they are hiring or working with the most skilled and knowledgeable individuals in the business. She believes in these two philosophies a bit more than most, which is why she advocates board certification as much as possible. "It is the accepted standard for practitioners worldwide," Duffey says. "In a crowded employment environment, ASIS credentials convey credibility and put certified practitioners on a different playing field – effectively distinguishing them as highly qualified professionals," Duffey says. Duffey is president of the ASIS Professional Certification Board and director of client services for Paragon Security, a Canadian owned and operated security company providing professional uniformed security personnel, investigation services, and security consulting.
Why and how did you get into the security industry?
Like many others, I fell into the security industry as I was transitioning out of the Canadian military. I started as a security guard with a contract security company in Toronto and was offered an opportunity to move to Chicago. It didn't take long to see a path to a career in the security industry. I've held many challenging positions over the years and have worked with some amazing people.
How do you start and end your work day? What is a "typical" day like for you?
My workday often starts and ends with connecting either in person or on the phone with my co-workers and clients to find out what's been happening. So much of what we do involves a team approach, so staying in touch about incidents after-hours or potential issues helps to ensure that I'm proactive. A large part of my day is spent in the field, meeting with the security staff, talking to clients and networking with other local security professionals. Occasionally, incidents arise that require an immediate response, which then alters planned meetings.
What advice would you offer other women working in security or considering the pursuit of a career in security?
There are a lot of great career paths within the security industry to consider. To determine what fits you best, try a variety of markets such as corporate, education, retail, healthcare, or commercial,  just to name a few. As a contract security provider, I have the opportunity to work in multiple environments while building a relationship with one employer. Don't be limited by titles and consider taking assignments that might not be what you want to do long term. These positions often provide valuable opportunities to expand knowledge and expertise, to learn how to adjust to new challenges, and to strengthen skills in relationship development and teamwork. Finally, I encourage all professionals to develop the same finesse in business practices as they expand their knowledge and experience as a security practitioner.
What will be some of the greatest challenges facing security practitioners in the near and long-term future?
Challenges will continue to center around how the security program fits into the overall strategic plan within an organization. It's crucial that practitioners see the big picture. If a company is providing systems or guards, the overall approach should be developing, implementing, and maintaining the overall security program, and not just focused on smaller components of the overall program. It is important to continue to think strategically, stay updated on emerging technologies, and identify ways to solve both complex and day-to-day issues that arise.
How important is professional certification for security practitioners today? 
There are standards in our industry. Certification was essential for me in gaining knowledge and experience. I expanded my professional network and increased my value to the organizations that employed me. More than that, it set me on a path that made continuous education a part of my career, and that has made all the difference in achieving my goals.
How do you spend your free time?
I like to spend my free time with family and friends. I enjoy the great outdoors, taking road trips, and sharing a great bottle of wine.