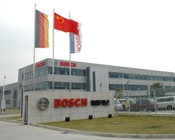 The Bosch Group invested $58 million U.S. dollars in a new security systems manufacturing facility in Zhuhai, Guangdong Province. Covering more than 147,000 square feet, it is the largest manufacturing plant for Bosch Security Systems, Inc. and will provide employment for 1,500 associates.
In addition to supplying products and systems for China, the plant will also support the Asia Pacific region and the world market.
"The new manufacturing facility in Zhuhai enables Bosch to increasingly localize manufacturing activities for the Security Systems business division in China. Security Systems will provide more competitive products and services through this new facility," said Dr. Rudolf Colm, member of the Board of Management responsible for the Asia Pacific region. "The plant also offers us the opportunity to continue our growth in China and abroad with competitive and innovative technologies that better meet the needs of our customers."
The facility will manufacture Intrusion, Fire, Video, Communication, Conference and Public Address Systems as well as Access Control and Management Systems. It is equipped with advanced surface mount assembly lines, an in-line optical inspection system, electronic in-circuit testers and functional testers.
More than 50 associates at the Zhuhai facility will be engaged in research and development activities, reinforcing the company's global commitment to R&D.
"Our security systems protect society and make people's lives safer. We put great effort in research and development, manufacturing, quality assurance and sales service to provide our customers with safe and reliable products," said George Behlke, vice president of Operations for Bosch Security Systems in Zhuhai. "We endeavor to contribute to the success of Bosch Security Systems in the global security market."