Dehumidify Your Dome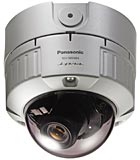 If your cameras are placed in environments with sudden temperature and humidity changes, then check out this dome camera. Security professionals looking for a high performance vandal-proof network camera should look to Panasonic Security Systems' i-Pro. The camera (model WV-NW484S) incorporates anti-shock auto back focus (ABF) to ensure crisp focus when switching from color to black-and-white in day/night mode. The ABF reduces the need for manual adjustments during and after installation. The camera features Power over Ethernet (PoE), progressive output for viewing smooth moving objects and color reproduction and digital motion detection. An advanced dehumidification device keeps the humidity inside the camera low and reduces condensation during sudden temperature changes.
Find out more by calling (866) 726-2288 or visiting
www.panasonic.com/security


I want to hear from you. Tell me how we can improve.