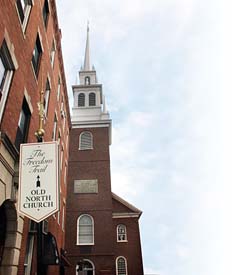 Historic buildings demand a higher level of protection. The facilities director, vicar, sexton and other staff members at the Old North Church in Boston's North End know a thing or two about the power of fire. It was in this church's steeple where, on Apr. 18, 1775, Sexton Robert Newman hung two lanterns to announce to Paul Revere that the British had arrived by sea and the War for Independence was on. The people who now work at this Episcopalian church understand that, just as two lantern flames ignited a revolution, fire could also have a disastrous effect on this treasured facility, with its history, architectural beauty, an active congregation of 150 members, along with hundreds of tourists visiting on a daily basis from all over the world.
 
Updating Needed
Built in 1723, the Old North Church relied for too long on antiquated fire safety equipment. In fact, up until recently, the four buildings that comprise the church campus used one outdated master box to connect the church to the local fire department. Bob Modica, sales consultant for Congress Alarm, a Massachusetts-based systems integrator, says "I'd be surprised if the black master box they had in their lobby even sounded an alarm." With the need to protect two row houses, three floors each, housing the church office and foundation organization, another building that is home to a gift shop, plus the church itself, this facility needed a system that could determine the exact location of a fire.
To modernize the fire safety system, Carl Hoss, the Church's facilities director, called on Congress Alarm. Modica determined that the church needed a complete overhaul. He specified an MS-9200 addressable fire alarm control panel from Fire-Lite Alarms of Northford, Conn., for the main building and a Fire-Lite MS-5024 display annunciator for the gift shop.
 
Addressable Technology
The MS-9200 is a compact addressable fire alarm control panel with a capacity of 198 Fire-Lite 300 Series devices and a single signaling line circuit (SLC) loop which supports up to 99 smoke detectors and 99 control or monitor modules. The panel uses surface-mount technology, including maintenance alert and automatic detector test.
"An addressable panel costs a bit more than a conventional panel," Modica explains, "but I felt it was a wise investment for the Old North Church since there are so many different rooms and the facility was difficult to zone by area. With an addressable panel, you can provide the fire department with more accurate information, pinpointing the exact location of the problem."
Because of its smaller size, the systems integrator recommended an MS-5024 conventional panel for the gift shop, instead of an addressable panel. The MS-5024 panel features a built-in communicator, remote-site upload/download capability and 3 amps of notification appliance power (expandable to 5 amps), making it ideal for the dimensions of the space.
 
Kitchen Heat Detectors
The complete life safety system installed by Congress Alarm included Fire-Lite manual pull stations at every exit and heat detectors in the kitchen, boiler room and basement hall, plus a number of smoke detectors, horn strobes and sprinklers. Fire-Lite M-301 mini modules were used to make the sprinklers addressable, allowing Congress to monitor where sprinklers had been activated and if water had begun to flow.
Congress' UL-listed central monitoring center is in downtown Boston, staffed 24 hours a day, seven days a week. In the event of an emergency, Congress receives digital signals from the panel and quickly interprets and reacts to the information received by contacting the appropriate individuals or enforcement agencies.
According to Sexton Howard Williams, the church has been satisfied with the fire alarm technology. He recalls, "Once there were people working on the organ and they set off the smoke detector. The fire department arrived in three minutes." This is particularly impressive given the Boston's infamous traffic snarls. Williams also said that the church was struck by lightning a few years back and the power went out, but the system switched to battery operation and continued its vigil.
With the high tech fire equipment keeping watch, the staff of this church which once kindled the beginning of our fight for independence is free from worry. They know that visitors and parishioners are protected and history is safely preserved.