Coalition of Cities Purchases PocketCop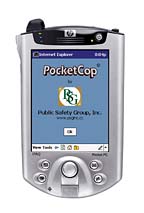 PocketCop, from BIO-key International of Eagan, Minn., will be furnished to police departments in seven eastern Massachusetts cities. PocketCop software in wireless devices enables law enforcement officers to access criminal databases, wireless communications, video over IP, driver's license photos as well as the potential of other advanced applications like fingerprint identification and authentication. Officers use PocketCop to determine in real-time if suspicious individuals or vehicles are in violation or are being sought by Federal, state or local law enforcement organizations. "The cities around Boston Harbor are uniquely vulnerable to the dangers presented by a potential terrorist attack on the various cargos such as liquid natural gas being transported through Boston Harbor. This is one of several new technologies being deployed in the region as part of general homeland security improvements," said Anthony Rodriquez, information systems director for the City of Malden and member of the coalition.


I want to hear from you. Tell me how we can improve.