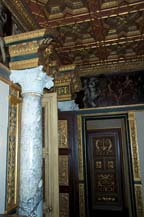 Many of the nation's historic landmarks are home to noteworthy art and architecture. Such national treasures need protection from smoke and fire, but conventional smoke detectors can intrude on the ambience of a special place.
Providing adequate protection for such a place can present certain challenges posed by architectural design, height and volume configurations, airflow, obstructions, evacuation plans, etc. These factors can affect smoke dilution and smoke stratification, which in turn can reduce the response rates of some smoke detectors. High ceilings can make the maintenance of conventional detectors difficult.
More importantly, conventional smoke detectors generally do not detect a fire until after the incipient stage, when heavy smoke and flaming has occurred. The landmark's structure and precious contents are then damaged not only by smoke and flame, but also by the water or chemicals used to extinguish the fire.



Hearst Castle
Located 250 miles north of Los Angeles, Hearst Castle, a historic house museum, is home to a priceless art collection. The estate overlooks the Pacific Ocean and 80,000 acres of grasslands. It is considered a jewel of the California coastline.
Over a 28-year period, from 1919 to 1947, newspaper magnate William Randolph Hearst and San Francisco architect Julia Morgan created this palace to look like those Hearst had seen as a boy in Europe. The estate, where Hearst entertained Hollywood stars, business moguls and the era's leading political and athletic luminaries, has 165 rooms and 127 acres of gardens, terraces, pools and walkways. It totals 90,080 square feet.



Leading edge
The challenge was to integrate leading edge smoke detection systems with the fabrics of historic structures to get maximum detection sensitivity with minimal structural and visual impact. The estate has a gravity-fed hydrant system and some wet-pipe sprinklers; but since most tour areas were not equipped with sprinklers, it was necessary to rely on early warning. There were also concerns about preserving ceilings – which were themselves works of art – where the installation of traditional smoke detectors would damage what they were intended to protect.
VESDA air-sampling smoke detection equipment from Vision Systems Inc. of Norwell, Mass., was chosen to meet these requirements. Designed to detect fire at the earliest pre-combustion stage virtually before smoke is visible to human eyes, a VESDA system works by continually drawing air from multiple sampling points into a pipe network and actively transporting it to a detector. The detection unit contains a dual-stage filter that removes dust and dirt and provides a barrier of clean air that keeps the optical surfaces uncontaminated for stable calibration and detector longevity. When the air sample passes through the detection chamber, it is exposed to a laser light source. If combustion particles are present, light is scattered within the chamber and sophisticated circuitry sends a data-rich alarm signal to a fire alarm control panel, software management system, or building management system. One detector can monitor the entire progression of fire growth.



Sensitive sensors
The VESDA LaserPlus' sensitivity range is 0.0015 to 6 percent obscuration per foot. The LaserScanner locates the origin of smoke by identifying the pipe with the highest level of smoke. It then continues to sample from all sectors to monitor fire growth. It provides four alarm levels for each individual pipe, and offers individual pipe addressability and individual pipe settings.
Programmable alarm thresholds provided the widest window of opportunity to detect, investigate and control the spread of fire. The detectors were installed in an accessible area where maintenance would not require ladders.
The LaserScanner display module uses a bar graph to show the rising level of combustion particles and the sector or sectors where they originated. Compatible with standard fire alarm panels, the system can activate a piezoelectric buzzer and a flashing light.
The approach "gives us significantly faster and more reliable detection than conventional systems, as well as improved sensitivity in some of the larger areas where stratification can occur," said Lawrence Ross, stationary engineer for Hearst Castle. "We have documented events where it detected electrical faults and excessive carbon ignition that our conventional system never picked up. Aesthetically, we have had great success in our guest house installations, by being able to use quarter-inch capillary tubing for sampling points that challenge even the sharpest eye to spot."


Training & tools
Improving fire protection at Hearst Castle is a continuing process. The latest installation was a scanner for a recently restored maid's quarters. The company plans to add mid-level air sampling in some of the taller rooms, to mitigate several of the more stubborn stratification problems.

Sidebar: Multi-duty Tech in Museums
Network cameras with a built-in server can secure a museum or a special display at the facility but also allow people to view real-life activities from anywhere. Chelmsford, Mass.-based Axis Communications added to this solution with its AXIS 207 Network Camera using MPEG-4 image compression. Designed for indoor surveillance and remote monitoring applications, it operates independently of a PC and contains a built-in Web server. More information at www.axis.com.
New-age communication systems are a security essential but can also provide other duties for museums. A case in point: Sandy, Utah-based Listen Technologies' portable FM system which is being used at the Museum of Contemporary Art Cleveland (MOCA) as a unique sound solution for artist- and docent-led gallery tours. John Grayson, the museum's director of development, explained the museum's existing sound system couldn't deliver in their 23,000 square foot gallery and to a steady stream of traffic. More information at www.listentech.com.


For More Information
Material for this article was written
by Caterina Tabor of Vision Systems
Inc. Contact her at (781) 740-2223;
e-mail cathy.tabor@visionusa.com; or at www.visionusa.com. More information on life safety is also at www.securitymagazine.com – use the LINX service, powered by Google.