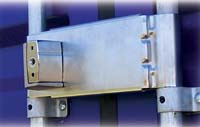 What do steamship, railroad and trucking companies have in common? They have all had their goods stolen in transit.
Cargo theft has hit nearly every type of product; and while it is difficult to identify the total cost of the problem, industry analysts estimate losses in the billions annually. The problem is growing.
In the transportation industry, a strong security and loss prevention department is a necessity, not a luxury. Theft of cargo and equipment is estimated to cost $10 billion to $15 billion annually. Depending on a company's operating ratio, it takes $10 to $15 in increased revenue to make up for every dollar lost through theft.
Progressive corporations should be guided by a strong security and loss prevention program, rather than depending on a crisis management team to react after the crime has taken place. An effective security and loss prevention program should include the following: employee screening, a loss reporting system, a reward program, physical security and law enforcement involvement.


The right people
Employee screening is an important aspect of a successful company. An employer should keep in mind that a stable and honest employee will have credible references from past jobs and former employers. Pre-hire screening is often overlooked, sometimes with dire results. For example, one East Coast trucking company hired a driver without checking his employment history and sent him to make a delivery to a client in the Midwest. Rather than carrying out his assignment, the driver sold the cargo and tractor estimated at $900,000. It was later learned that the same driver had committed a similar theft the year before at another trucking company. A quick background check would have revealed this employee's checkered past and saved the company a considerable amount of money.
Companies can hire a service that does background checks or do it themselves; both methods have proven effective. The decision should ultimately be based on the resources a company has to conduct such screenings. Regardless of who is conducting the background investigation, the job will be made easier if the company asks for the right information in its employment application. Poorly configured employment applications are a frequent problem.


Hiding a background
Applicants will often try to hide previous employment to avoid negative references. Because of the transient nature of the transportation industry, employees can often name companies that have gone out of business as their previous place of employment. It is difficult for employers to check references with now defunct companies, but they must try both for security purposes and to comply with regulations.
A loss reporting system is vital for drivers. It is necessary to educate all drivers of their responsibility to report any losses of cargo or equipment immediately. Unreported small losses can quickly add up to substantial sums at year's end; but by such time it is often too late to take any action. Drivers should be able to contact a company official 24 hours a day when theft occurs, so that immediate action can be taken.
The next step is the development of a loss report form. It is important to obtain all pertinent information regarding a theft: date, time, location, license numbers of the tractor and trailer, VIN numbers, trailer ID numbers, the make and model of the tractor, a description of commodity hauled, a driver report, police notification, and information about any suspects. Quick and effective reporting will increase the chance of a successful recovery of stolen property.
Organizations should dedicate a lost-cargo telephone hotline and issue a standard written form to all truck drivers. The drivers should be instructed to fill out the form and call the hotline with the information as soon as equipment or cargo is discovered missing. Dispatchers, who should staff the phones around the clock, must also be trained to fill out the forms.
Reward programs that pay for good information are very effective. These programs must be administered very carefully, however, and information guarded to give credibility. Such a program should include a toll-free telephone number that is dedicated to reporting fraud or misconduct within the company.
A company may want to make limited use of fraud prevention programs that pay rewards to employees or the general public for information that helps solve a case. Companies should discourage giving rewards in general because it gives the impression that the hotline is for retribution or gain rather than the good of the company.
In one instance a tractor, trailer and cargo worth $750,000 were stolen from a city in the Midwest. The security manager called the local cab company and offered a $1,000 reward. A cab driver spotted the rig behind a shopping center and the load was recovered intact. In another case, the security manager of a tobacco company placed reward posters on the cafeteria walls of all company locations asking for general fraud information. One day he received a call from an office worker telling him that her manager had a basement full of cigarettes. He had stolen them over the last six months by filling up his car after hours. When a warrant was issued, $13,000 worth of his company's property was discovered.


Lock it up
Physical security is a strong deterrent and extremely effective weapon in a company's security program. Such measures include installation of king pin locks, seals, padlocks, rear door locks and air cuff locks. These can protect a company's cargo and equipment while parked at terminals or retail stores. Numbered seals are important on shipments, including multi-drop loads. Padlocks and rear door locks are very important in the reduction of pilferage. Fleets initiating a strong lock and seal program have drastically reduced cargo thefts.
Law enforcement connections
Law enforcement involvement can be beneficial to transportation companies. Because of their heavy workload, law enforcement officials cannot possibly be aware of all the details of the cargo industry. For example, police are often unaware that each trailer is numbered and that there is a vehicle identification number located on each tractor. This process allows cargo companies to match tractor-trailer combinations; but knowing such information can help police in their efforts to recover wayward cargo.
It can, therefore, be valuable for transport companies to develop contacts with local and federal authorities so that they become familiar with the company's operation.


Sidebar 1: NCSC Launches Cargo-Security Training
The National Cargo Security Council (NCSC) has launched new educational training programs to help organizations comply with a slate of major Homeland Security policies.
The seminars address practical, cost-effective means for organizations to comply with new security-minded requirements from several different but interrelated major government bodies:
The Congressionally-mandated Maritime Transportation Security Act (MTSA);

The Department of Homeland Security's Customs and Border Protection's

Customs-Trade Partnership Against Terrorism (C-TPAT);

The U.S. Coast Guard's Code of Federal Regulations Title 33 –

Navigation and Navigable Waters; and

International Maritime Organization's International Ship and

Port Security (ISPS) policy.
"Whether you're a major manufacturer, retailer or logistics service provider, today you're confronted with a bewildering array of new Homeland Security policies, especially if you're involved in international trade coming into the United States," said NCSC Chairman David Jones, CPP, corporate vp of security and loss prevention for Tommy Hilfiger USA Inc. "NCSC is proud to offer these important training tools, which augment our other educational initiatives, such as the Certified Supply Chain Protection Professional (CSCPP) program we announced last month."
The courses can be taken in a variety of formats, including in-person in classroom settings, online via eLearning webinars, and at the learner's own pace through CD-ROM and video instruction guides. NCSC members receive discounted rates. NCSC selected Pinkerton Consulting & Investigation-Logistics Division, Raleigh, N.C., to help manage these educational programs.
The MTSA-driven IMO and ISPS training course was created under the guidance of several senior USCG officers and port captains.
Contact NCSC by calling (410) 571-7913, e-mail ncsc@cargosecurity.com, or visit www.cargosecurity.com. Contact Pinkerton by e-mail at barry.wilkins@ci-pinkerton.com or telephone (919) 676-1881.


Sidebar 2: Many Resources
There are many organizations involved with security and loss prevention: National Cargo Security Council; American Society of Industrial Security; Safety and Loss Prevention Management Council of American Trucking Association; and the International Association of Chiefs of Police. Law enforcement and transportation companies have started regional cargo theft task forces. These include the Mid-West Cargo Security Council, Chicago; Eastern Regional Transportation Security Council, Maybrook, N.Y.; Western States Cargo Theft Association, Cypress, Calif.; Midsouth Cargo Security Council; Memphis, Tenn.; Southwest Transportation Security Council, Atlanta, Ga.; and the Florida Cargo Security Council, Miami.