American cars, trucks, motorcycles and buses traveled an estimated 1.6 trillion miles in 2001, the latest year on record. In addition to being one rather long drive (more than a quarter light-year), it represents a 77 percent increase over the nation's collective odometer reading in 1970 when Americans logged about 920 billion vehicle-miles.(1) The job of keeping all that traffic flowing safely and efficiently over the nation's highways, streets and roads falls to the U.S. Department of Transportation, its various agencies, and their many counterparts at state, regional and local governments.
No matter which agency or entity they work for, surface transportation professionals share a common need for real-time information about the number and variety of vehicles traveling over their particular patch of pavement at any given moment. They need to continuously gather and analyze such information and share it in real time with a myriad of audiences, from local public safety officials to authorities in nearby jurisdictions. Drive-time media need fresh, accurate data to share with transportation companies and individual commuters. Emergency response teams need to know the fastest, most reliable route to any point on the map at any given time.
While vehicle miles and vehicle registrations have climbed steadily over the years, the communications systems needed to monitor and regulate the flow of traffic have generally not kept pace with the times. Local, regional and state transportation agencies are forced to deal with increased traffic volumes while using antiquated traffic monitoring systems that are difficult to repair and/or impossible to upgrade.
They are also laden with unfunded federal mandates for domestic security. The U.S. Conference of Mayors, for example, estimates that a Code Orange terrorism alert issued by the Department of Homeland Security costs American cities $70 million a week, mostly in the form of overtime for police, firefighters and emergency medical personnel.2 Paying for these items is made all the more difficult when state and local coffers are depleted by businesses either shutting down completely or moving operations offshore to cheap labor and tax havens.
In short, transportation authorities are increasingly being forced to do more with less.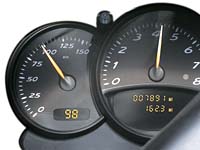 Orlando's transportation
Consider the case of Orlando, Fla., a bustling city of 195,000, major travel destination and the home of a world-famous amusement park. Located in Central Florida, the city is intersected by no less than ten highways, including the Central Florida GreeneWay (S.R. 417), which the American Automobile Association has designated one of the nation's ten "Top Roads." Though growing dramatically, the city was relying a computer system installed in 1991 to monitor road and traffic condition along its miles of roads and freeways. Replacement parts were not to be found, and upgrading the system was simply out of the question.
Traffic Control Devices, a specialty contractor to the transportation industry brought onboard to bring Orlando's system into the 21st century, proposed a new traffic control system centered around an entirely different communications backbone. The old copper wire spine was replaced with a gigabit Ethernet fiber backbone that connected everything from traffic signal systems to freeways, supplying its central command center with a constant stream of real-time data. The new backbone turned the city's traffic system into an IP-based private intranet.
With the upgrade, the city replaced its old video system with video encoders manufactured by VBrick Systems of Wallingford, Conn. Whereas video signals were once transmitted over a separate cable TV system and displayed on wall-mounted monitors, the new system afforded traffic control operators the ability to view video feeds from 100 cameras strategically placed along major routes without hogging bandwidth. The video images can be streamed around the clock to any desktop computer or set-top television box.
Because the new Orlando system is based on standard Internet protocols, adjoining jurisdictions can easily plug into it to share data and video. The Florida Department of Transportation system can connect the City of Orlando, as well as Orange, Seminole, Brevard, Osceola and Volusia Counties. This video web also connects an increasing number of emergency operations centers, from the sheriff's department to transit companies, allowing them to view video feeds from cameras to monitor traffic and deploy emergency and law enforcement personnel as needed.


The Beehive State sees the future
The Utah Department of Transportation (UDOT) is responsible for the safety of travelers along many long and lonely stretches of road in remote and sparsely populated regions. Patrolling every corner of the Beehive State on a continuous basis is physically and financially out of the question. There is just too much open country to have a police car cruising every stretch every hour of the day. To leverage its human resources and protect the safety of travelers, the UDOT has deployed video cameras along many of its rural roads.
To improve the efficiency and effectiveness of these camera, the UDOT is also deploying a streaming digital traffic monitoring system powered by VBrick Systems' networked video appliances. The new appliances will enable the department to view next-generation MPEG-2 video from remote surveillance cameras linked to VBrick's Security, Surveillance and Monitoring (VBSSM) system.
With more cars on the road than ever before, transportation officials must work harder than ever to keep traffic flowing and maintain public safety. Establishing a streaming video distribution system for any departmental intranet requires a few key tools. In general, cities or counties should have a switched Ethernet network with multicasting capability. All major switch providers (Cisco, Extreme Networks and Foundry) can provide the hardware and software to transport high-quality video from one location to another.
In order to realize the full potential of these networks, transportation departments should also consider implementing video encoders and decoders that make use of the high bandwidth these networks allow. Once considered to be troublesome at best, streaming MPEG-4 and MPEG-2 video, with low latency, is now a reality.


References:
1. U.S. Department of Transportation, "Pocket Guide to Transportation," See table at www.bts.gov/publications/ pocket_guide_to_transportation/2004/ excel/table_10.xls
2. Business Week Online, June 9, 2003, "America's Cities Are Seeing Red Over Code Orange"<