---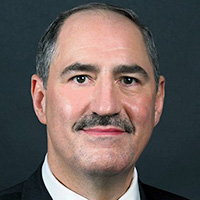 Tom M. Conley – President & C.E.O., The Conley Group, Inc.

Tom M. Conley is the President & C.E.O. of The Conley Group, Inc., headquartered in Des Moines, Iowa. The Conley Group provides distinctly superior security services, security patrol services and alarm response service to their clients. He is a former police captain and is a retired senior-level commissioned officer in the U.S. Navy after 27 years of combined active and reserve service to the United States. In the U. S. Navy, he has served in a number of law enforcement, criminal investigation and classified information security leadership positions, as well as serving a tour as the commanding officer of an active duty destroyer squadron detachment. He is a certified Navy Master Training Specialist and a certified counter-terrorism instructor by the U.S. Department of Defense. He also served the State of Iowa as a Commissioner on the Iowa Civil Rights Commission for five years.
Conley has been designated a Certified Protection Professional (CPP), by ASIS International, has been designated as a Certified Grand Master Elite Anti-Terrorism Specialist (CGMEAS), a Certified Master Elite Instructor-Trainer (CMEIT), a Certified Master Anti-Terrorism Specialist (CMAS), a Certified Anti-Terrorism Specialist-Maritime Security Manager (CAS-MSM) and a Certified Anti-Terrorism Specialist (CAS) by the Anti-Terrorism Accreditation Board, has been designated as a Certified Information Security Manager (CISM) by the Information Systems Audit and Control Association, has been designated as both a Certified Protection Officer (CPO) and a Certified Protection Officer Instructor (CPOI) by the International Foundation for Protection Officers, has been designated a Certified Private Investigator (CPI) by the Academy of Private Investigators, has been Certified in Homeland Security – Level III (CHS-III) by the American College of Forensic Examiners International, and has been designated a Certified Fraud Investigator (CFI) by the International Academy of Investigative Professionals. Mr. Conley has been awarded Diplomate status for the American Board for Certification in Homeland Security. He is also a graduate of Executive Security International, a highly regarded executive protection academy, where he became certified as an Executive Security Specialist. Mr. Conley is an Emergency Medical Technician (EMT), has earned a bona fide Black Belt in Karate, and is a qualified military expert with the handgun and rifle. He has authored multiple professional publications and is a court-certified expert witness.
---