---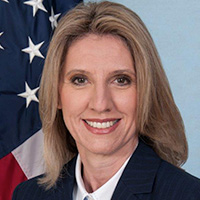 Terri Patterson – Chief of Staff, Federal Bureau of Investigation

Terri Patterson is a Federal Bureau of Investigation (FBI) Section Chief and currently serves as Chief of Staff to the FBI's Associate Deputy Director (ADD).  In this role, she serves as senior advisor to the ADD on matters involving the management of all personnel, security, compliance, budget, information technology and infrastructure across the enterprise. Previously, Patterson served as Assistant Special Agent in Charge of the FBI's Washington Field Office Criminal Division. In this capacity, she oversaw the transnational organized crime, violent incident crime, gang, crimes against children, and violent threat programs in the Washington, D.C. and Northern Virginia communities. 
Patterson was previously assigned to the FBI's Behavioral Analysis Unit (BAU), first as a Unit Chief, then transitioning to the role of a threat assessment specialist for the BAU's counterterrorism and threat focused program.  Prior to that, Patterson supervised a hybrid cyber – violent crimes squad in the FBI Miami Division, which included a multi-agency task force.
Patterson is also a clinical psychologist, and before entering the FBI worked as a psychologist for the Commonwealth of Virginia, where she conducted threat assessments on violent offenders.
---