---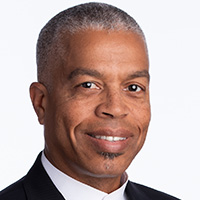 Derrick A. Butts,CISSP, ITIL,
Digital Continuity & Cyber-Business Transformation Advisor,
Continuums Corp.
Derrick A. Butts is the former Chief Information and Cybersecurity Officer at Truth Initiative. He is now the Principle at Continuums Corp. He works with enterprise businesses as a Digital Continuity and Cyber-business Transformation Advisor. Continuums helps CIO/CSO, and IT teams develop, manage and architect offensive information security solutions with a focus on mission critical priorities. This includes IT operations, efficiency, productivity, revenue generation, compliance, enterprise technology refresh and cyber-awareness training. He's developed and introduced a transitional engineering and logistics planning framework to maximize the utilization of enterprise applications/services platforms in the cloud. With 3.5 decades of systems information technology and security experience, his expertise includes enterprise business continuity design strategies - domestically and internationally, for cyber-secure infrastructures, interoperability, cloud computing and virtual networking. In 2021, Derrick was recognized by Security Magazine as one of the Top Cybersecurity Leaders. And in 2020, he was recognized by SC Magazine/Media as one the top Chief Security Officers for the Year.
---