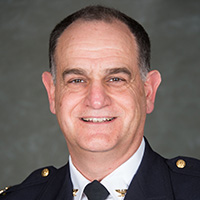 Jay Gruber
Associate Vice-President for Public Safety and Chief Public Safety Officer
Georgetown University
Jay Gruber is Chief of Police and Associate Vice-President for Public Safety at Georgetown University. He oversees the Police Department, Emergency Management, and International Safety and Security. During his tenure at Georgetown, he has developed innovative community support programs, including a Sexual Assault Response Team (SART), Crisis Intervention Trained (CIT) Officers, and a campus-wide Active Shooter Response training program. In the first half of 2012, Gruber served as an FBI Police Executive Fellow assigned to the National Joint Terrorism Task Force supporting the Campus Liaison Program. Gruber previously spent 26 years with the University of Maryland, College Park Police Department where he served as an Assistant Chief of Police before retiring in 2012. He is a Certified Protection Professional (CPP) accredited through ASIS International.