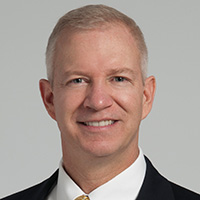 Gordon Snow
Chief Security Officer
Cleveland Clinic
Gordon M. Snow is the Chief Security Officer for the Cleveland Clinic Health System. As Chief Security Officer, Gordon oversees five key functions across the enterprise: police, global security & protection, transportation/parking, fleet management, emergency preparedness, and continuity of operations.

He served in numerous leadership roles during his over-20-year career in the FBI, including Assistant Director of the Cyber Division; Director of the National Cyber Investigative Joint Task Force; the FBI's on-scene commander in the Afghanistan theatre of operations; Chief of the Weapons of Mass Destruction and Acquisition of U.S. Nuclear & Missile Technology Unit; and a member of the FBI's Hostage Rescue Team. He also served in the U.S. Marine Corps for over 10 years, as both an enlisted Marine and an officer.