Cybersecurity is a top concern for many involved in the Physical Safety and Security industry, this includes Pelco, its customers, distributors and system integrator partners. The US Government is one of the most demanding customers when it comes to the cybersecurity, as well as video security systems used for critical infrastructure and public safety.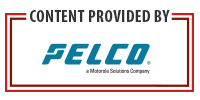 As a result of the John S. McCain National Defense Authorization Act for Fiscal Year 2019 (NDAA), certain US markets — including public safety, local, state, tribal governments and critical infrastructure — are required to comply with FCC rulings that ban the sale of broadband-capable equipment manufactured by a number of Chinese manufacturers.
With over 60 years of legacy from a US-based company, Pelco is the go-to choice for solutions that comply with FCC rules and other government regulations, allow customers to meet their obligations under the NDAA and are cybersecure. As a long-term supplier to public safety and enterprise customers in the US and globally, Pelco has built a legacy of trust in video security.
To meet the various deployment needs of customers impacted by FCC rules and regulations, Pelco offers an expansive portfolio of video security products that are FCC authorized and allow you to comply with the NDAA. For general applications, such as utilities applications or government facilities, the Sarix Pro 4 Series provides sharp, high-quality video while satisfying security requirements for visibility in near-dark environments and durability in harsh conditions. In cost-effective applications, such as healthcare or education facilities, the Sarix Value Series delivers an affordable video security solution with excellent image quality and reliability to operate in difficult lighting and outdoor conditions.
To learn more about Pelco's full range of NDAA-compliant video security cameras, explore the entire portfolio.