Common Challenges When Considering Entrance Control for Education Environments.
Education institutions have a shared commitment to providing a secure and safe environment for students to learn and staff to teach. Yet with rising active shooter events and the rapidly evolving and unprecedented nature of the current pandemic, better physical security solutions are increasingly being sought. This will help education organizations take proactive measures to combat threats to students, staff, personal data and property in instructional environments.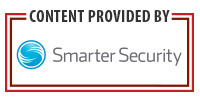 Creating an Environment Conducive to Learning
Students, staff, and visitors don't want to feel like they're entering a high-security prison when they arrive on campus. When people enter a learning environment, whether as an everyday user or a visitor, their main concern should be on the day's activities, not the process of gaining access to the building itself. The key to designing an entrance control solution for this kind of environment is maintaining an open and welcoming feel, allowing a free flow of authorized pedestrian traffic while simultaneously providing a secure facility. 
Users of successful entrance control systems should rest assured that a potential intruder will be stopped from entering - and that the system itself minimizes the risk of spreading infection – without experiencing any frustration that their free movement is being hindered. There must be little or no delay between an authorized person presenting their credentials at the turnstile and access being granted.
Reassuring Parents, Rather than Adding Concern
Heightening your entrance control shouldn't damage your school's reputation. You may have concerns that parents will be worried that their children are attending an unsafe school by increasing security measures. If the solution is designed correctly and you can get the first point right, balancing security with user experience, parents shouldn't feel concerned. Instead, they should be assured that the school is doing everything they can to better protect their students, staff, and visitors from unwanted intruders and contamination.
Providing 24/7 Security and Controlling Populations
University campuses are in use 24 hours a day, whether that's with students studying late at night in the library before finals or arriving back at their residence after an evening out. Now more than ever, facilities such as libraries are likely to be in use at all times of day and night, as students seek quieter times to ensure they can adhere to social distancing guidelines.
Therefore, an entrance control system must allow ease of access at any time while continuing to provide a safe environment. Leaving security managers to feel confident that their system will not fail when there is reduced security staff on site. Limiting the number of people in a given area will also be crucial for managers of facilities, to ensure populations don't exceed maximum, unsafe numbers.
Fastlane® turnstiles can be integrated seamlessly with every known access control system, such as the intelligent SmarterAccess, and CCTV to provide surveillance of turnstile use and allow an 'eyes-on' response to be deployed to any security events. And, with either SmarterAccess or the Fastlane Multilane Controller, you can easily monitor and control the population density of your library, cafeteria, sports facility, student union etc. from one screen.
The Benefits Don't Stop at Security
Protecting people and assets may be the primary objective of an entrance control system, but there are many other added benefits to consider. CCTV, intruder alarms, fire detection and business management systems can all be integrated, allowing school officials to monitor attendance, manage visitor access, reduce energy usage in unused areas at off-peak times, analyze data about how and when facilities are used, and much more.
Campus libraries are central to student life and monitoring their use with turnstiles and access control systems ensures that only authorized users are admitted and enables a wealth of useful information to be captured. This can benefit the administration in terms of staff planning, budget control and other management planning. Specialist software integrated into the turnstiles can also display useful information for the students, such as book return information or room changes, further reducing administration involvement.
Monitor and Control Multiple Sites Remotely
Turnstiles can be used throughout campus to monitor and protect different areas, for example, student residences, dining and recreational facilities, and libraries – wherever you need only to allow access to authorized individuals or monitor and control numbers. If you wanted to install turnstiles at various locations around the same campus, you could remotely monitor and control them using the Fastlane FastCmd app from one central command site.
Fighting COVID-19
Creating a safe environment by utilizing flexible entrance control customizations. Agile product development has always been key to Smarter Security's® entrance and access control solutions' success, and our customers play a vital role as insightful product developers. Never has the need for rapid product development been greater than currently, with the impacts of the Coronavirus being felt worldwide, and universities, colleges, and schools having to undergo a plethora of swift modifications to ensure the safety of students, staff and visitors.
Over recent months, our team has been developing various flexible customizations to help our customers solve challenges that directly result from the pandemic, including Smarter Security's new universal post mount solution, SmarterMount. SmarterMount is a versatile integrated post upon which an endless array of solutions can be mounted, such as infrared cameras, signs, or sanitation dispensers. SmarterMount can be purchased as an option with new orders or a retrofit for thousands of existing Fastlanes. For more on securing campuses, read our white paper today!