The growth of "smart buildings" and the evolution of technology innovations within them has skyrocketed since the turn of the 21st century. From building automation to cybersecurity and beyond, the market for smart buildings only continues to grow and refine itself, promising continued developments that will radically transform what buildings and their occupants will require in the offices and campuses of tomorrow. It also presents a rare "win/win/win" situation for building owners, tenants, and our environment.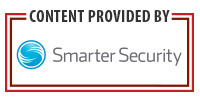 A smart building has traditionally been viewed as any structure that uses automated processes to control various building operations such as HVAC, lighting, security, fire, and other systems. Most buildings, especially newer ones, have already incorporated some level of intelligence to their operations. This intelligence makes it possible to gain much more insight from a building's data, delivering positive outcomes that enhance:
Profitability
Security and life safety
Sustainability
These intelligent solutions address 3 core functions unlike ever before — the need to deter, detect and detain security threats. Previously, the only entrance control tactics advanced available to secure a building were limited to mechanical turnstiles or revolving doors. That world is long gone as security threats have not only grown in number, but also have gotten more aggressive in approach. By leveraging the power of neural networks and other advanced technologies, Chief Security Officers and other security practitioners can now equip their buildings with systems that can extract insights and apply policies in real-time by quickly making sense of immense amounts of data. This enables them to drive more effective security decisions and leverage actionable intelligence. What was "just a turnstile" in the past is now an intelligent platform integrating multiple embedded, security technologies. 
Entrance Control 101 
Entrance control systems serve as a building's primary enforcement system, executing the directions provided by the building's access control system. Entrance control hardware physically hardens and enforces the intelligent entrance of a smart building. While motes, or gates with sharp objects along the top served that deterrent and enforcement role for centuries, entrance control systems today typically consist of aesthetically pleasing steel and glass turnstiles, portals or revolving doors that deter, and in some cases even detain unauthorized people trying to enter. 
Interestingly, the most popular form of entrance control in a lobby are turnstiles. In the case of turnstiles, once the building's chosen form of credential is presented, the system's most basic function is to either open barriers to allow a user to pass or remain closed to block entry. If an intrusion is attempted, colored LED systems and audible alarms quickly aid security officers in determining the precise location of the potential breach. 
Technology has played an integral part in advancing the turnstile from its humble beginnings into a multi-function security platform. Today, they can perform multiple tasks such as monitor population flow, ensure proper authorization of those who enter and exit the facility, provide elevator directions, detect forbidden materials, and enhance life safety practices. 
Trouble with Tailgating
Most optical turnstiles originally utilized very simplistic, binary PLC technology using Boolean logic. With this simple "beam-break" detection, there is no detailed analysis which sets the stage for many more false alarms and greater ease of successful tailgating intrusions.
These systems often require at least a six-inch gap before they can detect a tailgating attempt, so a tailgater four to five inches behind an authorized person could easily sneak into the facility.
Some of these older technologies can only monitor one authorized user at a time, so people must wait until the person before them has exited the lane.
Old turnstile technologies also cannot monitor movement in two directions at once. So these systems fail to detect an intruder's entry if they enter while a person is exiting the lane, posing tremendous risk to an enterprise.
Entrance control security solutions like turnstiles are a significant investment, both in terms of financial commitment and time to evaluate essential functionality components like design, safety and other technical considerations. The security of an organization's database, private client data, equipment, and particularly the well-being of employees depend on thorough and thoughtful planning and upkeep of security protocol. Fastlane® optical turnstiles are an essential component to a physical security strategy that blends functionality with design. It is critical to ensure that the technological capabilities you select are integrated into one central operating system for true efficiency and a holistic security overview that is available in real-time. The turnstiles are equipped with advanced infrared and computing technologies that accurately pinpoint the size, shape, and speed of individual entities — detecting tailgaters less than 1/4" apart
Whether you are in the building planning process or making upgrades to your existing facility, make it smarter and more secure with the technologies available to you today. To read more about the benefits of intelligent security, read our white paper here.