Reconeyez has taken outdoor alarm systems to the next level by combining an outdoor wireless PIR camera solution with cloud based Artificial Intelligence to provide an intelligent, simple to install, system that keeps false alarms to an absolute minimum. We have been supplying the outdoor alarm technology since 2009, with deployments in over 38 countries around the world, including many NATO and European Union's external borders. This Military grade system has now been made commercially available.
Some of the key features of the system are as follows:
PIR cameras detect up to 120 feet
High quality images are taken upon detection (2.1MP by day, 1.2 MP at night)
Wireless transmission of events and images to the wireless bridge
Mesh network to optimise radio range
4G/3G/2G transmission of events and images to the Reconeyez cloud
Completely autonomous system with no mains power or other cabling required
Long battery life up to 400 days or up to 50 000 events
Simple installation, supported by the Reconeyez Installation App
Multiple arming options including by schedule and via an arming App
---
Reconeyez Cloud Platform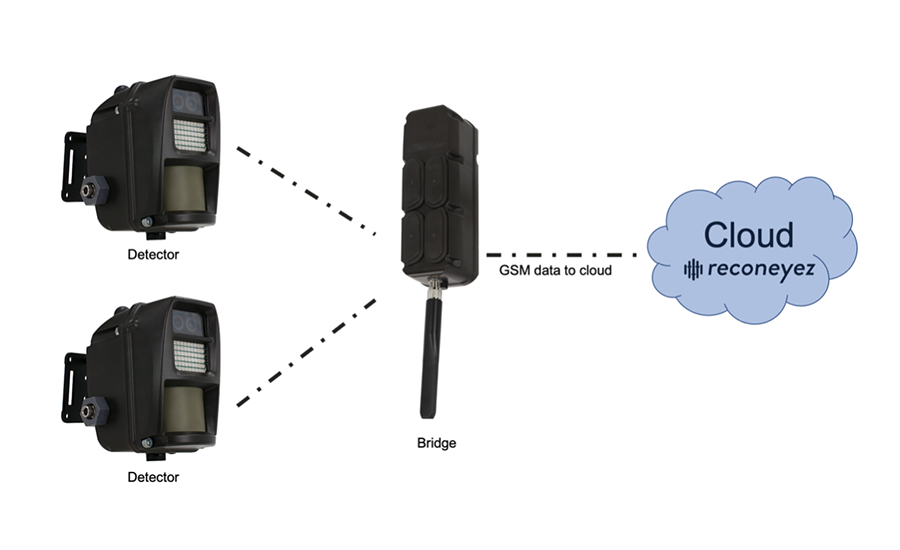 Alarm images are analysed in the cloud by the company's Artificial Intelligence algorithm to identify if there is a person or vehicle in the image. Alarm centre operators and guards only see the genuine alarms, greatly reducing the time and costs involved in dealing with false alarms.   
The cloud also has many other features and benefits:
Can be used directly for alarm monitoring via a simple Internet browser
Seamless integration with monitoring stations also available
End users can be given restricted access, e.g. just to view alarm and image history
Multiple site management via a simple group hierarchy
Remote device configuration
Dashboard showing device and system data, e.g. low battery devices
---
Why choose the Reconeyez Outdoor Video Alarm System?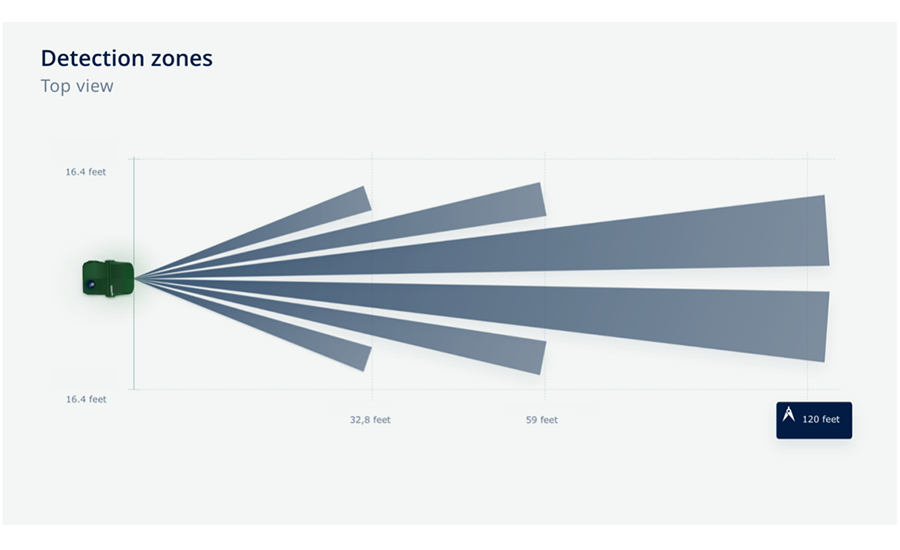 Some of the key features and benefits of the Reconeyez system are summarised below.
Complete Autonomy – No Wiring, No Cables, No Mains Power
The Reconeyez system is completely autonomous, with battery powered devices and control panels (bridges), and wireless communication between devices. Alarm and image transmission to the cloud/monitoring station is via the mobile network. No more trenches to dig, cables to lay, power to source.
120 feet  Detection range – Expand your Horizons
 Reconeyez detectors have a detection range of up to 120 feet. This means that for many sites less detectors are required than with other systems. As well as having cost benefits this makes installation quicker and more straightforward, with less devices to fit, and less poles or other mounting surfaces to prepare.
HD Image Quality – Images You can be Proud of
 Our image quality is significantly superior to comparable alarm systems on the market, with 2.1MP during the day and 1.2MP at night. Our strong IR illumination ensures good image quality even at 80 feet at night. Images can be used for immediate visual verification of events by alarm operators, as well as subsequent analysis to potentially identify and convict intruders.
Artificial Intelligence – Making False Alarms a Thing of the Past
The Reconeyez system combines both visual verification and Artificial Intelligence to keep costly false alarms to an absolute minimum. Our cloud based AI algorithm analyses received images to identify people and vehicles. False alarms caused by wildlife, vegetation, etc, are classified separately as false alarms and ignored. Sirens on site only trigger automatically if the AI identifies a genuine alarm.
Simple Installation – Plug & Play Devices
 All devices are delivered pre-configured and our installation App ensures that our devices can be installed in a matter of minutes rather than hours. The App can be used to take photos from the detectors to optimise their positioning, check radio and GSM signals, and even store the GPS location of the devices. Device configurations can be fine-tuned remotely from the cloud if required, e.g. tamper and detection sensitivities, arming schedules, etc,thereby requiring less costly site visits
Rechargeable  Long Life Batteries – Minimising Site Maintenance Visits
Typical battery life is approximately 12 months for the detectors and 6 months for the bridge devices, depending on usage. Our batteries can be recharged in a matter of hours, and we also provide solar panel options to permanently recharge bridge and detector batteries on site, greatly reducing the need for site maintenance visits.
Radio Range – Mesh Technology for Extended System Coverage
The Reconeyez system incorporates mesh technology, enabling our devices to act as repeaters as well as detectors. This means that devices can potentially be located up to several miles away from the bridge, increasing system coverage and flexibility.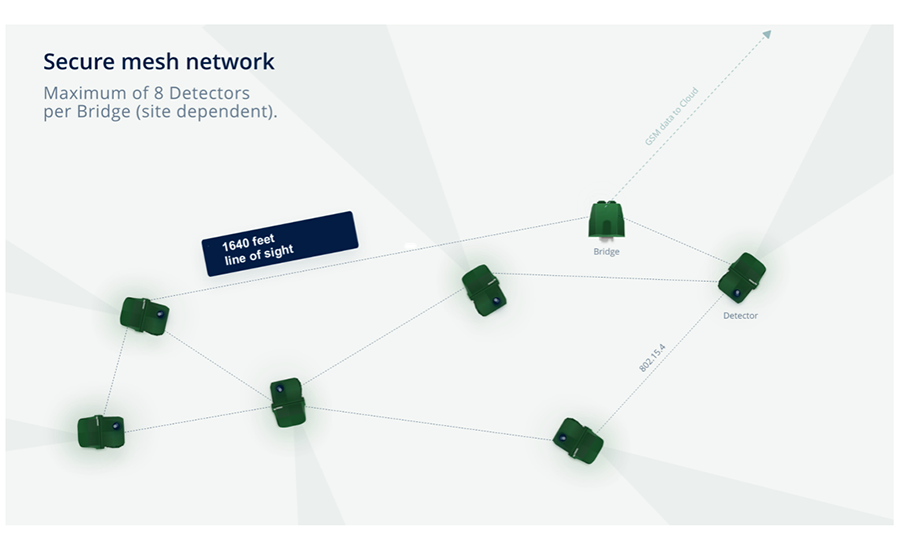 Robust Devices – Designed for the Toughest Environments
The Reconeyez devices were initially developed for military border guard use and are built to exacting IP67 standards. The casings incorporate glass fibre for increased strength and durability. Replacement of batteries is also via a separate battery compartment so there is no need to open up the device and expose the electronics to the elements.
Reconeyez Cloud Platform – Site and Device Management at your Fingertips
Our cloud platform has two core functions, the monitoring of sites, and the management of systems and users. Multiple systems can be monitored directly in the cloud via any Internet browser or, in many cases, there is an integration to a partner's in-house or third party monitoring station. False alarms are filtered out and only genuine alarms are sent to monitoring stations, greatly reducing operator workload.
Our cloud management features include site management via a simple group hierarchy, intuitive user set up and management, remote configuration of devices, and a dashboard of all devices -providing useful site performance statistics and details of any problem devices, e.g. those with a low battery.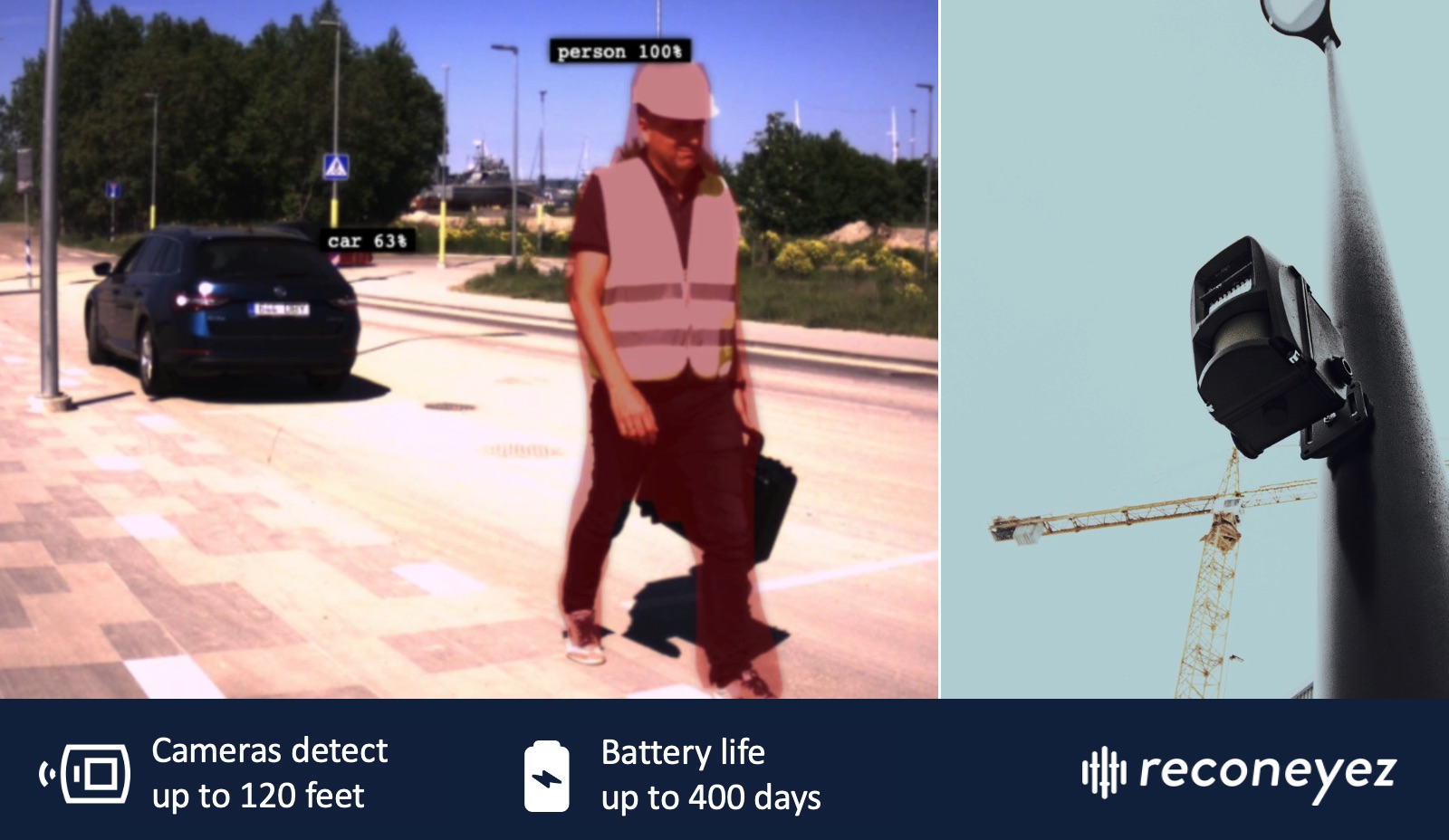 Arming Flexibility – Arm or Disarm your System from Anywhere, Day or Night
There are multiple ways to arm and disarm the Reconeyez system, including through an arming schedule, directly in the cloud, or via our arming App. Our App and cloud options enable customers to arm and disarm the system at any time, whether on site or in the comfort of their own home or office.
Customer Engagement – Adding Value for your Customers
Security is typically a grudge purchase for most end users, but our cloud platform enables our partners to give access to their customers to interact and gain more value from their system. End users can, for example, be given access to view previous alarms and images as well as view the regular maintenance images that are generated by the detectors.
About Reconeyez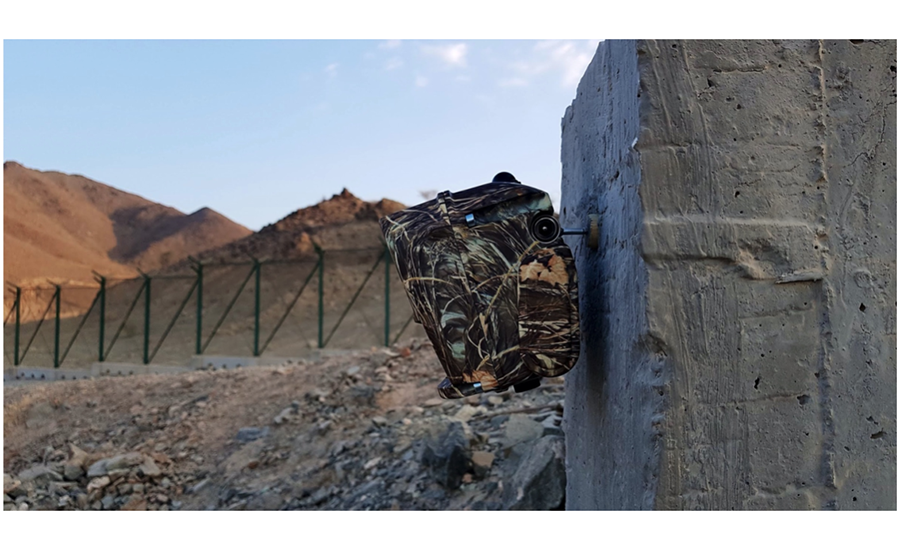 Reconeyez has its roots firmly in the defence industry – our system's counterparts developed for military purposes are currently in operation in 38 countries. They monitor and report on the borders of 20 countries providing 24/7 peace of mind for local border protection agencies, but also defend the perimeters of oil pipelines in Columbia, monitor high-voltage transmission lines in the Balkans, and are an integral part of anti-terrorism operations in Indonesia, to mention a few.
Core markets for the Reconeyez outdoor alarm system include construction site security, vacant property protection, perimeter security, solar parks, remote infrastructure protection, agriculture, industry, storage compounds, anti-social behaviour, fly tipping, and temporary outdoor security. 
Want to know more?  – sign up for a demo now!
Further information is available at www.reconeyez.com