Security Enterprise Services
Management
Cyber
AppSec Resources
Security Education & Training
Building AppSec in Enterprises
Sponsored Content
Coders Conquer Security: Your Battle Plan To Defeat The OWASP Top 10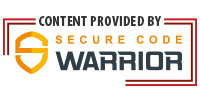 The ten most common security vulnerabilities don't stand a chance against secure development superheroes like you. This is your ultimate field guide to understanding each infamous entry in the OWASP Top 10 2017, gaining insight into how each bug operates. You'll see why they're so dangerous, and most importantly, how you can banish every one of them from your software forever.
INSUFFICIENT LOGGING & MONITORING
Insufficient logging and monitoring is one of the most dangerous conditions that can exist within a network defensive structure. If this vulnerability or condition exists, then almost any advanced attack made against it will eventually be successful. Having insufficient logging and monitoring means that attacks or attempted attacks are not discovered for a very long time, if at all. It basically gives attackers the time they need to find a useful vulnerability and exploit it.
To read more, click here.