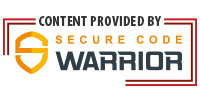 As more businesses move to agile methodologies, providing more online services to customers and exposing data and APIs, the need for "Shifting Left" and building security into the start of the (continuous) development cycle grows every day. CIOs and CISOs need to think carefully about when, where and how to deploy a security uplift program to maximize business impact and not overload the core function of the developers. In this e-book, we share six steps companies should take before deploying a program, based on our learnings from more than fifty enterprise deployments. These steps will help you get the strategy, data and processes in place to drive success.
Define Objectives of your Security Uplift Program
While you want to make your developers the first line of defense in your security program – by helping them to code securely, that doesn't mean they need to be the most in-depth security experts in your business. You don't need to continuously push new security vulnerabilities and data breach examples to them. While security is important, their primary objective is often building a great product or service and following the pace of the business. If you overload someone with too much security, you run the risk of disengaging them.
To read more, click here.