Security Enterprise Services
Management
Enterprise Services
Services
Sponsored Content
Are insiders putting your information security at risk? Spoiler: yes!
Businesses are in denial. But you shouldn't be.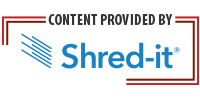 Businesses are in denial about the serious impact any data breach can have on their reputations and business. More than 43% of C-Suite executives say they had a breach last year, with more than 47% of them saying it's not "a big deal" or the risks are "blown out of proportion." These attitudes are the complete opposite of consumer perceptions, with 35% saying they would "lose trust in an organization following a breach" and more than 23% indicating they would take their business elsewhere.
The annual Data Protection Report from Shred-it provides valuable perspectives on the state-of-the-industry, as well as featuring all new content indicating businesses and consumers are not aligned on the importance of information security. You can download a complimentary copy of the Shred-it Data Protection Report 2019 here.