Break-in Prevention Features
Break-in Prevention
SPONSORED CONTENT
How Electric Dogging Tightens Security in Emergencies
And How Schools Can Fund Security Technology Upgrades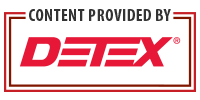 The average duration of an active shooter incident at a school, according to Department of Homeland Security research, is 12.5 minutes. In contrast, the average response time for law enforcement is 18 minutes, meaning the event will often be over before police can arrive.
Even more, a study by the FBI that focused on 160 "active shooter" incidents from 2000 through 2013, in which police were called to respond to an unfolding situation involving one or more individuals attempting to kill people, found that overall, 66.9 percent of the incidents had ended before police even arrived at the scene and could engage the shooter. When they were able to engage a shooter, a law enforcement officer was killed or injured nearly half of the time, in 21 out of 45 incidents.
A School Lockdown Procedure provides the steps that can be taken to prevent threats and intruders from gaining access into school buildings and preventing them from moving through the building. This is achieved through actions and physical measures in response to warnings of threats that are about to happen.
One physical measure is technology that allows a door to be locked down rapidly and accurately. There are many answers; however, one way that has been overlooked is the use of panic exit devices with electric dogging. When installed throughout a school facility, electric dogging allows all locking devices to be "energized" by one control switch that can be located in a centralized area of the building. Electric dogging not only keeps doors in push/pull configuration but can be activated from one of several switches located throughout a campus to lock main doors in case of a required lockdown. It can provide additional security when electricity is removed by reverting to secure mode, effectively preventing entry at every door equipped with this type of device.
It's important to note, though, that electric dogging is different than electric latch retraction. With latch retraction, applying power pulls the latch(s) back and holds them until power is removed. With electric dogging, after applying power a user must manually depress the pushpad to retract the latch(s). The latches stay retracted until power is removed from the device.
When electric dogging is applied to entry doors, it removes the need for a staff member, perhaps in the height of a crisis, to remember where the key is and how to lockdown the doors. The administrator, taking the responsibility off the shoulders of the education staff, makes the decision and takes action to lockdown. Electric dogging can not only allow doors to be dogged for push/pull operation during specific hours but can automatically revert to secure mode at a pre-selected time, locking the doors to entry, but individuals leaving are still allowed to exit.
Security Technology Funding
Recent legislation is making it easier for schools to receive federal funds for security technology. As part of the Consolidated Appropriations Act of 2018, Congress is reauthorizing and restoring funding for school safety grants administered by the U.S. Department of Justice. The new law provides $25 million immediately for school security technology equipment, in addition to emergency communications systems and other coordination with law enforcement to enhance response capabilities.
Administered through the Office of Community Oriented Policing Services (COPS), $33 million is authorized annually for the program beginning in 2019. Overall, the STOP School Violence Act (included in the spending measure) authorizes a total of nearly $1 billion in funding for DOJ school safety grant programs through 2028.
One specific example on a state level is the Alabama House of Representatives, which recently passed a bill to allow school systems to use money from the Advancement and Technology Fund for school security.
The bill, by Sen. Trip Pittman, R-Montrose, would add school security to the list of allowed uses for money from the Advancement and Technology Fund. The House of Representatives passed it by a vote of 96-4.
About $41 million is expected to be available for K-12 schools from the Advancement and Technology Fund this year, reported AL.com. Schools systems receive a share proportional to their enrollment.
Under current law, reported AL.com, the fund can be used for repairs and deferred maintenance, classroom instructional support, insuring facilities, transportation and education technology and equipment.
Rep. Bill Poole, D-Tuscaloosa, the House education budget chairman, said the bill would allow school systems to use the money for security cameras, making entrances more secure and other nonrecurring uses related to security.
In Colorado, lawmakers recently agreed to spend $35 million next year on police officers in schools and security upgrades to school buildings.
The 2018-19 budget recommended by the Joint Budget Committee already included $7 million for school security improvements. Republicans responded with budget amendments to increase funding for school safety measures, several of them by as much as $50 million.
The intent of the amendment is to use the money to hire and train more school resource officers and pay for security cameras, controlled access, and other security upgrades to campuses.
And in New York, the state Senate voted to increase state funding to help schools pay for armed police and security upgrades. Legislation was also introduced to mandate two annual active-shooter drills and set aside money for mental health services coordinators in local schools. Another bill would change penalties to make the criminal discharge of a gun within 1,000 feet of a school or place of worship eligible to be considered a terrorist act. Specifically, the bills would create state grant programs to make it easier for schools to hire armed police or mental health coordinators and pay for video cameras, secure doors or other improvements.
Sidebar 1: Are Schools Becoming More Secure?
Rates of student victimization at school have continued to decline, fewer students have brought weapons to school, and fewer students report fear of harm in school, according to a report by the National Center for Education Statistics and the Bureau of Justice Statistics.
Fewer students report having access to an unlocked gun in the most recent data, and, said the report, rates of violent deaths at school have not trended significantly upward in recent years.
"Our nation's schools should be safe havens for teaching and learning free of crime and violence," says Indicators of School Crime and Safety 2017. "Any instance of crime or violence at school not only affects the individuals involved but also may disrupt the educational process and affect bystanders, the school itself, and the surrounding community."
According to the report, schools have significantly stepped up security measures, the federal data show. The portion of schools that reported having a plan for school shooting response increased from 79 percent in 2003-04 to 92 percent in 2015-16.
More schools reported controlled access to buildings, the use of security cameras, and requiring staff to wear photo IDs.
More schools have designated police, as well. Schools reporting the presence of a law enforcement officer at least once a week increased from 36.3 percent in 2005-06 to 47.7 percent in 2015-16, the data show. The presence of police in elementary schools grew more significantly during that same time period, from 21 percent to 35.8 percent.
During the 2015-16 school year, said the report, 43 percent of public school teachers agreed or strongly agreed that student misbehavior interfered with their teaching, and 38 percent agreed or strongly agreed that student tardiness and class-cutting interfered with their teaching, the data show.
But the data also show some areas of improvement in student safety and behavior. The portion of students who reported being afraid of attack or harm at school decreased from 12 percent in 1995 to 3 percent in 2015. The percentage of students who reported being afraid of attack or harm outside of school also decreased during that time, from 6 percent to 2 percent. Reports of bullying by students and by their schools also decreased during that time period.
Rates of student victimization and violent victimization at school and away from school have also decreased since the early 1990s, the data show.
---
Detex offers products to keep students and faculty safe in the event of an active shooter. To learn more click here.