Break-in Prevention Resources
Break-in Prevention
SPONSORED CONTENT
The DETEX ECL-230X: Stopping Power That's Easy to Install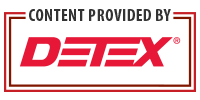 Let's say you've identified a weak spot in your facility's security. Maybe you've even experienced a break-in or two and you have an entry, maybe a side or back door, that is the culprit. It just hasn't been strong enough to keep burglars at bay. You've decided you need a serious lock, some heavy duty door security hardware that won't let you down.
What does that look like? For many establishments, it looks like this: the ECL-230X multipoint lock from Detex.
This is how you keep someone from breaking in.
The ECL-230X product series from Detex meets all the criteria for serious break-in prevention: solid steel construction, rugged locking, and pins that achieve significant penetration into the doorframe. There is a one-inch deadbolt lock with just over ¾" engagement with the frame, and two ¾" throw locks at the top and bottom, engage the strike 5/8 of an inch.
And if that's not enough, you can even request a 230X with additional features such as six locking points, or even a hurricane version that includes high strength fasteners and a reinforced push pad assembly. Depending on your specific needs, Detex can recommend the right security hardware product options for you.
To learn more about Detex's ECL 230X click here.
Heavy duty break-in prevention
This device is built to withstand more than 15,000 pounds of pull force. Some rather brave (or crazy) burglars would have to go to an awful lot of trouble to break in via that entrance. And they'd likely call a lot of attention to themselves while they were at it.
That's not a door you can just pry open. Assuming you have a heavy-duty, commercial-grade door, that is. According to Ken Kuehler, director of sales and marketing at Detex Corporation, the door itself is a critical factor.
"You want at least 16-gauge door," said Kuehler. "The world's best locking hardware isn't much defense if your door is flimsy."
There are some other nice benefits provided by this heavy-duty locking device. It's weather resistant – the alloy lock body resists corrosion – so it holds up well outdoors or in wet environments. It's easy to see in the dark, as it has a photo-luminescent sign that absorbs light so that it can glow when the lights go out. And to thwart an aggressively creative thief, the dead bolt is saw-resistant.
Imagine someone breaking out a saw to cut through the bolt…only to be denied. That might be enough to cause a perp to rethink his career choice.
Detex wasn't the first manufacturer to make a product like this, but the ECL-230X is at the head of its class.
"We had the product tested against the competition," said Ken Kuehler. "The 230X could withstand twice the pull force of each of the other two major competitors."
It only works if it's on the door
A frequent complaint of such multi-point locking devices has been that they are often difficult and cumbersome to install. Detex sought to change that.
"When we decided to create this product, we knew we had to make a significant lock that could withstand a big, strong force," said Kuehler. "But at the same time, we knew it needed to be easy to install. Strong lock and easy to install – those two things don't always go well together, but we were able to learn from what others had tried."
Most security door devices in this category are pretty challenging to install. They have multiple points that must line up and lock smoothly, and to get all the hardware on the door and have it work like it should is not as simple as it sounds. That's why making installation relatively easy is critical. Because even the best hardware, if not installed correctly, compromises the security of the entryway.
So why is the 230X easier to install?
"We offer paperless install guides," said Kuehler, "providing a nearly foolproof and headache-free installation process. One person, wielding normal tools, can do the installation rather than needing a team to hold the ends of the device while a third person drills holes."
The combination of super-duty strength and ease of installation has made a big difference for a lot of Detex customers.
"Fortunately for us," adds Kuehler, "once a customer installs this product, they fall in love with it."
To learn more about Detex's ECL 230X click here.