Identity Management
Creating Peace of Mind through Parking Security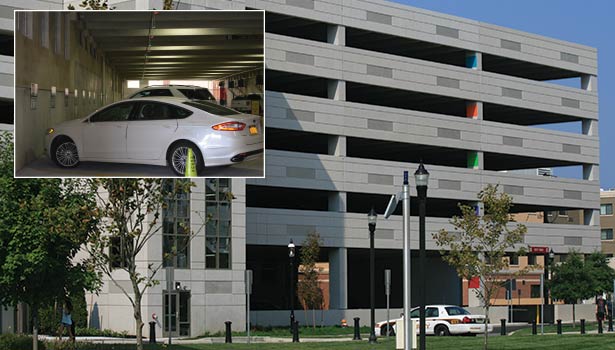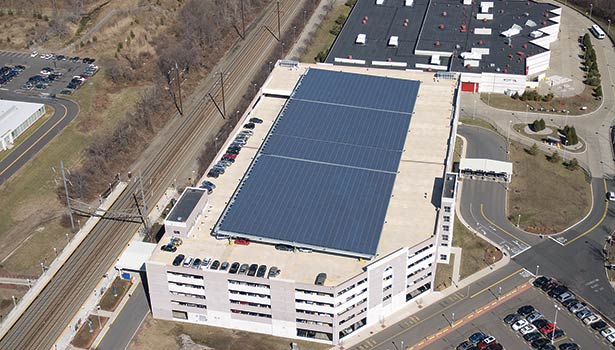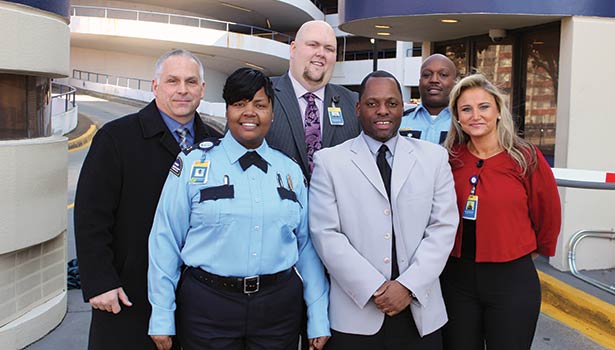 Helping your enterprise to stand out in today's marketplace means providing services above and beyond your competition, and that involves making your stakeholders, customers and employees feel safe while surrounding them with top-notch amenities, from the building to the perimeter to the parking lot.
Leading the way in parking garage amenities is Nexus Parking Systems, a New Jersey-based company that owns and operates parking facilities used by the New Jersey Transit Authority, hotels, universities and other enterprises. In Glassboro, New Jersey, the newest Nexus garage serves a Courtyard by Marriott hotel and conference center, a Barnes & Noble collegiate superstore and student housing for Rowan University, as well as a shopping area of downtown Glassboro. The innovative use of integrated technology in this garage earned it a Pennsylvania Parking Association (PPA) Award in the Parking Equipment and Technology category.
According to Nexus Parking Systems President Michael Ciesielka, Jr.: "Our customers are planning their trip out, and they're looking at what our parking facilities offer. We want to have amenities that keep them comfortable in this environment so they keep using our garages."
Devising an organizational management system for the garage helps to maintain a sense of order and security, while maximizing use and profits for the business. The first level of the Rowan Boulevard Parking Garage is ungated and built for short-term retail customers. Sensors above each of the parking spaces operate on a two-hour timer for free parking time, and additional time can be purchased by consumers via a mobile application. Above the first level is gated, and 100 parking spaces are set aside for Marriott guests, who can use their room access card-key to access the parking garage as well. In addition, a master lease with Rowan University grants access to the school's 900 students in the area by integrating the parking system with Blackboard, a student and classroom management system.
"Because we're the owner and the operator, we're striving for long-term return on our investment," says Ciesielka. "We want to put all of our resources into managing our services more efficiently, which will bring more customers to our facilities." Efficiency and convenience are two hallmarks of his business, he says, and this includes upgrading and inspecting lighting, deploying consistent color-coding on different parking levels and installing Talkaphone IP-based emergency phones throughout each garage, especially around stairwells and in prominent places on each floor so customers can easily contact customer service agents or emergency services if needed.
Providing comforting customer service is a goal for Jamey Moore as well. Moore, who is the Associate Administrator over Security for the Atlanta Medical Center, a Level 1 Trauma Center in southeast Atlanta, has been working to increase hospital employees' and customers' confidence in their safety while on hospital property through upgrades to security access control and monitoring onto parking decks, renovations (including bright paint, especially on lower levels, and updated high-intensity lighting), and increased AlliedBarton security officer patrols.
Moore also worked with the Atlanta Police Department (PD) to gather crime trends within a two-mile radius of the campus. The Atlanta PD then added a small police precinct to the Medical Center campus, and they patrol the area, as well as the parking decks. The added police and security presence lends peace of mind to visitors as well as serving as a deterrent for potential crime. Due to the new precinct, police response time was reduced by 15 minutes, Moore says.
"We now have constant 24/7 patrols in our parking decks," he adds. "The first thing patients and staff see when they arrive is a security officer at the entrances and exits. We have proactive patrols on foot, as well as vehicle patrols." The Atlanta Medical Center has also instituted a Clean Car Campaign to help educate people about hiding or removing valuables from their vehicles when parking.
"We want to keep hospital visitors' focus on healing, not the possibility of theft," says Moore.
On the Wayne State University campus in Midtown Detroit, eight parking structures are integrated into a video surveillance network, including cameras throughout campus on surface lots and streets, giving on-campus police access to live video monitoring and faster active reviewing of incidents to help with investigations.
"It used to be a much more manual process, with in-person investigations," says Jon Frederick, Director of Parking and Transportation Services for Wayne State University. Frederick is partnering with companies such as Toledo Ticket for parking tickets and radio frequency identification hangtags and Par-Kut for patrol stations in parking facilities. "Our parking personnel have 'security' in their title – they're available for both customer service and safety, and they're trained for awareness. They report in suspicious activity, light outages or any other problems through our radio system to the base station, where they can investigate through video or respond as needed."
"We're trying to expand our system to get full coverage across our campus," adds Frederick. "I think it's been a very favorable system, and it's worked to our advantage. We are very fortunate that we have as many resources as we do, and that being an urban institution, we have very little parking facility crime. I attribute that to the parking staff, the public safety staff, the camera systems and people knowing that we have these programs in place and very fast response time if something does occur."
At Rowan University, the surveillance system in the Nexus Parking Systems garage is also helping to bolster public safety. Says Ciesielka: "There is a large volume of students coming in and out of this garage daily, so we added cameras to help monitor our facility and other areas for the university. We share images and video with campus security when they request it. For example, we caught video of a bike theft from one of our neighbor's properties and were able to provide evidence that helped solve the crime. When the Barnes & Noble next door had a generator crash, we were able to provide video of the trash collector backing into it and then driving away, and they used that video to get compensation to fix the generator."
Being part and partner to a tightly-knit downtown area, he says, adding security to garages can help not only your enterprise, but your community as well.
---
SIDEBAR: Where to Improve Your Parking Garage Security
When he's evaluating security for a parking facility, Jared Armstrong, Director of the Security Division of security integrator and parking equipment manufacturer Amano McGann, Inc., looks at three main areas for potential improvement:
Protecting Enterprise Finances
Providing Better Customer Service
Improving Customer Security
Protecting an enterprise's finances can mean protecting or automating cash flow areas such as payment machines, in-lane cash handling and back offices or counting rooms, as well as protecting equipment from vandalism or destruction. For example, this could mean adding better surveillance around parking gate exits to better document offenders who choose to drive through and break the gates instead of paying their fees.
Improving customer service can include integrating intercom systems with video surveillance to initiate a voice connection and surveillance simultaneously when a customer presses the button. "When you're moving toward more automated processes, you still have to be able to connect with a person who can help you figure out the payment system or find your car," says Armstrong. "That's what brings better customer service value without multiplying costs."
For security, Armstrong recommends improving visible security measures (surveillance with clear signage, or cameras integrated into payment machines similar to ATMs, for example) in elevator lobbies and payment areas.
"In general, look for where your staff will be, often near exits, and then bolster those forces with extra eyes where your staff won't be or can't be stationed, either due to practicality or cost," he says. "You can get value from rooftop cameras watching entrances and exits; you can install ceiling-height cameras to better deploy analytics like vehicle-counting and wayfinding (directing vehicles to open parking). Automation isn't just replacing people – it's getting more creative with your video surveillance to bring more value faster. It can mean more proactive security."


I want to hear from you. Tell me how we can improve.