Access Management
The Muscle Behind the Door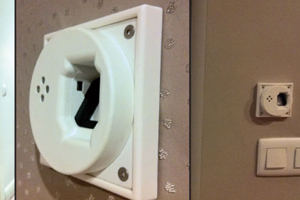 A small number of doors at a Madrid hotel boast biometrics-based access control with guests and staff using fingerprint recognition.
Cards. Biometrics. PINs. Keypads. Readers. Software. Databases. Wiring. They are all part of door access control solutions. But there also is the gear that keeps the door locked until identity is authenticated: the electromagnetic locks and electric strikes.
While some system elements continue to evolve, others are less changeable, with emphasis more on reliability and aesthetics.
Reliability is most important when it comes to the muscle behind the access brains, contends Bryan Sanderford of Dortronics. An electromagnetic lock must be reliable in order to be secure. The appropriate holding force should be matched to the application. Such locks most often range in holding force from 300 to 1,500 lbs. Beyond performance, locks should combine aesthetic appeal with security and functionality. Maglocks come in various finishes to match architecture or décor.
Says Sanderford, "Consider the availability of optional features such as a built-in door switch, magnetic bond sensor, LEDs, a sounder or a time delay."
When it comes to electric strikes, critical considerations include ANSI standard frame preparation to avoid having to cut the door frame during installation and heavy duty construction. Strikes should also provide dual 12/24 voltage and 1,000-lb. minimum jaw strength. Strikes should be easily changed from fail-secure to fail-safe operation to determine whether the door is locked or unlocked in case of a power outage. An optional latchbolt monitor to indicate the position of the latchbolt can be helpful.
DIVERSITY OF DOOR SOLUTIONS
In addition to the muscle, of course, there are the brains of door controls that come in a range of readers and credential choices that can work with magnetic and proximity cards to smartphones, smartcards and biometrics.
The hospitality and higher education fields, in addition to government and military, tend to show off the diversity and often open the door for corporate users.
In hotels and at resorts, it is often cost – low cost, that is, which opens doors, according to Steve Switzer, hospitality product manager at Onity. "Most cards issued to patrons aren't returned, so the least expensive the card to issue it to open a guest room door, the better," He says. However, at the other end of the technology, Switzer and others see emerging interest in near field communication or NFC, where cards disappear – in some applications – into smartphones that can receive credentials to open a door or purchase a bag of chips from a vending machine.
More in today's mainstream, wireless connectivity makes sense for some. Wireless locks continue to roll out, especially when an enterprise security leader faces a more expensive wired panel design. For instance, the Onity wireless lock can integrate with third-party access control software providers.
WIRELESS ADVANTAGES
According to Bill Phelps, director of IT services at Ouachita Baptist University in Arkadelphia, Ark., wireless comes into play with today's college students who are a bit more discerning than the students of yesteryear, particularly when it comes to housing.
"We had standard, keyed cylinder locks on all the interior dormitory doors," Phelps explains. "We wanted to change to a more secure card access on each door. The card access was important, because we actually had that capability in other parts of the campus already and liked the extra security it provided. So when we built the new student village, it was the perfect time to make the switch."
Also on his wish list is wireless connectivity. "By using wireless locks," he says, "we expected to save substantial costs and labor on wiring. Plus, we wanted online locks we could connect to our campus network for better overall control."
With these requirements in mind, the construction company on the university project offered a recommendation: Grade 1 online and offline locks from Sargent and Corbin Russwin. Ouachita also specified Wi-Fi locks. The locking system uses magnetic stripe and can use either track 3 or track 1 for offline access control along with existing track 2 for online security solutions. This flexibility allows the door opening solutions to work on the same card as existing mag stripe applications.
The card used is the same campus ID card already issued to students for meal purchases, laundry and other activities; thus, with all the necessary security information embedded into it, students still enjoy the convenience of a single-card system for virtually all campus-wide functions. The cards also open exterior doors equipped with electronic exit devices and card readers; the student swipes the door, and the latch quickly retracts. The main lobby doors are glass doors with maglocks connected to the software system.
DON'T FORGET PROP ALARMS
Bethany College in the northern panhandle of West Virginia upgraded to Von Duprin exit devices on its controlled access dormitory doors. The devices have a deadbolt latching feature that prevents users from forcing the latch out of the jam or roller strike bar.
Previously, the college used conventional exit devices, which served well in most applications. However, dormitory doors sometimes were subject to abnormal abuse that resulted in security breaches. According to Orien Hunter, the college locksmith, some students would pull on the doors until they wandered and the latch disengaged from the roller strike, allowing the door to be opened. Other damage included broken lever trim and doorknobs.
To monitor security, door position sensors, what are called prop alarms, are networked to a central computer, which also controls a central lockdown function for emergency use. Override keys are provided for maintenance and other limited applications. Additional door security measures at the college include Schlage computer-managed standalone control lock sets in areas such as laboratories and the campus radio station. Hunter says other compatible products used on campus include LCN door closers and Ives vandal-resistant trim.
CREDENTIALS IN CARDS AND SMARTPHONES
In another wide-ranging access solution that also demanded quick door-by-door implementation, the CBORD Group, a provider of campus card and integrated security solutions, worked with Ingersoll Rand Security Technologies to equip more than 4,200 interior and 325 exterior doors at Miami University to handle Schlage contactless secure student credentials when replacing old keys and cards.
Students have been empowered at the own standalone door to receive an "OpenMyDoor" message via smartphone to receive instant building or room access in case of a forgotten or missing access card. "The door controls have the features we need to secure our residence halls and leverage mobile technologies to better protect our student body," says Larry Fink, assistant vice president for housing and auxiliaries finance.
When it comes to the hospitality industry, and especially at high-end properties, door controls can be both high tech and better looking. Take, for example, the just-opened Splendom Suites, a combination small boutique hotel and apartments, located in the exclusive Salamanca district of Madrid in Spain. ID specialist Databac, using biometrics readers, fashioned a biometric door entry system for the facility. Terminals fitted unobtrusively into the walls and in light switch enclosures allow guests to enter their rooms without the hassle of keys or cards. The wireless approach uses fingerprint recognition and connects to management control software and other network devices using a wireless locking system on a ZigBee platform.
Matching Technology to a Specific Door
Retrofit applications tend to use maglocks because they are surface mounted and therefore easier to install. Hollow metal doors and solid wood doors are typical applications. Determine first if the door is outswinging as compared to inswinging, which requires a Z-bracket mounted to the door. Herculite doors (frameless glass) can be a challenge unless there is a solid header above to mount the lock because there are U brackets that slide over the top of the glass to accommodate mounting the armature plate on top of the Herculite door.
With no moving parts, magnetic locks are very reliable in high-traffic areas. Using a combination of both strikes and maglocks on a door can provide ultra-high security. Regardless of electric lock type, the local building authority is a solid advisor before installing locks on any doorway.
What about power distribution? Figuring the voltage and maximum current draw allows the end user and his or her installer to determine the power supply capacity. It is important to remember that the length of the power wiring can affect the wire gauge and low voltage power requirement. Consider the need for battery backup and think about the advantages and disadvantages of using one large power supply instead of smaller localized units if the building configuration allows.
Prop alarms are typically used to enforce compliance and proper use of the access control system. Alarms may be used as a local alert, they may trigger a remote siren or require a security officer to react and reset them. They may be used with any lock type (strike or maglock) or without any lock at all to simply monitor door status.
Finishes don't matter so much on strikes, which are typically mortised flush into the door frame and not visible when installed. Maglocks are surface mounted and visible from the secure side of the door. Therefore, they can be in a finish to match the door frame or the push/pull hardware of the door. Maglock housings may also be supplied extra long to fit all the way across the door frame, which makes them less conspicuous when the door is closed.
Security thanks Bryan Sanderford of Dortronics Systems for this information.
Nearing an Access Transition to the Smartphone?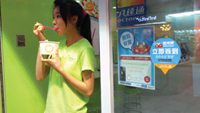 Access and people location applications employing NFC-enabled smartphones have become popular in the Pacific Rim. China's leading location-based social app, Jiepang, teamed up with Nokia to promote NFC check-ins, a faster and verified way to "check in" and share locations with others using the app preloaded on newly launched Nokia smartphones.

Will it replace door access and credit cards? The "it" is near field communication (NFC), which allows for simplified transactions, data exchange and wireless connections between two devices such as smartphone and a reader in close proximity to each other. Many smartphones already contain embedded NFC chips that can send encrypted data a short distance ("near field") to a reader located, for instance, next to a door, cash register or vending machine.

At this September's ASIS International, HID Global showed off plans to support iCLASS digital keys and mobile secure identity on NFC-enabled BlackBerry smartphones for applications ranging from physical access systems in buildings, student IDs and computer network access to tracking time and attendance.

At IFSEC this year, UK-based Salto Systems displayed a RFID lock that can be opened with an NFC equipped smart phone.
More Door Control Resources
Here are more sources of information on door access controls, including electromagnetic locks, electric strikes, standalone solutions and systems, in addition to those referenced in the article.
• Office building needs – BOMA International at www.boma.org
• Life safety accommodation – the National Fire Protection Association at www.nfpa.org
• SDC Security Door Controls – with a system wizard and an Authorities Having Jurisdiction directory at www.sdcsecurity.com
• RCI Rutherford Controls – Engineered solution services to provide custom locking alternatives for common challenges in unique applications at www.rtuherfordcontrols.com
• Architectural Control Systems – with installation guides and templates at www.acsi-inc.com
• Camden Door Controls – with, among offerings, UL 294 compliant switches for access control projects at www.camdencontrols.com


I want to hear from you. Tell me how we can improve.